"A teenage model becomes a detective and investigates the fashion world's secrets"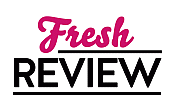 Reviewed by Clare O'Beara
Posted March 11, 2016

Young Adult Adventure | Young Adult Contemporary
I like the cartoony cover of the third in the Model Undercover Young Adult series; I had not read any earlier instalments. A young lady called Axelle Anderson is our heroine, who still has school exams. MODEL UNDERCOVER: LONDON is set in Axelle's home city but she has previously solved cases in Paris and New York while working at fashion shows. Axelle grew up reading girl mysteries, but the real thing is much more exciting.
A fashion blogger named Tallulah Tempest meets Axelle at home. She's heard the young model is good at solving crimes and wants help. Tallulah's brother Gavin was attacked on Westminster Bridge and his work camera stolen; he's a fashion photographer. The police consider it a random mugging, but they are taking it seriously because Gavin is still in a coma. Tallulah thinks there's more to the crime than being in the wrong place at the wrong time. Their flat in Camden has just been ransacked, and Gavin was working on a shoot with upcoming designer Johnny Vane.
I like that Axelle is a normal girl at home, with glasses, casual clothes and a cute dog. She has a highly organised and supportive mom. For an assignment from her magazine Teen Chic, Axelle dresses up, but not in over the top designer goods. She describes a casting session: girls have to show up looking super, chat to and be friendly with the clients, who decide if they will photograph well, suit the look of their product, and will be nice to hang out with all day. A model may have ten sessions a day and not get work. Sadly the client in this case has worse manners than would be expected. I think this is a good lesson in the realities.
Axelle spends a lot of time travelling on the Tube and researching on her tablet, so we get detail dumps occasionally. She's lucky the owner of her model agency is willing to open some doors for her, simultaneously warning that egos are big in the industry and accusations won't go down well. Gavin is liked in the business and his condition garners sympathy. The tale can become pretty complex with more names than some teens will want to keep track of, but there are fun rock star shoots too. I'm delighted that Axelle gets a model friend, Ellie, and boyfriend Sebastian to help her as a few are much safer than one. We learn a lot of jargon and insider knowledge, like a zed card is a model's business card with photo, but it's great that Axelle wants to go to college and study criminal justice and languages. Personally I'm pleased that our heroine enjoys her normal meals and the finger food buffets provided at shoots; we hear such a lot about unhealthy, ultra thin models. I also love the marvellously scenic location described for us in MODEL UNDERCOVER: LONDON. Carina Axelsson is a former fashion model, and her mystery series is a winner as far as I'm concerned. All intelligent, super-cool girls should get their hands on a copy. With this adventure as your guide you could go a long way.
SUMMARY
From designer to detective
Posing as a model gets Axelle the kinds of connections that make her the fashion elite's go-to detective. Her newest case? The attack on famous fashion photographer Gavin Tempest that's left him in the hospital. The police may have ruled it a mugging, but Gavin's sister has special intel for Axelle that points to something more sinister...and when clues start pointing to people in high places, things get dicey for Axelle. Because fashion isn't the only thing that's killer in this case...
---
What do you think about this review?
Comments
No comments posted.

Registered users may leave comments.
Log in or register now!