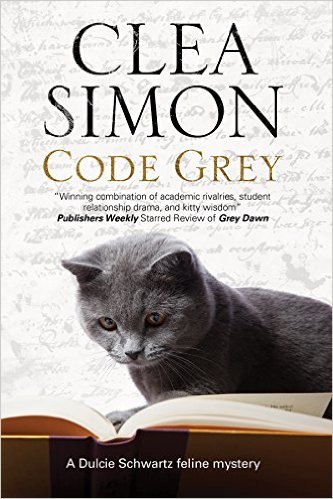 Code Grey, August 2015
Dulcie Schwartz feline mysteries 9
by Clea Simon

Severn House Publishers
Featuring: Jeremy Mumbleigh; Dulcie Schwartz
247 pages
ISBN: 0727885065
EAN: 9780727885067
Kindle: B010SWRCLE
Paperback / e-Book
Add to Wish List

Purchase
"Step carefully in this academic adventure"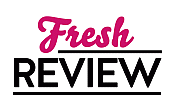 Reviewed by Clare O'Beara
Posted August 11, 2015

Mystery Woman Sleuth | Mystery Cozy | Mystery Pet Lovers
This series has the entertaining title of Dulcie Schwartz Feline Mysteries so I had to take a look. They say curiosity killed the cat! The first book in this series is called SHADES OF GREY, and introduces a feline spirit. Author Clea Simon has also written the Theda Krakow mysteries featuring cats and the Pru Marlow mysteries involving pets.
CODE GREY opens in Cambridge, the town on the east coast of America, not England. The icy slush could have been found in either location, as could a lover of poetry. Dulcie is working on her dissertation during spring break when a series of campus burglaries makes her boyfriend Chris fearful for her safety. Dulcie spends much time alone or with just her black and white cat Esme, researching, and the campus isn't well populated at present. A former grad student who had a mental breakdown is coming under suspicion for some of the incidents, but in the latest development this man, Jeremy Mumbleigh, is the one who is injured. Dulcie decides to see if she can get to the bottom of the matter.
I'm not sure I like a feline ghost's voice speaking to his friend, using English and telling her that she needs to take care. Cats convey such messages quite well to anyone who knows their body language and sounds, so how would a cat spirit learn English and whisper in Dulcie's ear? I do like the work going on around the campus; water pipe replacement and flooding are causing chaos in the orderly world of academia. During a previous session of works, some of the rare volumes in the English Lit library went missing, and now one of those reappears in an unusual place. Is there any connection to the burglaries?
Personally, I could do without the paragraphs of Gothic fiction at the start of some chapters; this is Dulcie's preference in reading. The good lady naturally prefers to do her case research over a desk, but other amateur sleuths would see a possibly homeless suspect as a prompt to visit a homeless shelter. Instead, Dulcie spends even more time in the library. If you enjoy tales about conserving old books and shaking up a dusty atmosphere, Clea Simon's CODE GREY will repay your interest. Just mind your step.
SUMMARY
Did a down on his luck former student steal a priceless book? Grad student and cat lover Dulcie Schwartz thinks not Ė and she sets out to prove it

Itís spring break, and Dulcie Schwartz has stayed behind in almost-deserted Cambridge, Massachusetts to concentrate on her thesis. But when a former student turned vagrant, Jeremy Mumbles, is found injured, with a valuable missing book clutched in his arms, Dulcie canít seem to let it go. What was he doing with the book? And why has it turned up after all these years?

With Jeremy now the prime suspect for a series of break-ins in the area, Dulcie is determined to clear the unfortunate former scholarís name. But when she finds a connection between the book he was carrying and her own research into an anonymous Gothic author, the search for clues takes on a new intensity Ė and a new menace.
---
What do you think about this review?
Comments
No comments posted.

Registered users may leave comments.
Log in or register now!