"A little bit of sugar and a lot of spice together make a group of women that are naughty and nice!"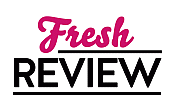 Reviewed by Jennifer Vido
Posted December 2, 2006

Chestnuts roasting by an open fire is not the scene found in the homes of these Christian desperate housewives who are gearing up for the hectic holiday season. From cheating spouses to infertility, these women leave no stone unturned as they try to keep their heads above water while throwing each other lifejackets via e-mail to stay afloat.
When the head e-mail loop moderator finds herself in the middle of a familial crisis, she reluctantly confides in her not-so-nice younger sister as she watches her once perfect life crumble to pieces. Keeping up appearances becomes more and more difficult for her as the stress of the holidays approach, but she must forge on if she wants to live up to her stellar reputation for perfection. This quirky group of women, however, has a way of holding themselves together despite their differences of opinion and at times cattiness that craftily seeps out through their frequent e-mails and mindless games that they play.
Through thick and thin, these stay-at-home moms face the everyday struggles of motherhood, career choices, and spousal issues that ultimately mold them into strong yet independent women who are ready to tackle whatever life- altering decisions are tossed their way.
The sequel to SAHM I Am, @ Home for the Holidays revisits the lives of a group of extraordinary women who appeal to both the working and stay-at-home moms as Efken expertly tackles sensitive topics not found in mainstream fiction. Light, humorous, and at times touching. @ Home for the Holidays makes the perfect holiday gift.
SUMMARY
Sitting by the fireside, humming carols and knitting mittens…not! For these stay-at-home moms, the weeks before Christmas are anything but mellow. How can you balance housework, home crises and the husband without losing your mind? Plug in your laptop!
Meet Dulcie, Zelia, Jocelyn, Rosalyn, Veronica and the rest of the women of SAHM I Am. An e-mail loop of stay-at-home moms, they've seen each other through months of domestic drama: babies who won't come, bills that won't leave, kids who won't listen and spouses who won't talk. Now, as the yuletide approaches, the SAHMs are on hand once again, bearing gifts of sisterhood, sanity and the real Christmas spirit.
---
What do you think about this review?
Comments
No comments posted.

Registered users may leave comments.
Log in or register now!