#RomanceWednesday a delightful Regency
Some things can't be tamed
Hellions of High Street #3
Forever
June 2015
On Sale: May 26, 2015
Featuring: Caro Sloane; Alec McClellan
ISBN: 1455573264
EAN: 9781455573264
Kindle: B00DTUHMU4
Paperback / e-Book (reprint)
Add to Wish List






With her older sisters both happily married, Caro Sloane yearns for a romantic adventure of her own. Unfortunately the muddy, sulfur- scented waters of Bath seem the least likely setting for love or excitement. But the aspiring young poet soon finds inspiration when she runs into a familiar-and achingly handsome-Scottish laird.
Visiting Bath with his sickly sister, Alec McClellan is shocked to be reunited with Caro Sloane. He hasn't been able to forget the English beauty since their brief but exhilarating first meeting. But Bath is not nearly as serene as it appears, and soon Alec must protect Caro from a danger that threatens to extinguish the sparks flying between them. Little does he know that a bit of danger is exactly what Caro is looking for . . .
Excerpt
"One would almost think you were going out of your way to avoid speaking to me."
"We're speaking now," he pointed out.
"I would call it verbal sparring." Caro edged around impatiently, forcing him to look her in the face. "But now that I have you alone, I'd rather not keep trading thrusts and parries. I would rather discuss far more important matters—such as whether you have learned anything new about the attack on your sister?"
Pursing his lips, Alec shifted his stance just enough to allow him to return to his perusal of the lettering on the column. "Not really."
"Ye gods." She restrained the urge to take hold of his arm and give him a hard shake. "What sort of answer is that?"
"The only one I intend to give," he replied calmly.
"Fine." Caro watched the breeze ruffle his long hair, causing a tangle of red-gold strands to curl around his ear and dance down the freshly shaven line of his jaw. The faint scent of bay rum tickled at her nostrils.
"Fine," she repeated, after forcing herself to exhale. "Then I'll just have to do a little poking around on my own."
That got his attention. He looked around abruptly, his gaze narrowing to a slitted stare. The movement was quick, but not quick enough to hide the sudden darkening of his eyes.
"That wouldn't be wise," he growled. "The only thing I will add for now is that you should stay well away from Edward Thayer."
"Why?"
"Because…" He let out an exasperated grunt. "Must you always plague me with questions?"
"I wouldn't have to if you would stop treating me like a feather-headed wigeon."
Alec's scowl became more pronounced.
"Haven't I proved myself trustworthy and capable?"
A small muscle on his jaw twitched. "I am not at liberty to give you any more details right now. All I can say is that…" As he drew in a breath, he seemed to change his mind about what to say. "Thayer is a charming fellow. No doubt his smooth words are more to your liking."
Deciding Alec deserved a bit of teasing, Caro pretended not to notice the roughness edging his voice. "Yes, he's exceedingly charming."
If his storm-blue stare squeezed any tighter, it would be sharper than a razor's edge.
"And scrupulously polite," she added.
Alec was becoming more flustered. Small sounds were beginning to rumble in his throat, like the growling of a bear. "I do not have Thayer's gift of making myself agreeable. He has a honeyed tongue, which seems to appeal to all the ladies."
"Honey is, after all, a great deal more palatable than vinegar," Caro pointed out.
He now looked utterly nonplussed.
Caro let him stew for a moment longer before huffing an exasperated sigh. "Oh, for heaven's sake, give me some credit for having a brain, Lord Strathcona! Of course I don't find Thayer appealing. When honey drips that freely, it ought to catch naught but flies."
The growls ceased.
Caro waited for him to speak.
Ever so slowly, Alec shifted his feet, stirring tiny puffs of pale dust beneath his boots.
The flicker of dark leather caused a momentary spasm of doubt as she recalled her chilling encounter in the churchyard.
Alec as evil? She couldn't explain how, but she knew with a certainty that resonated right down to her very heartbeat that it couldn't be true. "Are you saying you would trust my word over his?"
"Yes, you big lummox! I don't know why I should, but I prefer your snaps and growls."
A dappling of sunlight seemed to catch on the curl of his lashes, gilding them to a gleaming gold.
"You are forthright, you are honorable in your own maddening way," she went on. Oh, no man ought to have such beautiful eyes.
She found herself staring, and at that moment, all rational thought seemed to dance away in the breeze. His face was utterly intriguing—a mix of chiseled planes and well-defined features that hinted at hidden secrets.
"And… well, you are quite the most interesting man I have ever met." Her legs suddenly seemed a little unsteady, so Caro reached out and caught hold of his lapels.
Looking up, she found his mouth was only inches from hers.
"Oh, bosh—I shall probably regret this…" Standing on tiptoes, Caro kissed him. Not a mere feathering of flesh against flesh, but a hard, hungry embrace that she let go on for far, far longer than any proper young lady should dare.
"There, I have no doubt shocked you."
The tip of his tongue traced along the swell of his lower lip.
"I imagine you think me a wanton hellion, and I suppose I am. It must be my eccentric upbringing. I don't care very much for rules." Caro knew she was babbling but she couldn't seem to stop. "You may consign me to the Devil. But at least I shall dance a merry jig on my way to perdition."
Was that finally a hint of smile?
She finally dared pause to take a breath. A long, shuddering breath. Now was the time to flee, before she made an even bigger fool of herself. But Alec suddenly shifted again, blocking her way.
"I, too, shall probably regret this," he said as he slowly circled his arms around her and pulled her close.
She opened her mouth. To protest?
Before she could make any sense of what she had set in motion, their lips met again, setting off a fierce jolt of fire.
Comments
14 comments posted.
Looking forward to reading Caro's story.
(Valerie LaMont 11:06am yesterday)
Olivia.
(Sharon Berger 12:06pm yesterday)
Promises laughter? And fun? And misunderstanding? And suspense? But
all resolved in the end by the two reunited people in love!
Can't wait.
(Kantu Malhotra 12:31pm yesterday)
I have not had the pleasure of reading your books yet... making note of this book and series... thanks for sharing!
(Colleen Conklin 1:58pm yesterday)
The books sounds like a good summer read. I haven't had the
pleasure of reading any of your work yet, but I hope to
correct that.
(Deb Philippon 2:23pm yesterday)
looking forward to reading Passionately yours. looks like a great book.
(Donna Sweatman 4:40pm yesterday)
I haven't had the opportunity of reading your books yet, but do plan on doing so, even if it means checking them out from the library!

This series is right up my alley, as I am a big Regency era fan.

Thanks for the contest!
(Lynn Rettig 4:41pm yesterday)
haven't read any of the Hellion of High street series so I don't have a favorite character yet.
(Angela Parrish 5:18pm yesterday)
I am looking forward to reading Caro's story. She is a heroine after my
own heart.
(Lettetia Elsasser 5:46pm yesterday)
I am excited to read Caro and Alec's story! I'm sure it is going to be a page
turner!
(Sonal Shah 6:00pm yesterday)
It is not easy to pick a favorite. I love all the heros
and hellions. I have not had the pleasure of reading your
books but I will say this: When asked for my fav it will
usually be all of them.LOL!!
(Tina Ullrich 7:24pm yesterday)
I have never read any of your books, I am so sorry but I
hope to be able to read one of your books by winning your
contest! :) GOOD LUCK EVERYONE!
(Kelly Baker 9:33pm yesterday)
I think that I will have to read all three of the books in the series.
(Dale Kirk 10:35pm yesterday)
So far I only have Olivia's story, so I have to pick her. ;)
(Marcy Shuler 1:06am today)
Registered users may leave comments.
Log in or register now!

Our Past Week of Fresh Picks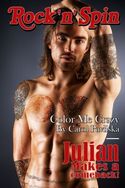 Color Me Crazy
by Carol Pavliska
Featured as Fresh Pick on May 26, 2015

Never fall for a rockstar... Julian Wheaton views the world through a kaleidoscope of synesthesia, seeing the colors of every sound he hears. His life Read More »

Lyrical and realistic, witty and poignant: a superior rock star romance!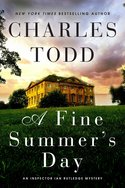 A Fine Summer's Day
by Charles Todd
Featured as Fresh Pick on May 25, 2015

#SuspenseMonday - in celebration of Memorial Day, something from WWI outbreak>
New York Times bestselling author Charles Todd takes readers into Scotland Yard detective Ian Rutledge's past—to his perplexing final case before Read More »

A peaceful day soon turns into one of war, murder, and mayhem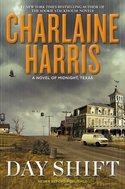 Day Shift
by Charlaine Harris
Featured as Fresh Pick on May 24, 2015

A Great Weekend Read>
In Midnight Crossroad, Charlaine Harris "capture[d] the same magic as the world of Bon Temps, Louisiana, and [took] it to another level Read More »

A sheer delight, full of Southern charm and pure zaniness!

Shift back to Midnight Texas with this awesome book!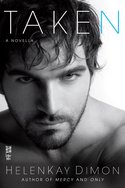 Taken
by HelenKay Dimon
Featured as Fresh Pick on May 23, 2015

#WeekendMix>
Known for her "emotional, sexy and smart"* stories, now, HelenKay Dimon presents a bold new novella that takes readers to the edge… Wade Read More »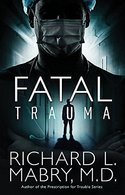 Fatal Trauma
by Richard L. Mabry
Featured as Fresh Pick on May 22, 2015

#InspirationalFriday>
It began with Dr. Mark Baker facing a gunman who had nothing to lose. It could end with him behind bars. In the Emergency Room Read More »

Finding peace in the midst of the storms of life.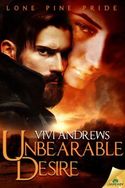 Unbearable Desire
by Vivi Andrews
Featured as Fresh Pick on May 21, 2015

#SupernaturalThursday>
Their history? Complicated. Their chemistry? Incendiary. Lone Pine Pride, Book 4 Ten years ago, Moira shared one hot night with the bear-shifter of her Read More »

Just when she is ready to give up he comes around ... or did he?

Moria has dedicated her life to helping others and only ever wanted one thing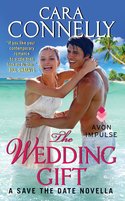 The Wedding Gift
by Cara Connelly
Featured as Fresh Pick on May 20, 2015

#RomanceWednesday what's better than a wedding?>
What's the New-Jan-Plan? Discover the answer in Cara Connelly's newest Save The Date Novella, and see how mousey Jan Marone gives Read More »

There once was a dork and a firefighter who went to a wedding...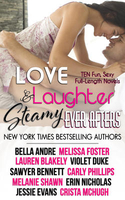 Love, Laughter, and Steamy Ever Afters
by Bella Andre, Carly Phillips, Erin Nicholas, Crista McHugh, Melissa Foster, Melanie Shawn, Lauren Blakely, Sawyer Bennett, Violet Duke, Jessie Evans
Featured as Fresh Pick on May 19, 2015

#WhatsNewTuesday a contemporary romance anthology to savor>
Ten Novels by Ten NYT Bestselling Authors
Ten Novels by Ten New York Times Bestselling Authors
From the hot big city heroes that make us melt, to the sassy
Read More »