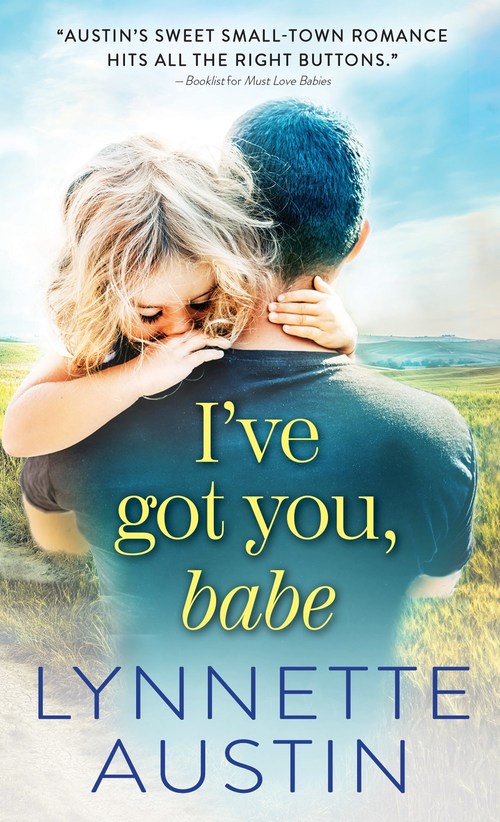 Purchase
Must Love Babies #2
Sourcebooks Casablanca
September 2019
On Sale: August 27, 2019
Featuring: Tucker Wylder; Elisa Danvers
384 pages
ISBN: 1492694207
EAN: 9781492694205
Kindle: B07Q1JY1FT
Mass Market Paperback / e-Book
Add to Wish List

Where do you go when you're at the end of your rope?
Former Marine Tucker Wylder wants nothing more than to work with his brothers in their vintage car restoration business and be left alone with his nightmares and regrets. The last thing he needs is to take on someone else's troubles. . .
Then Elisa Danvers and her young daughter arrive in Misty Bottoms, Georgia. Elisa has reached the end of the line--flat broke, engine trouble, sick in body and spirit. Tucker steps up to the rescue and finds himself reluctantly taking care of a feisty preschooler and her independent mother, who doesn't seem to want his help. And Tucker isn't sure he's ready for the way precocious little Daisy and headstrong, beautiful Elisa herself capture first his bachelor household and finally his carefully guarded heart. . .
Must Love Babies
Comments
21 comments posted.
Hi Lynn. Congrats on the newest from Misty Bottoms. I am enthralled with your first and so look forward to this new story about the middle brother, Tucker. Getting to know him in the first book and declaring he would never marry, I wondered how you would handle it.
You are one fantastic writer - and transport me into a grand world you've built. Congrats again.
(Karen Benson 10:20am August 30)
Wow! This sounds great! Congrats on the release! Can't wait to read it. I'll
need to grab the first book too. Lol
(Heather Scully 4:39pm August 30)
This looks like such a wonderful read. Thank you for sharing the story.
(Cynthia St. Germain 5:44pm August 30)
Loved reading your story. Look forward to your book. Thanks for the
chance.
(Christine LaFord 7:53pm August 30)
I look forward to reading this.
(Nancy Jones 10:35pm August 30)
Having been a single mom. I love that you are writing
romances for those that often feel left behind.
(Sabrina Zehner 11:21am August 31)
Never read one of your books. But by entering these contests on FF I get a chance to find new authors to try. Would love to win.
(Kimberly Fravel 2:48pm August 31)
Congrats on the new release! It sounds like a wonderful book. Great interview. Thanks for sharing.
(Bonnie H 9:40pm August 31)
Hi Lynette,
I love this book!!! Sounds great!!! Life has a funny way of bringing us just
what we need when we need it even when the timing seems a little bit off.
Thanks so much!!!
(Jessica Chappell 10:36pm August 31)
I would like to read this book! The plot sounds great. Love
the cover.
(Melanie Rosen 12:45pm September 1)
Interesting plot! I like the "ready made family" idea, and
there's just not enough of them in romance. Looking forward to
this.
(Valcin Lucas 1:30pm September 1)
Plot sounds interesting. Thank you for writing.
(Sharon Good 1:51pm September 1)
This sounds interesting. I would love to read it. Thanks for the chance to win.
(Anna Speed 8:33pm September 1)
Sounds fun! Lemon meringue pie sounds so good right now!
(Sue Galuska 9:17pm September 1)
sounds like a really good book
(Vickie Couturier 8:43am September 2)
Sounds like a really great read.
(Lori Byrd 8:38pm September 2)
Hi Ms. Austin,

Thank you for sharing your story! I absolutely love Nora Roberts as
well, but have not had the chance to read Under Currents Yet...

I am looking forward to reading your book :)

Best,
Hylla
(Hylla Jackson 11:28am September 3)
This is my chance to try a new author with a great story to read.
(Rosemary Simm 2:21pm September 3)
Hi. Cool giveaway
(Emily Stemp 7:45pm September 3)
Great interview! I really like your car history since I'm
a,former NASCAR super sticker. Rebuilt a '57 Buick
Roadmaster and loved my '56 Ford convertible!Both had
rolled, tucked And pleated upholstery!
Looking forward to reading your book.
(Kathleen Bylsma 9:21pm September 3)
Love the storyline and that it involves the restoration of
vintage cars. Can't wait to read this.
(Tina Rucci 11:38pm September 3)
Registered users may leave comments.
Log in or register now!