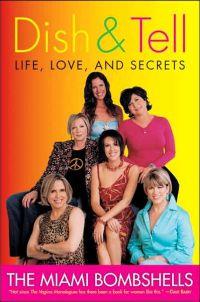 Purchase
Life, Love, and Secrets
William Morrow
May 2006
304 pages
ISBN: 0060777710
Hardcover
$23.95
Add to Wish List

We see you, stealing a glance at these pages during your lunch break, in between errands while the world is calling on your cell phone and you pretend not to hear. We understand because we're just like you.
Six dynamic everyday divas, the self-proclaimed Miami Bombshells, gather every few weeks to kick off their power pumps, drink wine, gorge themselves on chocolate, and dish about the costs of having it all (or not): husbands or lovers, children, money, power, spirituality, and successful, rewarding careers.
During these sessions -- guiltily crammed in between business trips, charity events, and their children's activities -- they drop all pretenses and let fly their most personal bombshells, which eventually landed on the pages of this book. All of the stories are true. Some are signed, others are written anonymously, to protect the innocent (and the guilty).
Long ago, the Miami Bombshells refused to accept lives of quiet desperation, deciding instead to embrace their imperfections and put their own needs at the top of their to-do lists. In doing so, they redefine what it means to be a modern-day bombshell ... it's more about being courageous than curvaceous.
These six brave women divulge their vulnerabilities and most intimate secrets by hanging their dirty laundry on this literary clothesline. They describe coping with depression when expected to be the life of the party, why they fell into dubious relationships, how they dealt with rape, panic attacks, romantic email blunders, hair loss, the corporate vs. family juggling act, and nanny nightmares.
All women, no matter how different, go through similar experiences in life, and just knowing that is sometimes enough to make it better. Dish & Tell proves that reality is stranger (and much more interesting) than fiction.

Media Buzz
Today - May 30, 2006

Comments
No comments posted.

Registered users may leave comments.
Log in or register now!