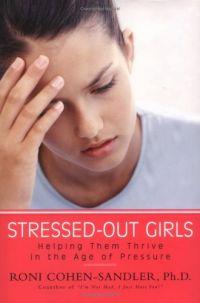 Purchase
Helping Them Thrive in the Age of Pressure
Viking
August 2005
288 pages
ISBN: 067003438X
Hardcover
$24.95
Add to Wish List

We constantly read about it in the news: achievement standards across the country are at an all-time high, and competition in schools is fierce. Teenagers today face an enormous, unprecedented expectation to excel--but at what cost?
In Stressed-out Girls, Roni Cohen-Sandler, a clinical psychologist and expert on adolescent girls, illustrates why girls feel more intensely pressured than boys to succeed academically and socially with detrimental effects to their performance, self-esteem, and well-being. While trying to shine academically, juggle hectic extracurricular activities, and navigate complex social situations, teenage girls often feel disconnected from their true selves--and yet feel compelled to hide their distress from the teachers and families they want to please. Based on her clinical work, interviews, and a comprehensive survey of three thousand teens, Cohen-Sandler identifies five at-risk groups of girls and gives parents and educators practical strategies to reduce their stress, build resiliency, and bolster their confidence.
Filled with eye-opening firsthand stories from real girls, this groundbreaking book gives a rare and candid glimpse into the secret struggles of teenage girls today in their quest for success.
Comments
No comments posted.

Registered users may leave comments.
Log in or register now!