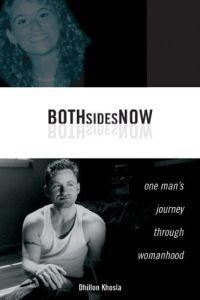 Purchase
One Man's Journey Through Womanhood
Tarcher
March 2006
336 pages
ISBN: 1585424722
Hardcover
$26.95
Add to Wish List

On the way to rebuilding the temple that is now his body, he stumbled upon his soul... Both Sides Now is a vivid and compelling account of one man's search for wholeness, leading through multiple, complex, and life-threatening surgeries that not only transformed him physically, but emotionally and spiritually.
While he was born into a female body, Dhillon Khosla never felt fully at home in his skin. But while he knew very early on that his true identity was male, he spent almost twenty years repressing this knowledge and trying to fiercely to embrace the beautiful appearing female form into which he developed. Trapped beneath the female disguise, he lived his life from the outside looking in.
Shortly after turning 28, he came across an article about men who were born into female bodies and had undergone surgeries to reclaim their male identity. As soon as he began reading the words, Khosla felt flashes of recognition stirring within, and for the first time, hope.
In this spellbinding memoir Khosla shares his extraordinary journey to reclaim his manhood -- a journey that would ultimately lead through fifteen surgeries, one of which almost claimed his life and revealed the very depths of his commitment. As Khosla continued to bravely fight his way home, his nights became filled with beautiful, allegorical -- and sometimes prophetic -- dreams, while his days brought insight upon insight into the many ways we as men and women leave our fingerprints upon each other. But most poignant of all, was his discovery of the true meaning of self-love: the willingness to turn away from the external forces that tell us who we ought to be, towards that one, inner voice that has known all along.

Media Buzz
The View - May 4, 2006

Comments
No comments posted.

Registered users may leave comments.
Log in or register now!