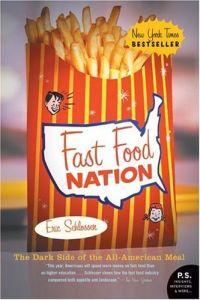 Purchase
The Dark Side of the All-American Meal
HarperCollins
July 2005
416 pages
ISBN: 0060838582
Paperback
$14.95
Add to Wish List

Fast food has hastened the malling of our landscape, widened the chasm between rich and poor, fueled an epidemic of obesity, and propelled American cultural imperialism abroad. That's a lengthy list of charges, but Eric Schlosser makes them stick with an artful mix of first-rate reportage, wry wit, and careful reasoning.
Schlosser's myth-shattering survey stretches from California's subdivisions, where the business was born, to the industrial corridor along the New Jersey Turnpike, where many of fast food's flavors are concocted. Along the way, he unearths a trove of fascinating, unsettling truths -- from the unholy alliance between fast food and Hollywood to the seismic changes the industry has wrought in food production, popular culture, and even real estate.

Media Buzz
Oprah - March 11, 2010
Oprah - January 27, 2010
Good Morning America - August 10, 2008
Countdown with Keith Olbermann - December 11, 2006
Lou Dobbs Tonight - November 17, 2006
Fresh Air - NPR - November 16, 2006
Talk of the Nation - November 16, 2006
Marketplace - PRI - May 19, 2006
Early Show - May 8, 2006
Today - May 4, 2006

Comments
No comments posted.

Registered users may leave comments.
Log in or register now!