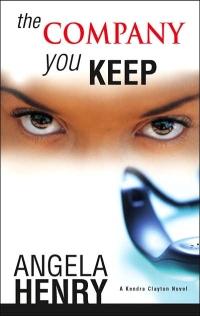 Purchase
Kimani Press Sepia
May 2006
304 pages
ISBN: 1583147608
Paperback
$6.99
Add to Wish List

Hard as she tried, twenty-eight-year-old Kendra Clayton never quite broke out of her hometown of Willow, Ohio. Now she works part-time as a GED instructor and beefs up her income by hostessing at her uncle's restaurant, soaking up the local gossip. It's a quiet life, but Kendra hasn't given up hope that one day Mr. Right will walk through the door. In the meantime, her sleepy hollow is about to get a rude awakening, and Kendra is about to get some excitement — though it's not quite what she had in mind....
When Kendra hears that her friend and co-worker, Bernie Gibson, is finally ready to kick her cheating gigolo boyfriend to the curb, she couldn't be happier. Forty- something Bernie deserves much better — and so do all the other women Jordan Wallace has been involved with. In fact, Kendra hopes they never set eyes on his lying face again. And she's about to get her wish.
Before she has a chance to end the relationship, Bernie discovers Jordan's brutally murdered body on her property. The first call she makes is to Kendra, the second is to 911. As the two get caught up in a series of police interviews, Bernie asks Kendra to withhold some seemingly harmless information. In the name of friendship, Kendra reluctantly agrees. But soon Kendra's favor ends up implicating her in the crime.
The only way Kendra can save herself — and the friend she believes is innocent — is by doing some investigating of her own. And the closer she looks, the more suspects she finds. Jordan was a man that women loved and hated — usually at the same time. Now one of them has crossed that thin line. But between Jordan's past and present conquests, which include several girlfriends in a variety of colors, and a chain of emptied wallets and vengeful hearts, which one could be a killer? As Kendra's curiosity draws her deeper into the case, she also gets into an unexpected attraction to a man who may hold the missing piece of the puzzle — if she can survive long enough to put it together.
Comments
1 comment posted.
Friendship?
(Yvonne Butler 4:28pm June 8, 2009)
Registered users may leave comments.
Log in or register now!