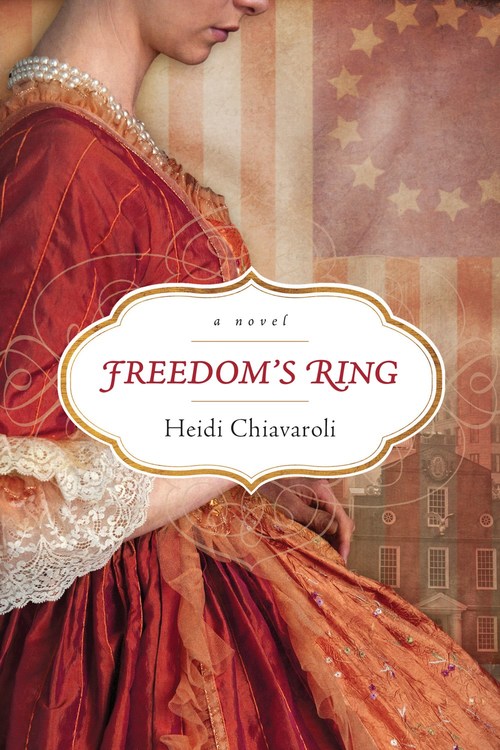 Purchase
Tyndale House
August 2017
On Sale: August 8, 2017
425 pages
ISBN: 1496423127
EAN: 9781496423122
Kindle: B01MZWL1F4
Trade Size / e-Book
Add to Wish List

Women's Fiction Historical | Women's Fiction Contemporary | Inspirational Historical
Boston, 2015
Two years after nearly losing her life in the Boston Marathon bombing, Annie David is still far from "Boston strong." Instead she remains isolated and defeated—plagued by guilt over her niece, crippled in the blast, and by an antique ring alongside a hazy hero's face. But when she learns the identity of her rescuer, will he be the hero she's imagined? And can the long-past history of the woman behind the ring set her free from the guilt and fears of the present?
Boston, 1770
As a woman alone in a rebellious town, Liberty Caldwell finds herself in a dangerous predicament. When a British lieutenant, Alexander Smythe, comes to her rescue and offers her employment, Liberty accepts. As months go by, Alexander not only begins to share his love of poetry with her, but protects Liberty from the advances of a lecherous captain living in the officers' house where she works.
Mounting tensions explode in the Boston Massacre, and Liberty's world is shattered as her brother, with whom she has just reunited, is killed in the fray. Desperate and alone, she returns home, only to be assaulted by the captain. Afraid and furious toward redcoats, Liberty leaves the officers' home, taking with her a ring that belonged to Alexander.
Two women, separated by centuries, must learn to face their fears. And when they feel they must be strong, they learn that sometimes true strength is found in surrender.
Comments
24 comments posted.
Re: Freedom's Ring

Time-slip is a new word for me. Although the writing style
isn't. Not something I'm usually interested in, unless the
stories are connected in some way.
(Cynthia Netherton 6:00pm August 9)
I love time-slip novels. Susan Meissner is the
first time I read one also. I can't wait to read
your book. Sounds wonderful.
Carol L
Lucky4750 (at) aol (dot) com
(Carol Luciano 2:22pm August 11)
Thanks for stopping by, Cynthia and Carol! One of the reasons I love time-slip is
finding out how the stories are connected. It's fun to see how the author ties
them together. :)

Carol, I love Susan Meissner! Thank you for your kind words!
(Heidi Chiavaroli 11:08am Monday)
Thanks for stopping by, Cynthia and Carol!

Yes, the stories connecting is vital to a time-slip--that's one of my favorite
parts...seeing how the author ties them together!

Thank you for your kind words, Carol!
(Heidi Chiavaroli 12:04pm Monday)
wow i must say this cover is just gorgeous! I love to read Time-
travel/(time slip is a new term for me)just to shake things up
when i looking for excitement. Love that my mind can travel
far more places and time than I can. What a great idea for a
story, this is a first i have heard of with anyone writing about
the boston bombing in 2015.. Much luck to you!
(Christy Mckenney 3:26pm Monday)
Thank you so much, Christy, for your kind words and compliments on the cover
and the premise. Yes, time slip is definitely good for shaking things up! ;)
(Heidi Chiavaroli 9:27pm Monday)
I loved that British time-slip Jane Austen series, and now this looks like an
interesting read!
(John Smith 9:55pm Monday)
I don't usually read time-slip novels. But I do love all
types of romance novels. This story sounds amazing,
definitely not like anything I've ever read. Thanks for
the chance.
(Tanja Dancy 10:17pm Monday)
I didn't know they are called time-slip novels. I have read a few and loved them. I especially love how the stories can intertwine with the places or events past and present.
(Pam Howell 8:18am Tuesday)
I've never heard the phrase "time-slip novels" but it's the perfect description. Your book sounds like a great read. And the cover is beautiful. I'm already on the waiting list for your book at my local library. Thanks for this chance to win a copy. Best of luck with the book - and all you do.
(Nancy Reynolds 10:07am Tuesday)
Thanks you so much for stopping by, John, Tanja, Pam, and Nancy!

Pam, that is my favorite part of time-slip too!

Tanja and Nancy, thank you so much for your sweet words! I hope you enjoy the
book!
(Heidi Chiavaroli 10:52am Tuesday)
Time slip novels are captivating, meaningful and memorable. I
have read many which have become favorites and are
unforgettable.
(Sharon Berger 11:55am Tuesday)
Yay for time slip books, Sharon! Thank you so much for stopping by. :)
(Heidi Chiavaroli 2:50pm Tuesday)
Boston Strong will forever hold a place in my heart and soul. Thank you for writing such an important story for your readers, Heidi.
(Susan Coster 5:53pm Tuesday)
Oh, thank you so much for your encouragement, Susan, and your kind words. :)
(Heidi Chiavaroli 9:20pm Tuesday)
This time slip novel caught my attention. Seems. Like it
would be a very interesting book.thank u for this
opportunity.
(Christina Cantrell 2:36am Wednesday)
Thanks for stopping by, Christina!
(Heidi Chiavaroli 9:43am Wednesday)
I've never read a time slip novel before. It sounds interesting. Thanks for
the post.
(Patti Pusateri 1:05am yesterday)
Love reading yo books.
(Alma Beraza 11:31am yesterday)
Time-slip is a most interesting concept! Can't wait to read
one!
(Laura Klassen 11:49am yesterday)
I had never heard of a time slip novel before (where have I been?). I love the colonial historical period and growing up a bunch of my cousins lived right outside Boston. Sounds like a great book. Would love to win!
(Margaret OConnor 6:16pm yesterday)
sounds like great reading thank for the chance
(Philip Halter 8:16pm yesterday)
What a fascinating book! I love time slip novels and have added Freedom's Ring to my TBR list. Thanks for sharing.
(Bonnie Hometchko 8:38pm yesterday)
I love the idea of a time slip novel. I love the settings for this one. Looks like a wonderful read. Being from Massachusetts I'm particularly interested.
(Mary Songer 10:35pm yesterday)
Registered users may leave comments.
Log in or register now!