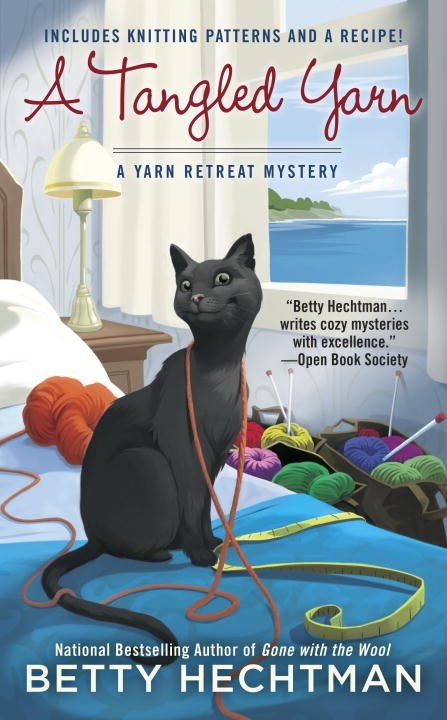 Purchase
Yarn Retreat
Berkley Prime Crime
August 2017
On Sale: August 1, 2017
304 pages
ISBN: 0425282686
EAN: 9780425282687
Kindle: B01N8SMO4M
Mass Market Paperback / e-Book
$7.99
Add to Wish List

Betty Hechtman knits up murder and mayhem in the latest in the national bestselling Yarn Retreat Mystery series.
Casey Feldstein has her hands full with preparations at the Vista Del Mar hotel on the scenic Monterey Peninsula as another yarn retreat begins. The retreaters will be thrown for a loop this time, learning the trendy art of arm knitting and finger crocheting.
But not everyone is enthusiastic about trying something new, and Casey is forced to come up with an alternative craft for her less adventurous pupils. Things go from worst to worsted when a travel writer from a neighboring retreat group is found dead in his room among a sea of feathers. When one of the owners of Vista Del Mar pleads for help, Casey gets hooked into the case and must unravel a delicate skein of secrets to catch a killer.
Yarn Retreat
Comments
24 comments posted.
Re: A Tangled Yarn

This is definitely one that I want to share with my sister. I
think we would both enjoy it.
(Dynal Roberson 7:33pm August 21)
That is one sly looking kitty! But a sea of feathers? Clearly the seagulls did it!
(John Smith 10:00pm August 21)
This sounds like a fun read. My daughter had a go at arm
knitting and found it great fun.
(G. Bisbjerg 10:23am August 22)
What a great cover. The book sounds like a fun read. Thanks for the chance to win.
(Nancy Reynolds 10:32am August 22)
This cozy sounds delightful and special. Thanks.
(Sharon Berger 12:02pm August 22)
This sounds like a really fun cozy murder mystery. I love
the yarn retreat storyline and the cover is great.
(Tanja Dancy 6:29pm August 22)
We are suppose to have a very bad winter, so this will be a great book to read while watching it snow
(Shirley Younger 7:58pm August 22)
With five furry finksof my own, I am not surprised by your cover. LOL What an interesting and tempting read.
(Dee Smith 7:42pm August 23)
Being a crafter myself, this sounds like the best mystery
ever.
(Allyson Becker 2:15am August 24)
I had a family friend attempt to teach me how to knit. It didn't go well. My
grandmother was a seamstress. She tried to teach me how to sew. It ended
badly. I'm sensing a pattern here. But I can make no-sew throw blankets.
That counts, right?!
Can't wait to read Casey's story-Betty!
(Susan S. 10:58am August 24)
I am hoping to win-- I haven't read any of your books and am
anxious to do so. I do knit, crochet and quilt !
(Mary Sue Russell 6:37pm August 24)
Ok, I knit. I can crochet some things.
(Charlene Fraley 9:41pm August 24)
What a great cover. T
(Tm Occhip 4:41am August 25)
I'm not the most skilled knitter I must admit, so perhaps reading about it
would be the best option for me! 😂
(Olivia Silva 7:14pm August 25)
Looks like a fun story. I do crochet so I enjoy all the puns
there.I so enjoy these cozies and all the characters within.
(Nancy Luebke 7:21pm August 25)
Sounds like a great, fun story!
(Nicole Bouchey 8:59am August 26)
I crochet daily so obviously I like all yarny things.
(Nadine Stacy 10:08am August 26)
I love mysteries but you have added something quite intriguing. I've never heard of arm knitting. It sounds fascinating but I can't imagine how it is done.
(Anna Speed 5:12pm August 26)
This is a book that I would love to read!
(Jean Benedict 12:23pm August 27)
Sounds like a great book.
(Deborah Dumm 4:00pm August 28)
What about the cat hope he/she didn't do it but if it had a good reason protecting the sea gulls
(Jeri Dickinson 6:43pm August 28)
Looks like a fun book. And I love a series that teaches me something too. I've just taken up knitting and I need all the help I can get.
(Mary Songer 7:24pm August 28)
Always on the lookout for something new to read!
(Nicole Davis 10:16pm August 28)
I love reading cozy mysteries
(Linda Knowles 12:33pm August 29)
Registered users may leave comments.
Log in or register now!