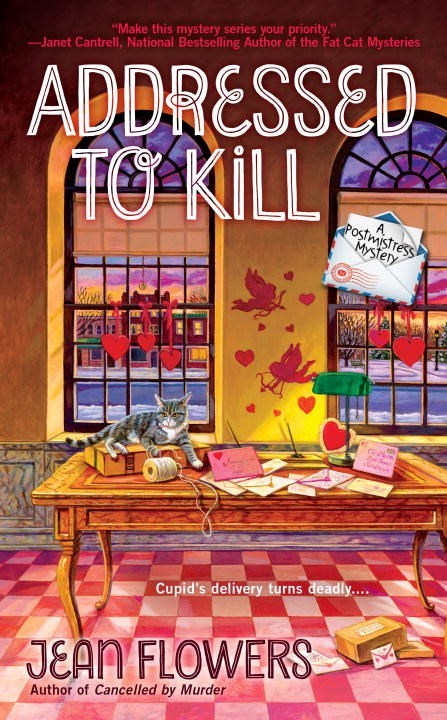 Purchase
A Postmistress Mystery
Berkley Prime Crime
August 2017
On Sale: July 25, 2017
Featuring: Cassie Miller
304 pages
ISBN: 042527912X
EAN: 9780425279120
Kindle: B01M8PU7NR
Mass Market Paperback / e-Book
$7.99
Add to Wish List

Mystery Amateur Sleuth | Mystery Cozy
Third in the Postmistress Mystery series by Jean Flowers, following Death Takes Priority and Cancelled by Murder...
Love is in the air for postmaster Cassie Miller and the residents of North Ashcot, Massachusetts. Valentine's Day is right around the corner, and the town is gearing up for a special dinner dance at the senior center. With the local musical group performing at the dance displaced from their regular practice location, Cassie is all too happy to host them during off-hours at the post office.
But not everything is coming up roses. When one of the musicians, Dennis Somerville, is found shot in his home, rumors swirl over who might have wanted him dead. Cassie must determine if there is a link between a string of recent break-ins and Dennis's murder before another victim winds up with more than a broken heart.
Postmistress Mystery
Comments
22 comments posted.
Sounds like a great read. I look forward to checking it out.
(Dynal Roberson 7:22pm August 21)
Just love cozy mysteries! Looking forward to reading it!!
Thanks for the contest to win a copy!!!
(Teresa Ward 9:31pm August 21)
I try not to let kittens walk all over tabletops. It might disturb the clues....
(John Smith 9:59pm August 21)
Love the colors in the cover. It sounds like a great story. Thanks for the chance to win.
(Nancy Reynolds 10:34am August 22)
This delightful cozy sounds enjoyable and intriguing. Thanks.
(Sharon Berger 12:01pm August 22)
Sounds really like a really good story. I love cozy
mysteries. Thanks for the chance.
(Tanja Dancy 6:34pm August 22)
Oh this really sounds delightful! I can't wait to read it.
Thanks for the opportunity!
(Marcia Berbeza 3:08pm August 23)
That cover makes you want to know what happened. What a good job!
(Dee Smith 7:41pm August 23)
This sounds so good! I must read it!
(Allyson Becker 2:16am August 24)
Great review I'm looking forward to this, and a new Author for me too thanks
Penney
(Penney Wilfort 5:47pm August 24)
A must read book!!
(Judy Weaver 8:21pm August 24)
What a great cover.
(Tm Occhip 4:42am August 25)
Sounds very intriguing!
(Olivia Silva 7:15pm August 25)
Enjoy these cozies. Cassie has such a big heart when it comes
to friends and family. Thanks for this opportunity.
(Nancy Luebke 7:28pm August 25)
Thanks for the opportunity
(Stephanie Lord 10:44pm August 25)
Sounds like a great book, I can't wait to read it.
(Nicole Bouchey 8:59am August 26)
I didn't know of your pseudonyms.
(Nadine Stacy 10:10am August 26)
This sound like a good mystery, just my type of book.
(Anna Speed 5:07pm August 26)
Love a good mystery so looking forward to reading your bok.
(Jean Benedict 12:26pm August 27)
I love when I find a new author I like and then find out that she's written several other series. I'm looking forward to reading a book set in Massachusetts.
(Mary Songer 7:31pm August 28)
Looking for something new!
(Nicole Davis 10:15pm August 28)
Can't wait to dive into this whodunnit
(Linda Knowles 12:34pm August 29)
Registered users may leave comments.
Log in or register now!