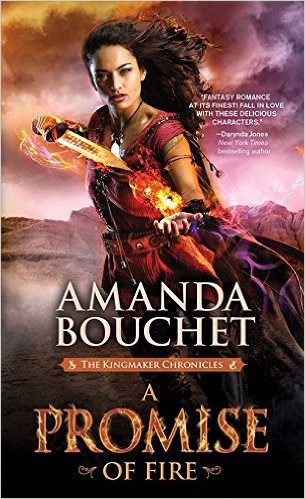 Purchase
The Kingmaker Chronicles #1
Sourcebooks Casablanca
August 2016
On Sale: August 2, 2016
Featuring: "Cat" Catalia Fisa; Griffin
448 pages
ISBN: 1492626015
EAN: 9781492626015
Kindle: B01DE9I4LA
Paperback / e-Book
Add to Wish List

KINGDOMS WILL RISE AND FALL FOR HER... "Cat" Catalia Fisa lives disguised as a soothsayer in a traveling circus. She is perfectly content avoiding the danger and destiny the Gods-and her homicidal mother-have saddled her with. That is, until Griffin, an ambitious warlord from the magic-deprived south, fixes her with his steely gaze and upsets her illusion of safety forever.
BUT NOT IF SHE CAN HELP IT Griffin knows Cat is the Kingmaker, the woman who divines the truth through lies. He wants her as a powerful weapon for his newly conquered realm-until he realizes he wants her for much more than her magic. Cat fights him at every turn, but Griffin's fairness, loyalty, and smoldering advances make him increasingly hard to resist and leave her wondering if life really does have to be short, and lived alone.
Kingmaker Chronicles Trilogy A Promise of Fire Breath of Fire (coming January 2017) Heart on Fire (coming Fall 2017)
Awards
Fresh Fiction Box Not To Miss, Selection, December 2016

The Kingmaker Chronicles
Comments
15 comments posted.
It is always good to find authors whose books I have not read. Just found
one.
(Jackie Wisherd 2:10pm August 11, 2016)
The first time I remember crying over a book was when I
read Little Women in 4th or 5th grade. I was devastated
when Beth died. And it opened up the fact that I prefer
to laugh when I read, but some people prefer to cry. As a
children's librarian, I actually had books that I had
never read, and never wanted to read. And I was public
about it. I actually had 5 copies of the one title
because there was such a demand for my "books that make
you cry." Anytime I presented one of those titles there
was an immediate exodus to the shelves....
(Marcia Berbeza 1:08am August 12, 2016)
Wonderful post... and loved the content. Please keep updating such posts for us.Drysdale Dentist
(Marvin Green 6:05am August 12, 2016)
I don't remember what the book was, now, but I remember
reading a book to my children and crying over the sad part as
I read it.
(Janie McGaugh 12:36pm August 13, 2016)
I love finding books that make you laugh or cry!
Thanks for the chance to win!
(Natasha Donohoo 1:32am August 13, 2016)
i agree that balance in a character and what shaped him or
her is important.
(G. Bisbjerg 2:55am August 13, 2016)
I was reading the novel Forrest Gump in bed one night years ago. When I got to the boiler room/cooking scene I started laughing so hard I rolled out of bed onto the floor and hysterically laughed until I cried!
When I later saw the movie, I initially felt critical, as Tom Hanks did NOT look anything like the Forrest Gump described in the book. However, Tom Hanks won me over and I loved the movie. The book and movie are a bit different in my mind's eye; but, both are exceptional in their own right.
(Sarah Edwards 12:57pm August 14, 2016)
I cry when I'm reading a book and an animal dies.
Thanks for the giveaway!
(Joanne Schultz 2:40pm August 14, 2016)
I always cry at the end of romance novels when the hero and heroine finally get together and live happily ever after. I think all stories should end with happily ever after.
(Nancy Marcho 5:54pm August 14, 2016)
A couple of years ago I read Impatient with Desire: The Lost Journal of Tamsen
Donner by Gabrielle Burton. It is a fictionalized look at the Donner Party trip
through her eyes and journal entries. She was someone I would have been
friends with. Had we lived back then, I would have joined this character I
came to know, and traveled west with her. My heart broke for her as the
party became snowbound and their world crumbled around them. Knowing
what was going to happen, I put the book aside for several weeks. I was not
ready to say goodbye to a friend. I cried my way through the last two
chapters.
(Patricia Barraclough 10:20pm August 14, 2016)
"We silently go with the wind with no sound of whispers
on with the life of escorting with a sense of pride
living a life that is has a meaning in the heaven where
we will have a word of praise for our acts in this world"



(Priya Reddy 1:44am August 15, 2016)
Many times I have laughed out loud reading a book and looked up to see if anyone is looking at me 'funny' , I also have had to put a book down because I can't see the words for crying so hard . I have to dry my eyes before getting back into the book . I do love these books that gets my emotions woke-up .
(Joan Thrasher 10:34am August 15, 2016)
I don't remember the first book to make me cry but Nicholas Sparks books make me cry and The Harry Potter books made me both laugh and cry.
(Kerry Shaw 2:43pm August 15, 2016)
"The Kite Runner" definitely made me cry, not the main character but the other self-sacrificing character (no spoilers for those who haven't read... but who HASN'T read the kite runner???) gahhh, tugs at my heart strings T__T
Lovely cover, by the way!
(Lisa L. 11:05pm August 15, 2016)
Veronica Roth's Allegiant, Divergent series book 3, made me cry. I believe I'd prefer laughter to tears. However, life has both ups and downs. If a given book is well written, I'm game.
(Liz Sawyer 10:54pm August 16, 2016)
Registered users may leave comments.
Log in or register now!