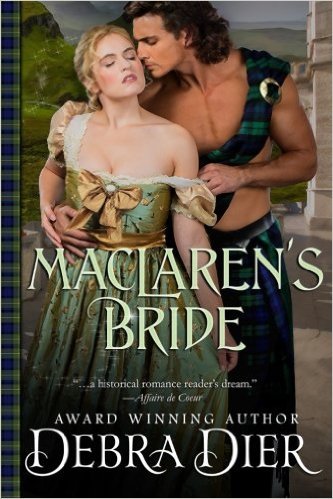 Purchase
A Determined Highlander and his Reluctant Bride
The Heiresses #2
Self Published
February 2016
On Sale: February 22, 2016
Featuring: Meg Drummond; Alec MacLaren
ISBN: 1629960292
EAN: 2940157858346
Kindle: B01C4FP4KE
e-Book (reprint)
Add to Wish List

Meg Drummond was known as the Snow Queen, a challenge to the gentlemen of the ton, for it was said she could freeze a man with a single glance of her green eyes. No one knew the icy castle walls were built to protect the vulnerable girl within. Meg didnít trust easily, not after witnessing the fiery destruction of her parentsí marriage. Since she was a child she had only ever thought of one man in terms of happily ever after, and he had never returned her regard.
After leaving the Highlands, Meg managed to change from an awkward hoyden into the elegant lady her English mother expected her to be. Though she allowed her estranged father to believe she would marry an Englishman to spite him, she had no intention of ever allowing any man close enough to hurt her, until Alec MacLaren charged back into her life. She has loved the charming rogue since she was a child. Yet can she trust the wicked Highlander with her heart?
A hero of Waterloo, Alec owed Megís father his life. Although he had no desire for an arranged marriage, Alec kidnapped and married Meg out of his debt to Robert Drummond. Once he held Meg in his arms he realized there just might be something more to this marriage than he had expected. A suspicious tragedy had made him Earl of Dunleith. Alec doesnít realize a murderer lurks in the shadows waiting to take everything from him.
After years of war Alec longs for a home and family. He knows he must break through the wall of ice surrounding Megís heart, gain her trust, and awaken her desire to truly make her his bride.
The Heiresses

Scoundrel
#1.0
Kindle | BN.com | Apple Books | Kobo | Google Play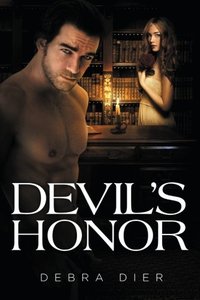 Devil's Honor
#3.0
Kindle | BN.com | | |

Saint's Temptation
#4.0
Amazon.com | BN.com | | |
Comments
37 comments posted.
Re: MacLaren's Bride

I'm looking forward to reading more of your writing!
(Vicki Tunell 2:17pm March 1, 2016)
Great to have you writing new books!
(Janie McGaugh 3:46pm March 1, 2016)
Your writing sounds captivating.
(Sharon Berger 4:14pm March 1, 2016)
I look forward to reading your book and learning more about Meg and
hopefully Alec's love story!
(Lily Shah 5:41pm March 1, 2016)
You're a new author to me I've added your books to my TBR I
love discovering new authors and their works
(Natasha Persaud 5:55pm March 1, 2016)
I can't wait to read your books. I just added you to my
upcoming reading list!
(Michelle Drury 6:05pm March 1, 2016)
Looks like a great book Thanks for sharing it with us
(Linda Moffitt 6:50pm March 1, 2016)
I love love love books set in the highlands!!!
(Candy Voisine 9:23pm March 1, 2016)
Awesome giveaway
(LeAnn Abernathy 12:07pm March 2, 2016)
Enjoyed your post, I imagine that researching must have
been difficult prior to the internet. Have described the
process or researching for school papers to my children and
they kept looking at me with horrified expressions on their
faces.
(G. Bisbjerg 4:09am March 2, 2016)
I love "castle romances." It's been a long time since I have had time to read (English teacher and momma of six). I would love to read yours!
(Amy Morgan 11:50am March 2, 2016)
This sounds like it will be a great read . I love the Highlanders stories and Meg sounds like she is a very head-strong determined young lady . This has to be an interesting story .Thanks for this chance to win .
(Joan Thrasher 12:22pm March 2, 2016)
I would love to read this story. I am a great fan of Highlander historical novels as well as those set in the Regency era. I think that is because of my love of Jane Austin.
(Catherine White 3:55pm March 2, 2016)
Thanks for introducing yourself and your book! :)
(Colleen Conklin 5:03pm March 2, 2016)
I felt like I was reading my best friend Alice's profile.
the 2 of you are so similar. I can't wait to read your
books & am going to start looking for them. Thank you!
(Teresa Miller 5:14pm March 2, 2016)
I look forward to reading more of these books.
Marilyn
(Marilyn Collins 8:09pm March 2, 2016)
I recently "discovered" regency stories and really like them!
(Laurie Bergh 9:34am March 3, 2016)
This one sounds really good. I have added it to my TBR list.
(Joy Isley 3:13pm March 3, 2016)
This book sounds great!
(Reeta Harrison 6:16pm March 3, 2016)
Sounds like some fun reading! Thank you!
(Karen Dyer 7:42pm March 3, 2016)
I'm always looking for new books to read & it looks like I found another book.
(Timberlee Ramsey 11:47am March 4, 2016)
Looks like a great book to add to my tbr pile
(Julie Parrish 7:38pm March 4, 2016)
Oh my word, I want to read this!! I'm so happy you realized
that you can be a mom and still write! I'm older so you
probably don't yet realize that you can do a lot of things in
this lifetime, sometimes simultaneously and sometimes
separately.
(Marcia Berbeza 12:53pm March 5, 2016)
I'm glad that Ms. Dier returned back to writing. It's also
true that one's writing style can change. So nice that an
author takes the time for revision if it is needed.
(Ela Raymundo 2:02am March 5, 2016)
I've never read any of Debra's stories - this looks like one
I'd enjoy.
(Diane Sallans 7:27pm March 5, 2016)
I hope to win so I can buy your wonderful books!
(Chris K 11:47pm March 5, 2016)
Oh I love this cover and can't wait to read this book!
(Bonnie Capuano 9:54am March 6, 2016)
Thanks for the giveaway.
(Mark Watson 10:29am March 6, 2016)
I enjoyed reading about your research in England, Scotland and Ireland. It makes me wish I could join you on the trips.
(Anna Speed 12:56pm March 6, 2016)
When I dream about another time and place, I always think of the Renaissance. Love everything about it. It's probably because I love going to Renaissance Faires. I attend every single one on the East Coast each year. It's a great escape for a day.
(Nancy Marcho 2:10pm March 6, 2016)
I looking forward to your new series where the contemporary meets the past.
(Kai Wong 4:40pm March 6, 2016)
I lived in Scotland for several years. I am now back in the
states but I love reading about it and the Highlanders.
(Denise Austin 6:45pm March 6, 2016)
You are a new author for me but I love historical romance.
(Karen Mikusak 6:54pm March 6, 2016)
I look forward to reading your books. Thanks.
(Dianne McVetty 7:46pm March 6, 2016)
I really enjoy historical romances. I like learning little tidbits
from those times.
(Nancy Luebke 8:19pm March 6, 2016)
I love highlanders.
(Deb Pelletier 8:40pm March 6, 2016)
Historical romances are one of my favorites, can't wait to
read!
(Mary Lynn Hayes 8:52pm March 6, 2016)
Registered users may leave comments.
Log in or register now!