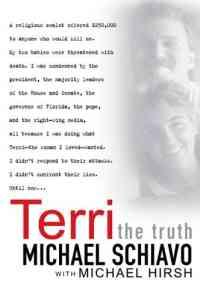 Purchase
You think you know the whole story...but you don't know the truth.
Dutton
March 2006
384 pages
ISBN: 0525949461
Hardcover
$24.95
Add to Wish List

A religious zealot offered $250,000 to anyone who would kill me. My two babies were threatened with death. I was condemned by the president, the majority leaders of the House and Senate, the governor of Florida, the pope, and the right-wing media, all because I was doing what Terri—the woman I loved—wanted.
I didn't respond to their attacks.

I didn't confront their lies.

Until now...

...You may know the headlines about what came to be known as The Schiavo Case, but that doesn't mean you know what really happened. And you certainly don't know why. Frankly, that's because my efforts while Terri was alive were concentrated on giving her the best care possible, and waging the legal battle to ensure that the promise I'd made to her—that she wouldn't be kept alive artificially—would be kept. I didn't have time for public relations. I didn't have time to expose the hidden agendas of all sorts of people, most of whom wouldn't have known who Terri was if they passed her on the street. That's why I wrote this book, and why it's called Terri: The Truth.
When Terri collapsed in February, 1990, I was certain that she would recover. My love for her kept that hope alive in me for years. But there came a time when I had to face the medical facts. Now, I can finally tell you what caused me to conclude that it was time to let her go. And I can also answer the questions that seem to trouble many people: why didn't I just divorce Terri and allow her parents to take over as her legal guardians? And how could I be in a relationship with another woman, and have two children with her, while Terri was still alive?
I loved Terri from the time I met her in a college class in 1983, and I've never stopped loving her. Throughout the fifteen years since she collapsed, I devoted my life to her care. The people—from ordinary citizens to the highest elected politicians—who said otherwise, who called me a murderer, were either completely misinformed, or had ulterior motives.
I have no argument with those who may honestly disagree with me and the choices I have made. But honest disagreement over principle is not what has characterized this story, in my opinion.
I've now had almost a year to reflect on The Schiavo Case, on what it means to me, and what I believe it means to America. As public and contentious as it was, at its heart is an agonizing decision that many Americans may have to face someday. It is my hope this story may help guide their decisions should that time come.

Media Buzz
Talk of the Nation - March 30, 2006
The View - March 28, 2006
Today - March 28, 2006
Larry King Live - March 27, 2006
Today - March 27, 2006
Dateline - March 26, 2006
Today - March 24, 2006

Comments
No comments posted.

Registered users may leave comments.
Log in or register now!