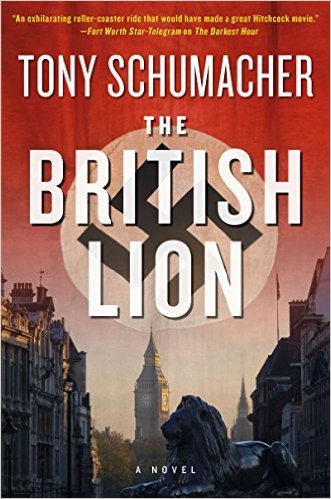 Purchase
William Morrow
November 2015
On Sale: October 27, 2015
Featuring: John Rossett; Ernst Koehler
ISBN: 0062394592
EAN: 9780062394590
Kindle: B00T3DNJR6
Hardcover / e-Book
Add to Wish List

Science Fiction Alternate History
In this crackling alternate history thriller set in the years after World War II—the riveting sequel to The Darkest Hour—London detective John Rossett joins forces with his Nazi boss to save the commander's kidnapped daughter as the Germans race to make the first atomic bomb.
With the end of the war, the victorious Germans now occupy a defeated Great Britain. In London, decorated detective John Henry Rossett, now reporting to the Nazi victors, lies in a hospital bed recovering from gunshot wounds. Desperate to avoid blame over the events that led to the shooting, his boss, Ernst Koehler, covers up the incident. But when Koehler's wife and daughter are kidnapped by American spies, the terrified German turns to the only man he trusts to help him—a shrewd cop who will do whatever is necessary to get the job done: John Rossett.
Surviving his brush with death, Rossett agrees to save his friend's daughter. But in a chaotic new world ruled by treachery and betrayal, doing the right thing can get a man killed. Caught between the Nazi SS, the violent British resistance, and Americans with very uncertain loyalties, Rossett must secretly make his way out of London and find Ruth Hartz, a Jewish scientist working in Cambridge. Spared from death because of her intellect and expertise, she is forced to work on developing the atom bomb for Germany. Though she knows it could end any hope of freedom in Europe and maybe even the world, Ruth must finish the project—if she, too, wants to survive.
Interviews for The British Lion
Tony Schumacher on THE BRITISH LION and a War Ravaged London
The British Lion
November 23, 2015
Comments
2 comments posted.
Re: The British Lion

Although I'm grateful that the War didn't turn out this way,
I'm still looking forward to reading this book!! Just
reading the synopsis was like reading a page-turner, and I
wish I had your book in front of me to start it this week!!
Because my Father fought in WWII, and was almost killed, this
type of book holds a little bit more sentimentality for me as
well. I'm so glad that you took the time to come here, and
let us know about your latest book!! It's on my TBR list,
and I'll be sure to have it on my Fall/Winter reading list!!
Congratulations on what I'm sure is a book that will do very
well!!
(Peggy Roberson 8:14am November 24, 2015)
Peggy! Thank you so much for your comment, and forgive me
for not replying sooner.
I really hope you enjoy the book, and on behalf of those
of us who are free, a huge thank you to your Father for
his bravery in standing up in WW2.
Thanks again,
Tony
(Tony Schumacher 5:56pm December 8, 2015)
Registered users may leave comments.
Log in or register now!