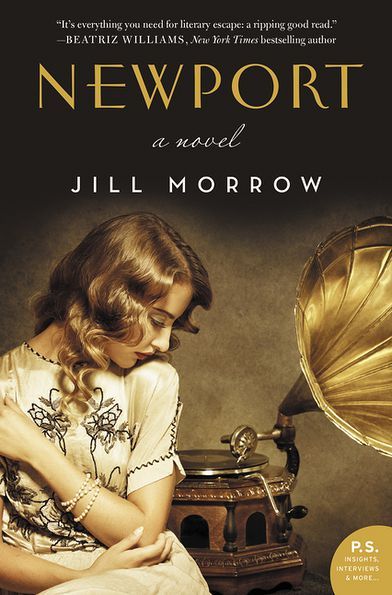 Purchase
William Morrow
July 2015
On Sale: July 7, 2015
Featuring: Adrian De la Noye; Catherine Walsh
384 pages
ISBN: 0062375857
EAN: 9780062375858
Kindle: B00OG9IUAI
Paperback / e-Book
Add to Wish List

Spring 1921. The Great War is over, Prohibition is in full swing, the Depression still years away, and Newport, Rhode Island's glittering "summer cottages" are inhabited by the gloriously rich families who built them.
Attorney Adrian De la Noye is no stranger to Newport, having sheltered there during his misspent youth. Though he'd prefer to forget the place, he returns to revise the will of a well-heeled client. Bennett Chapman's offspring have the usual concerns about their father's much-younger fiancée. But when they learn of the old widower's firm belief that his first late wife, who "communicates" via séance, has chosen the beautiful Catherine Walsh for him, they're shocked. And for Adrian, encountering Catherine in the last place he saw her decades ago proves to be a far greater surprise.
Still, De la Noye is here to handle a will, and he fully intends to do so—just as soon as he unearths every last secret, otherworldly or not, about the Chapmans, Catherine Walsh . . . and his own very fraught history.
A skillful alchemy of social satire, dark humor, and finely drawn characters, Newport vividly brings to life the glitzy era of the 1920s.
Comments
25 comments posted.
Re: Newport

The time period is a big draw for me. Thanks for the chance.
(K'tee Bee 4:07am August 21, 2015)
they give the plot something extra
(Marissa Yip-Young 5:41am August 21, 2015)
I enjoy supernatural elements but don't care for horror at
all. Your novels are treasures.
(Sharon Berger 10:29am August 21, 2015)
Yes I love supernatural elements in the books I read.
(Nicole Bouchey 11:28am August 21, 2015)
The Newport series looks amazing, would love to have a chance to win it....thanks!!
(Amy Hatfield 12:02pm August 21, 2015)
I also had an experience with a Ouija board when I was a
little girl. My older Sister wanted one, and got it as a
gift. I remember being in the basement with both of my
Sisters, and we took turns asking it questions, but it was
so long ago, I can't really recall what it had replied. I
suppose that's a good thing, now!! ha The movie you
referred to, I remember watching as well, because I've read
a lot of books about Houdini over the years. He fascinated
me, so if a movie came out, I watched those as well. I love
every aspect of your latest book, and can't wait to read it.
The setting just adds to the ambiance of the story itself,
and makes me wish I had the book in my hands right now!!
Congratulations on your latest book, which I'm sure is going
to do well!!
(Peggy Roberson 12:17pm August 21, 2015)
I'm mixed on the subject of "supernatural elements." I have
read books about ghosts and going back/forward in time and I
have liked those books, but to me, it depends heavily on the
story. If the story doesn't work for me, no amount of
supernatural elements can change that.
(Edward Washington 1:07pm August 21, 2015)
The Newport series sounds great and I hope to win
(Jean Benedict 3:07pm August 21, 2015)
Sure as long as I know going in that they are included.
(Maria Smith 3:46pm August 22, 2015)
It gives the story a bit of a twist but wouldn't say I was a strong fan of the supernatural.
(Lesley Walsh 4:58pm August 22, 2015)
I do like some in a book but no gore please. Watching FOX &
Friends and they just had 2 of the staff of Ghost Hunters TV
show on for an interview. They say 80% of the supernatural
happenings they investigate are debunked . They are going into
their 10th season.
(Leona Olson 8:02am August 23, 2015)
I enjoy some "unexplained happenings" in books if it is not too otherworldly.
(Linda Harrison 10:25am August 23, 2015)
The Twenties era is interesting to read. Don't see too many books in this genre
set during that time period.
Anxious to read it
(Joy Isley 1:48pm August 23, 2015)
A lot of the paranormal that I've read lately belong in science
fiction and does not work for me. Unusual happenings and Physic
type things are more enjoyable.
(Nancy Luebke 1:56pm August 23, 2015)
Love supernatural elements in stories. I like ones that are based on ancient lore best.
(Nancy Marcho 2:21pm August 23, 2015)
I would love to win and read.
(Kathy Church 2:35pm August 23, 2015)
I enjoy supernatural elements, especially things like
animals that can communicate telepathically with humans,
people who have paranormal abilities, items that have
strange powers associated with them, but not really blood
and gore.
(Irene Menge 5:42pm August 23, 2015)
I like the supernatural elements in some of the books I read ,to me it puts a little more " thrill " into it . I like GHOSTS stories .
(Joan Thrasher 6:56pm August 23, 2015)
I love books about the 1920's and would love to read all of your books and write a review on Amazon or wherever you prefer.
(Cindelu Crosby 11:03pm August 23, 2015)
would love to win
(Becky Pollard 12:43pm August 24, 2015)
I love stories from that time period
(Barbara Semeraro 9:04am August 24, 2015)
I love stories set in the 20s. I don't mind a touch of spiritualism/supernatural but I'm not big on horror. Your book sounds great. Thanks for the chance to win. Best of luck with all you do.
(Nancy Reynolds 10:20am August 24, 2015)
I like a little supernatural, but I don't like "horror".
(Janet Overstreet 12:02pm August 24, 2015)
I am not into horror but I love all other genres and
supernatural elements!
(Denise Austin 6:16pm August 24, 2015)
I have mixed feeling on the "supernatural" addition to books,
if the story is well written then I absolutely can enjoy that
element of the book. Your book sounds very intriguing, it's
been added to my TBR list. Thanks for the opportunity!
(Jennifer Lessard 12:57pm August 26, 2015)
Registered users may leave comments.
Log in or register now!