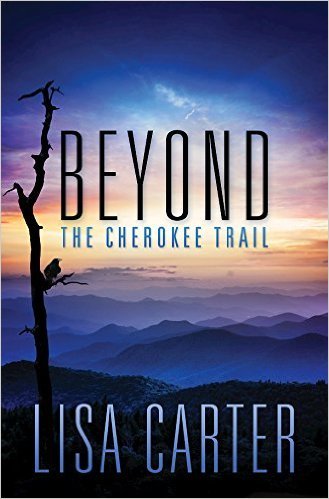 Purchase
Beyond The Cherokee Trail
Lisa Carter
Abingdon Press
September 2015
On Sale: September 1, 2015
Featuring: Linden Birchfield; Walker Crowe
320 pages
ISBN: 1426795467
EAN: 9781426795466
Kindle: B00UCBO24M
Paperback / e-Book
Add to Wish List

When Linden Birchfield arrives in the Snowbird Cherokee community to organize the 180th commemoration of the Trail of Tears, she runs head on—literally—into arrogant former army sniper Walker Crowe. A descendant of the Cherokee who evaded deportation by hiding in the rugged Snowbird Mountains, Walker believes no good can result from stirring up the animosity with the white Appalachian residents whose ancestors looted the tribal lands so long ago.
Though at odds over the commemoration, Linden and Walker must unite against an unseen threat to derail the festival. Together they face an enemy whose implacable hatred can be traced to the events of the Trail, a dark chapter in America's westward expansion. When called to resurrect his sniper abilities, Walker must thwart the enemy who threatens the modern-day inhabitants of tiny Cartridge Cove—and targets the woman who has captured his heart.
Videos
Comments
23 comments posted.
Hi Lisa, I grew up in NE Ohio with rolling hills, wooded land and lots of old forgotten places. I used to drive to remote areas and then walk and photograph places that were
remnants of it' original days. Every once in awhile, I would meet someone who had knowledge of a place or family that lived there. Wish I was a writer with all those wonderful stories. Thanks for the contest and Happy Halloween.
(Rosemary Simm 1:04am October 30, 2015)
Visits to Ocean City, MD
(Marissa Yip-Young 5:24am October 30, 2015)
Thanks for stopping by Rosemary. I wish I had your photographic skills. Have a great weekend. :)
(Lisa Carter 8:14am October 30, 2015)
I love Ocean City MD Marissa. In fact, it sometimes comes up in several of my contemporary Coast Guard series set on the VA portion of the Delmarva Peninsula. Thanks for joining the conversation.
(Lisa Carter 8:16am October 30, 2015)
The stories about the California Gold Rush were quite
interesting. Even though some people lost their lives,
others did end up making some money for themselves by some
quirk of fate. It was quite a risk for all of them to take
at that time in History in that part of the Country. When I
was reading your posting, my heart felt heavy the entire
time. I feel for the Cherokkees, and still do to this day!!
Your book is on my TBR list, and I'm looking forward to
reading it this upcoming Fall/Winter. Congratulations on
your latest book, which should do well, and Thank You for
keeping History alive!!
(Peggy Roberson 9:53am October 30, 2015)
I just love exploring forgotten parts of history.
(Pam Howell 10:06am October 30, 2015)
Fascinating and historical towns which were once thriving in
The Rockies and are still charming and filled with life and
atmosphere.
(Sharon Berger 1:28pm October 30, 2015)
My favorite is my grandfather's story.
1. He ran away from an abusive stepfather and joined a
travelling circus.
2. The circus wasn't much better. He was caught stealing
food by a baker, who apprenticed him. Part of his duties
was to deliver pastries to the Romanian royal court.
3. He decided to emigrated to Canada. In Rotterdam, the
Dutch authorities discovered he was a baker, and rerouted
him (shanghied) where his talents were needed, in the Boer
War.
4. Was captured by the British, who were the first to inform
him that he was, in fact, not in Canada. (Understandable
when you don't know the language).
5. Was finally sent to Canada, where his first job was
working on building the Transcontinental Railway.
Who has lives like these anymore? If you wrote about it,
your editor would return it with a request more something
more realistic.
(Deb Philippon 1:47pm October 30, 2015)
I liked the Green Mile (about rafting the Colorado)
(Tracee Imai 3:23pm October 30, 2015)
Can I edit? It was the EMERALD mile. My bad. Sorry.
(Tracee Imai 3:23pm October 30, 2015)
It sounds like a good book.
(Wilma Frana 3:26pm October 30, 2015)
I live in the Cherokee nation of Oklahoma. My family came here on the Trail of Tears. I would love to read this book.
(Carole Abel 5:15pm October 30, 2015)
I always loved to hear stories about my families history.
(Carol Woodruff 6:40pm October 30, 2015)
I love hearing family history
(Grace Bartlett 7:49am October 31, 2015)
I have been fortunate to travel all over the world and have
visited many historical sites. I have been doing some
research on Celtic bracelets lately and love your story.
Ireland never made my list so I read about it.
(Leona Olson 10:32am October 31, 2015)
My great (#?) grandmother escaped from the Trail of Tears and was married at a very young age to a man who basically hid the fact of her Cherokee heritage--which really wasn't that unusual considering the attitudes of the times. Much later in life she wrote a letter detailing what happened, so we have that, but it is considered only anecdotal proof--nobody in the family was 'allowed' to sign up when the Dawes' Rolls were established--not by the government authorities but by other family members, who were afraid of the reason for the sign-up.
(Matthew Burkhead 2:23pm October 31, 2015)
My life has been rather uneventful--maybe that's why I love
books & movies!
(Nancy Ludvik 5:37pm October 31, 2015)
I love to read about Alaska during the 1800s, as well as
the lives of famous artists like Tiffany, Monet,
Titian...I'm an artist myself, so I like to read about
others. I love stories with Native Americans too.
(Cynthia Powers 10:53pm October 31, 2015)
Since I am from the Philadelphia area, I love reading about Philadelphia history - and Pittsburgh history also, since we have lots of relatives there :-) - mostly Civil War history (my brothers are re-enactors).
(Felicia Ciaudelli 12:26pm November 1, 2015)
My husband and I drove from FL to California on a month travel and saw the Grand Canyon, Bryce National Park, Four Corners, Painted Desert and so many other places. It was wonderful...OH Yellowstone... We've made this trip 3 times and spent 1 month each time going to different national Parks. It's wonderful!!!!
(Bonnie Capuano 7:47pm November 1, 2015)
i would like to know about my side of the family since they
came from ireland, and i know some of it, but not all of
it.
(Ann Unger 11:12pm November 1, 2015)
I love to hear family stories, both on my side and those on my husband's side of the family.
(Anna Speed 12:36pm November 2, 2015)
All of these family stories are so fascinating. I wish I could write a book on every one of them. :)
(Lisa Carter 8:59pm November 2, 2015)
Registered users may leave comments.
Log in or register now!