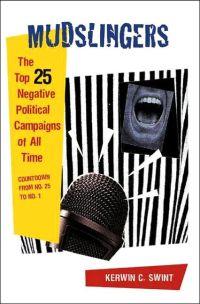 Purchase
The Top 25 Negative Political Campaigns of All Time Countdown from No. 25 to No. 1
Praeger Publishers
December 2005
276 pages
ISBN: 0275985105
Hardcover
$44.95
Add to Wish List

Americans have a love-hate relationship with negative campaigning, claiming to despise it and ranting about how it turns off the electorate, while at the same time paying an increasing amount of attention to negative ads and tactics during ever-lengthening campaign seasons. Swint gathers the most compelling of these campaigns from the two "Golden Ages" of negative campaigning--1864 to 1892 and 1988 to the present--in addition to some that fall outside those demarcations, and ranks them in descending order, from No. 25 to No. 1. Mudslingers covers presidential, senatorial, gubernatorial, and mayoral races and chronicles the dirtiest, most low-down campaign tactics of all time.

Media Buzz
The View - October 24, 2008
Diane Rehm Show - NPR - February 27, 2006

Comments
No comments posted.

Registered users may leave comments.
Log in or register now!