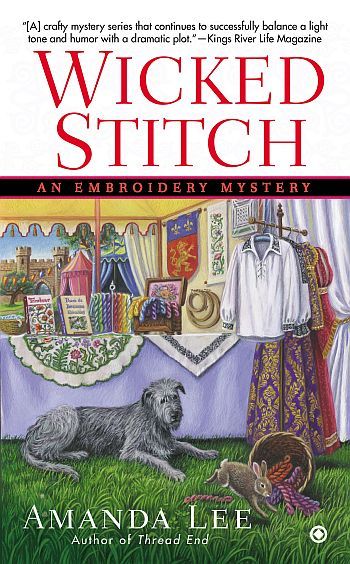 Purchase
Embroidery Mystery #8
Signet
April 2015
On Sale: April 7, 2015
Featuring: Marcy Singer
336 pages
ISBN: 045146740X
EAN: 9780451467409
Kindle: 045146740X
Mass Market Paperback / e-Book
Add to Wish List

In the latest mystery from the bestselling author of Wicked Stitch, the future of Marcy Singer's embroidery shop is dangling by a thread…
Marcy's shop, the Seven-Year Stitch, is one year old this October so it's time to party in little Tallulah Falls, Oregon. Aside from all the Halloween decorations and festive stitching kits and patterns, Marcy's got all sorts of celebratory swag, including Seven-Year Stitch key rings and goodie bags.
Unfortunately, her new neighbors might spoil the revelry. An eccentric couple has opened a haunted house next door, and all that screaming will certainly scare off customers. But there's even more to be frightened of after a local waitress is found dead on the sidewalk with mysterious markings on her neck—and one of Marcy's key rings beneath her. With no time to hem and haw, Marcy must act fast if she hopes to restore the peace to Tallulah Falls…
Embroidery Mystery
Comments
40 comments posted.
Re: Wicked Stitch

I also like living history museums, they are a great way to
learn about how things were made a (not so) long time ago.
And I love Who Done it books with an interesting background
like that. Hope I win!
(Dagmar Finch 12:46pm April 14, 2015)
We have a huge living history museum a couple of hours away
from me. I was there more than once, and the place
absolutely fascinated me - not so much about the way they
did things, which DID fascinate me, since a knitter and a
crocheter like me always watches any type of craft work, but
I was just as fascinated by the way they lived, as well as
the way they entertained themselves!! The people who work
here are all in costume, and they have some of them running
around, playing with toys that were popular back in that
time era, as well as others, doing work during that time,
and others doing crafting, while others are in the old
houses that are on the acres of property, telling people
about the owners of the actual houses, and a little about
their lives, along with the actual belongings. It's a
fascinating place, and can't be taken in on one trip!! I'm
looking forward to reading your latest book, and have it on
my TBR list. Congratulations!!
(Peggy Roberson 9:41am April 14, 2015)
I love old houses they all have their own history of the
people who lived there.
(Marissa Yip-Young 9:55am April 14, 2015)
I love museums, old houses, anything like that. I could spend all day in one place looking.
(Cathy Thomas 10:17am April 14, 2015)
We have a living museum every summer at Lower Fort Garry,
which is the only stone fort in western Canada. I feel
privileged that the seamstress is a very talented friend of
mine.
(Deb Philippon 11:24am April 14, 2015)
I enjoy the history and charm of old houses and Upper Canada
Village is fascinating.
(Sharon Berger 12:03pm April 14, 2015)
I have never been to a RenFaire, but have been to Civil War re-enactments (since my brothers are all re-enactors) so that is my step back in time and LOVE history, in general - especially living just outside Philadelphia which is full of history!!
(Felicia Ciaudelli 12:19pm April 14, 2015)
I totally enjoy visiting historical homes. Alway come away with a thankfulness for modernization but appreciation for the old.
(MaryEllen Hanneman 12:37pm April 14, 2015)
I used to do historical reenactments. My late husband and I did the Rev War period in history. He was a farmer/trapper, and I was a weaver. It was fun for awhile.
(Kathleen Gardiner 12:55pm April 14, 2015)
Visiting old places that people back then lived in are the
coolest things and going to museums and learning about the
past is what I call an adventure! :)
(Daiane Chen 5:59pm April 14, 2015)
Standing in Ford's Theatre watching the reenactment of
Lincoln's death and getting that chill down your spine when
you realize that it all happened right where you were
standing.
(Bonnie Davis 6:15pm April 14, 2015)
When I was a child, I often went to the Henry Ford museum. I loved going
with my parents.
(Susan Mahaffey 9:20pm April 14, 2015)
About 40 years ago, I took part in a living history
experience. A public day in colonial Delaware. I created
authentically made clothing that I had dyed myself using
authentic fibers and patterns. Now, I am a school librarian
and every couple of years, I pull out my chemise, bodice,
pockets, and petticoats and dress one student in each class in
the outfit. It is an experience that my kids just love,
particularly the girls that were selected to model it. The
pockets are always my favorite bits because they are on a
drawstring that you tie around your waist. Colonial ladies
wore their pockets under the petticoats and reached into them
from a slit in their skirts. You can make the pockets as big
as you wanted or needed, so mine were really big. I also had
a lace mob cap with a grosgrain ribbon and a sandalwood fan.
Unfortunately, the fan is broken, but fragrance remains.
Because the bathed so seldom, it was necessary to have
something to smother the odors in close quarters. The payoff
is one of my inner city 4th graders made the comment in class
that he would LOVE to learn history that way.
(Marcia Berbeza 9:21pm April 14, 2015)
First, I loved reading the comments.
I have been to both and also volunteered at a museum where
we dyed wool using natural things such as onion skins and
flowrs, I also learned to spin yarn and more.
I do embroidery work so this this is a TBR must read for me.
Thank you.
(Leona Olson 9:11am April 15, 2015)
Love museums.
(Susan Clickner 2:03pm April 15, 2015)
My memories of stepping back in time are awesome. My mom
and me, I love my mother dearly, sewing me some clothes
and then she would sew her the same clothes out of the
same material. That is something that is so super
special to me. It is a closeness I will never forget.
That will always have a special place in my heart!
(Renae Kelly 6:28pm April 15, 2015)
My mother was born on a farm in Wisconsin in 1903.
They had no modern conveniences. She taught me how to
make candles in the candle mold her family had used. I
have several 'crazy' quilts made from fabric scraps
from clothing, etc. that her mother made. The seams
between pieces are beautiful stitched with fancy
embroidery stitches. I'm learning to spin on my
grandmothers spinning wheel. I'm so glad to learn
these things. In today's world we are much too
dependent on technology and I worry about the effects
of a coronal mass ejection destroying the power grid
and any other of several true disasters that could
conceivably occur.
(Irene Menge 8:12pm April 15, 2015)
I would love to be in a time when family's grew food and made
their furniture and family's lived close and stayed close. No
tv and video games.
(Sharon Sommer 10:07pm April 15, 2015)
I love going to Renaissance festivals. IT is fun to step back in time.
(Pam Howell 11:30am April 16, 2015)
My grandparents do what is known as "rendezvous" in which they
dress up as early settlers and live that lifestyle for a few
weeks. There are other settlers and native americans. There
are people selling their wares. Its great fun. On the weekends
they are open to the public. You can wader around amoungst
canvas four walled tents, teepees, cooking fires, and people
dressed in breeches and loin cloths. We try to visit everytime
my gradparents are attending. Its amazing.
(Rachel Collings 1:14pm April 16, 2015)
I'm not into museums, but I do like to attend the Renaissance Faire that is held locally.
(Joanne Schultz 1:49pm April 16, 2015)
took my mother to the visitor center in Fort Smith, Arkansas and she nearly had a fit when she realized I took her to an old whore house. man I can still laugh about that.
(Angela Parrish 3:28pm April 16, 2015)
Does visititing the county museum count? I could tell it held old things
because of how stuffy I was when I left. Not as bad as grandma's attic that
one involved sneezing.
(Laura Gullickson 1:16am April 17, 2015)
I've always wanted to go to a Renaissance Faire!
(Maria Proctor 12:29pm April 17, 2015)
I always history classes in school, but I learnt more from my day at a living history museum with my mother (during holiday) than I did during most of my history classes put together! I wish that all history classes made the information as interesting and relatable as the narrators did.
(Min Jung 3:55pm April 17, 2015)
We lived in Williamsburg for about 2 yeas & we loved strolling around historic Williamsburg & watching all the living history
(Liz Digman 4:18pm April 17, 2015)
For me stepping back in time means immersing myself in a cozy period mystery. I learn so much from my reading about the history of that period.
(Barb Wiesmann 4:26pm April 17, 2015)
When I was about elementary school or middle school age I was with my
family at the Historic Fort Wayne Old Fort. One of the reenact ears there
asked us why we did not get a full pair of pants. They also commented that
they thought it might be expensive to pay for half of a pair of pants. It was
summer and we were wearing shorts. But the people stayed in character.
My parents took me to many living history exhibits and settlement type
events. I loved it and it feed my imagination as well as my thirst for
knowledge.
(Sharame Vodraska 5:09pm April 17, 2015)
Would love to win one of your books
(Virginia Winfield 5:55pm April 17, 2015)
My favorite place to step back in time is Williamsburg VA. I
love the area, the people dressed for the time period etc.
(Karen Hansen 6:51pm April 17, 2015)
I would love to visit a Renaissance Faire! I would have
enjoyed learning about the dye, medicinal, and culinary
plants grown in the garden very much! I think the Faire
makes for a wonderful story setting with the residents of
Tallulah Falls interacting in this new mystery as well!!
(Sharon Braswell 6:54pm April 17, 2015)
I love all things historic. One of our favorite family vacations was a visit to
Jamestown,where we met John Smith, and Williamsburg, Va. I tell anyone
who seems interested they need to take their kids there. It is so much
better to experience it versus reading it in a history book. We also head to
our nearest Renaissance fair every couple of years too.
(Michelle Whitwam 7:28pm April 17, 2015)
Isn't history great! I love anything with a story.
(Barbara Muller 8:02pm April 17, 2015)
Having lived in Massachusetts since I was 19 years old and having gone to many memorable places prior to that in MA, we frequently visited Plimouth Plantation which is a living outdoor and indoor museum about how the people (the Pilgrims and Indians mostly) spent their lives and how they planted their crops and how they found food and prepared it over fire. They show the sheep and the way that clothing is made and how they gather the wool for the clothing and all that meanwhile all speaking in the vernacular of English residents who had come over on the Mayflower. It is a most interesting historical adventure and our grown children have been there many times when they were growing up and now take their children. It is a wonderful place to visit but don't expect the people portraying the settlement citizens to know anything about any date further than the early 1600's and you cannot break them of their scripts either. One person had a cell phone that rang and the plantation host that was talking with us screamed and asked what that ungodly noise was and backed up from fear. It really is fun for the children to know that life was a BIT more simple in those days, and that sure is an understatement. :) Would love a copy of your book, thank you.
Cynthia Blain
(Cynthia Blain 8:34pm April 17, 2015)
Actually, I am a musician, and have performed at
Renaissance Fairs. I play various recorders, and
occasionally oboe on a reproduction early model. It is
great fun as long as it isn't too hot! My dress has 3
layers and I wear 2 hats (one of which I embroidered in
gold thread)...which in cooler weather is delightful.
Unfortunately those July and August fairs can be deadly
hot although I have never had Marcy's bad luck to discover
a body. Wonderful memories of all sorts of people and
questions! When my triplets were 4, I made them costumes
so they could go with us. (My husband also was a
musician.) Good times!!!
(Barbara Hackel 9:02pm April 17, 2015)
I grew up in one of the old brick homes built in Chicago after the Chicago fire. Yet, for love of an older time in life, I enjoy visiting Amish country! Thank you for the opportunity. servedogmom@yahoo.com
(Joanne Kocourek 10:41pm April 17, 2015)
I also lived in an old Chicago Bungalow. Sounds like a great book. Thank
for the giveaway! Very generous.
(Victoria Fisher 10:47pm April 17, 2015)
History is so interesting and museums bring it to life. That's why I love
books that are hisrorical
(Debbie Rudder 11:29pm April 17, 2015)
Love to take the grandkids to the Indian pow wow that comes to my state
and the kids really love it. Thank you
(Ava Curtis 12:03pm April 18, 2015)
Congratulations on your new release! Wicked Stitch sounds intriguing. We go to the Renaissance Faire in our area every year. I love the costumes, entertainment, crafts, and jousting.
(Bonnie Hometchko 9:37pm April 23, 2015)
Registered users may leave comments.
Log in or register now!