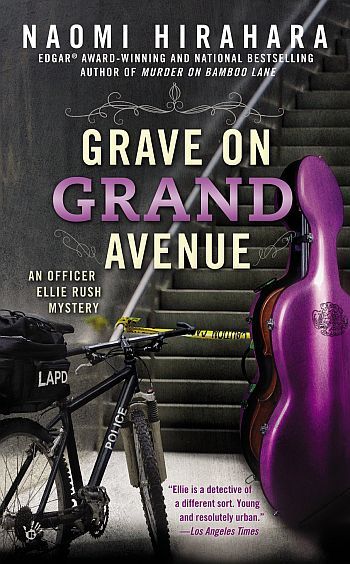 Purchase
Officer Ellie Rush Mystery 2
Berkley
April 2015
On Sale: April 7, 2015
Featuring: Xu; Eduardo Fuentes; Ellie Rush
304 pages
ISBN: 0425264963
EAN: 9780425264966
Kindle: 0425264963
Mass Market Paperback / e-Book
Add to Wish List

LAPD bicycle cop—and aspiring homicide detective—Ellie Rush is back on patrol in the newest mystery from the award-winning author of Murder on Bamboo Lane. Ellie stops for a friendly chat with gardener Eduardo Fuentes while patrolling one of Los Angeles's premier concert halls. A few minutes later she's shocked to discover him lying at the bottom of a staircase, clinging to life and whispering something indecipherable. Nearby, the father of Xu, a Chinese superstar classical musician, claims Fuentes was knocked down while attempting to steal his son's multimillion-dollar cello—a story Ellie has trouble believing. Meanwhile Ellie has issues of her own to deal with—like the curious theft of her car, a 1969 Pontiac Skylark. But after the gardener takes his last breath and Xu mysteriously disappears, it's clear to Ellie she must act quickly before someone else falls silent…
Officer Ellie Rush Mystery
Comments
4 comments posted.
Naomi - I can totally relate to your posting, since I too,
started off with the cello in Junior High, and continued in
High School, with their orchestra. I'm challenged
heightways as well, and live where there's snow, so I
remember being pelted with snowballs as I carried my
instrument proudly home from school!! Because I loved
playing so much, my parents decided to get me a tutor, and
eventually bought me my own instrument - a 3/4 size, which I
still own to this day!! As for 1st chair, I was fortunate
enough to nail that seat, but was always tying with another
girl, so there were concerts where one of us would start out
at 1st seat, then we would switch halfway through. Other
times I beat her out, and was really proud of myself for
doing so!! I can't wait to read your book, since I'll feel
an "extra" connection to the story, as well as to the
Author. Congratulations on your book, and I'm so glad you
came here today!! Sorry for the long posting.
(Peggy Roberson 10:47am April 7, 2015)
Now I have to know who did it!
(Rhonda Rogers 5:25pm April 10, 2015)
Congratulations on your new novel, Naomi. I loved MURDER ON BAMBOO LANE and I'm looking forward to this bicycle cop mystery. A fresh and innovative character.
And somehow you forgot to tell your readers you're an Edgar Award winner -- quite an honor to keep quiet.
(Elaine Viets 10:42am April 12, 2015)
You always manage to hit it out of the park!! Here is
another Author that I'll probably start following. There
was a slight problem while reading the interview, though,
and that's probably all on my shoulders. I was out of the
loop as far as reading went for a few years, due to things
going on in my personal life that were beyond my control.
As I was reading this interview, some of what was said was
like it was being spoken in another language!! In fact,
parts of the conversation made absolutely no sense to me at
all!! Part of it could have to do with the fact that where
I live now, I am unable to get American TV - just Canadian,
and that's a whole new ballgame!! As for internet - it's
strictly dial-up, so I just get on line and do what I need
to do, then get off. Nonetheless, she sounds interesting
and spunky, and I can't wait to give her books a try. I've
already put them on my TBR list. Thank you for letting us
know about her!!
(Peggy Roberson 7:24am May 5, 2015)
Registered users may leave comments.
Log in or register now!