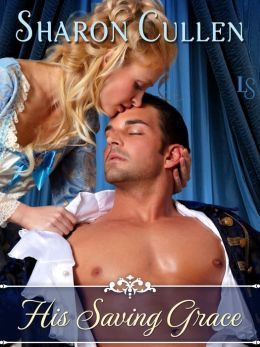 Purchase
Loveswept
January 2015
On Sale: December 23, 2014
Featuring: Michael Ashworth; Grace Ashworth
ISBN: 0553391577
EAN: 9780553391572
Kindle: B00LKJHTMC
e-Book
Add to Wish List

Perfect for fans of Mary Balogh, Sharon Cullen's captivating novel tells the deeply emotional tale of two devoted lovers facing the ravages of war.
For months now, Lady Grace Ashworth has mourned the death of her beloved husband—until the day a very-much-alive Michael arrives at her front door. It's nothing less than a miracle. However, Grace soon realizes that this Michael isn't the same man who left for the Crimean War. She's stunned to learn that he has suffered a devastating head injury. Putting all her own desires aside, Grace resolves to devote herself to Michael's recovery and to love him no matter what troubles may come.
Convinced that his wife is wasting her time on a broken man, Michael attempts to shield Grace from a life of inconvenience by driving her away. But Grace will have none of that. Despite every obstacle Michael throws in her path, she stubbornly soldiers on, fighting not only for their marriage but for the love they once shared. In the end, will her determination alone be enough to save Michael from the darkness that threatens to consume him?
Comments
2 comments posted.
Re: His Saving Grace

I'm really anxious to read your book, because 4 years ago, I
took a bad fall which resulted in a serious head injury.
It's so true how you change inside, and I literally had to
learn how to use a lot of our words again, because even now,
when I'm trying to talk, certain words don't come to mind,
and I have to stop to try and think of the right word which
comes to mind. I hope you can understand what I'm trying to
say, but the language part is very important. I'm also an
avid knitter, and have been knitting for over 30 years. The
injury also affected my memory with my knitting, causing me
to forget some of the stitches that I used to be able to do.
That part upsets me a bit, but I've been slowly re-learning
how to do them. Your book is going to be a bit therapeutic
for me, and also a bit calming, so it's going on my TBR
list. Have a wonderful 2015, and Thank You for tackling
this topic!!
(Peggy Roberson 12:02pm December 31, 2014)
Thank you so much for your comment. I'm sure in time you'll relearn the
stitches you forgot. It's amazing how resilient the brain is and how it can
adapt to things. I truly hope your healing journey is going well. TBI's are not
fun to live with
(Sharon Cullen 5:56pm January 1, 2015)
Registered users may leave comments.
Log in or register now!