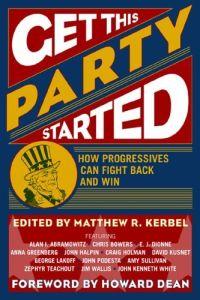 Purchase
How Progressives Can Fight Back and Win
Rowman & Littlefield Publishers, Inc.
January 2006
224 pages
ISBN: 0742540375
Trade Size
$14.95
Add to Wish List

rogressives and Democrats have done a good job of soldiering on after the devastating losses of 2000, 2002, and 2004, but the impassioned discussion of what to do next has had a fragmented qualityuntil now. Get This Party Started How Progressives Can Fight Back and Win brings together thirteen leading Beltway and grassroots progressive voices for an integrated discussion of the electoral, message, and organizational strategies that Democrats should pursue to return to power and establish a lasting progressive governing coalition. We are at a juncture in history when voters could be open to a progressive message that is thoughtfully developed and carefully deliveredand this book offers a blueprint for how to get there.

Media Buzz
Lou Dobbs Tonight - February 8, 2006

Comments
No comments posted.

Registered users may leave comments.
Log in or register now!