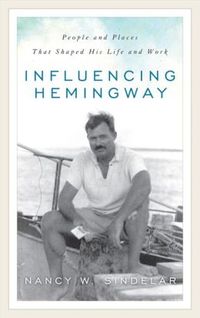 Purchase
Rowman & Littlefield Publishers
May 2014
On Sale: May 8, 2014
ISBN: 081089291X
EAN: 9780810892927
Kindle: B00KD8GURQ
Hardcover / e-Book
Add to Wish List

Ernest Hemingway embraced adventure and courted glamorous friends while writing articles, novels, and short stories that captivated the world. Hemingway's personal relationships and experiences influenced the content of his fiction, while the progression of places where the author chose to live and work shaped his style and rituals of writing. Whether revisiting the Italian front in A Farewell to Arms, recounting a Pamplona bull run in The Sun Also Rises, or depicting a Cuban fishing village in The Old Man and the Sea, setting played an important part in Hemingway's fiction. The author also drew on real people—parents, friends, and fellow writers, among others—to create memorable characters in his short stories and novels.
In Influencing Hemingway: The People and Places That Shaped His Life and Work Nancy W. Sindelar introduces the reader to the individuals who played significant roles in Hemingway's development as both a man and as an artist—as well as the environments that had a profound impact on the author's life. In words and photos, readers will see images of Hemingway the child, the teenager, and the aspiring author—as well as the troubled legend dealing with paranoia and fear. The book begins with Hemingway's birth and early influences in Oak Park, Illinois, followed by his first job as a reporter in Kansas City. Sindelar then recounts Hemingway's experiences and adventures in Italy, France, Spain, Key West, Florida, and Cuba, all of which found their way into his writing. The book concludes with an analysis of the events that preceded the author's suicide in Idaho and reflects on the influences critics had on his life and work.
Though much has been written about the life and work of the Nobel prize-winning author, Influencing Hemingway is the first publication to carefully document—in photographs and letters—the individuals and locales that inspired him. Featuring more than 60 photos, many of which will be new to the general and academic reader, and unguarded statements from personal letters to and from his parents, lovers, wives, children, and friends, this unique biography allows readers to see Hemingway from a new perspective.
Comments
1 comment posted.
I must confess that although I do remember learning about
Hemingway many years ago in school, I did get quite the
refresher course from you today, and have to thank you for
learning extra tidbits that I wasn't aware of. Being a
cellist myself, that tidbit alone put a smile on my face, as
did the fact that he spent Summers in my State of Michigan!!
It's sad that such a talent took his own life, as did other
members of his family, but nonetheless, I would love to read
your book this Summer, and really get to know more about
this Master and his life through your eyes. Thank you for
doing all of this painstaking research, and for writing such
a wonderful book that I'm sure many teachers will use in the
future for required reading. Congratulations are in order
for what I'm sure has always been a dream of yours to
write!!
(Peggy Roberson 10:28am June 17, 2014)
Registered users may leave comments.
Log in or register now!