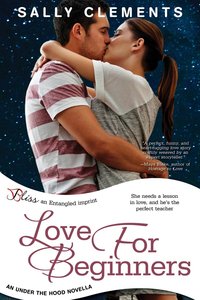 Purchase
She needs a lesson in love, and he?s the perfect teacher.
Entangled Bliss
June 2014
On Sale: May 27, 2014
Featuring: Melody Swan; Heath Starr
125 pages
ISBN: 162266552X
EAN: 9781622665525
Kindle: B00K48GVGA
e-Book
Add to Wish List

She needs a lesson in love, and he's the perfect teacher.
Mechanic Melody Swan is looking for a man who can share her hopes and dreams, but she swore she would never lose herself to passion. When sexy Heath Starr agrees to temporarily sub in the Under the Hood garage for his sister, Mel sees the perfect opportunity to enjoy being with a man without becoming attached.
Heath came to Meadowsweet to photograph nature, not find a hookup, especially since his last relationship ended in disaster. He vowed he'd never break another woman's heart, and in turn, protect his own. Still, when Mel offers to serve as his outdoor guide, he can't refuse.
Mel may say she's only looking for right now, but her body is speaking a whole different language. And Heath's viewfinder is drawn to her time and again. When the two find themselves isolated in a rustic cabin, they could both break their promises if they aren't careful…
Comments
25 comments posted.
It is a brilliant story idea. And when you make some big moola, maybe you can be the financial backer for some women mechanics when they want to open their garage??
sounds great!
(Lisa Hutson 2:22am June 3, 2014)
I find that women mechanics are more honest and trustworthy.
they also understand the terms we use and sounds. I think it
would easier to explain them to a woman than a man since they
think technical terms not womans terms.
(Tina Ullrich 6:18am June 3, 2014)
I don't drive, but if I did I'd defiantly use an all female
garage.
(Jen Barnard 7:45am June 3, 2014)
I would love an all female garage. But I also don't drive. I am waiting for the self driving car.
(Pam Howell 8:52am June 3, 2014)
If I knew the women were capable, and had heard good things
about the garage, I most certainly would take my vehicle
there for a repair!! To me, the sex of the mechanic isn't
the issue. It's the value of the work that's being done on
my vehicle that's at stake here!! I know someone personally
that's taking up something similar in college as we speak,
and I say more power to her!! I wish her well, and she
knows quite a bit about engines just after taking a few
weeks of classes!! She will be a fine addition to the
industry once she graduates, since she has the brains to
accomplish what she sets out to do!!
(Peggy Roberson 9:30am June 3, 2014)
Wow - I haven't read any of these books - so you can bet I'm going out to get them now. Great idea for a series. Thanks for this chance to win one of your books.
(Nancy Reynolds 9:52am June 3, 2014)
I wouldn't mind taking my vehicle to a garage with female mechanics if they had experience to do the work. I've spent far too many hours in the last month dealing with car repairs of a multitude of issues. These books you've written must be meant for me to read!
(Linda Luinstra 8:02pm June 3, 2014)
I definitely would.
(Lisa Garrett 8:24pm June 3, 2014)
i would myself if their was one around here
(Denise Smith 6:05am June 4, 2014)
A good mechanic is a good mechanic. That's how I would decide.
(Mary Preston 8:06am June 4, 2014)
I would definitely try them out!
(Sue Galuska 8:27am June 4, 2014)
all female sounds interesting , I'm 25 yrs. gm mechanic ,
although they call them technicians now in this high tech age.
(Kent Cook 9:03am June 4, 2014)
Oh do I have a mechanic story but it is long and didn't end well and to this day it is hard to trust some mechanics and have never stepped foot in the dealership since. The jest was "I was a woman" and therefore ignorant.
(Deana Connelly 9:41am June 4, 2014)
this sounds fascinating and great. A competent mechanic is
what I look for and need.
(Sharon Berger 9:54am June 4, 2014)
I sure would use an all female garage! Woman power!
(Maria Proctor 10:39am June 4, 2014)
I would that's for sure!
(Denise Austin 12:05pm June 4, 2014)
DEINITELY WOULD. THANKS FOR A CHANCE TO WIN. i HAVE NOT READ ANY OF YOUR BOOKS, SO HOPE I WIN.
(Judy Ferguson 1:27pm June 4, 2014)
I totally agree!
(Brooke Bumgardner 2:18pm June 4, 2014)
I would love to try an all female garage. It can be very intimidating walking into a room filled with men who know secrets things about the workings of my vehicle, trying to explain the kathunk, kathunk sound I keep hearing and realizing they have no idea what I am saying! Maybe a female mechanic would be able to speak my language.
(Debbie Kelly 2:33pm June 4, 2014)
I have recently had so many problems with male mechanics not knowing how to do something my car brakes need to fix it. I would certainly use a qualified female garage. I wish there was one around, but alas, my only experience with a female mechanic was a tire changer at Sam's Club.
(Kathleen Giannone 3:17pm June 4, 2014)
Sounds like an interesting read! I admit, I know nothing
about cars except how to check the oil :)
(Jolene Allcock 7:26pm June 4, 2014)
I would love to try a female run garage. I have been treated by male mechanics as if I knew nothing and with disrepect. This series sounds wonderful, I have added it to my tbr.
(Kimberley Coover 10:59pm June 4, 2014)
If they know what they are doing. I took my car in 3 times one summer before they fixed the problem. Living in a rural area doesn't leave you much choice with all the tech in cars today.
(Laura Gullickson 12:03pm June 5, 2014)
I would give them a chance and see how they did.
(Heidi Jayne 11:05pm June 6, 2014)
Hi Love,
my name is miss halima,
I am, very happy to contact you, to day
and i wish to be in good relationship with you,
and i will be very happy if you can reply me
through my private Email: halima1mohammed@hotmail.fr

Halima,
(Halima Mohammed 7:04am July 15, 2014)
Registered users may leave comments.
Log in or register now!