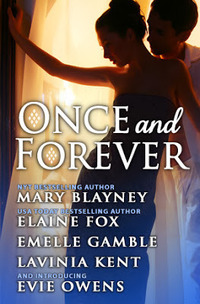 Purchase
Posh Publishing
November 2013
On Sale: November 1, 2013
550 pages
ISBN: 1940886007
EAN: 9781940886008
Kindle: B00GC6XXVE
e-Book
Add to Wish List

From five compelling authors, five original novellas which will make you laugh and cry, and believe in a love that once found will last forever. Meet a duke, a psychic, a bodyguard and a professor…and one "guardian fairy" in absorbing stories ranging from regency and contemporary romance to paranormal and women's fiction.
Playing for Keeps by Mary Blayney
Actress Kendall Marshall is determined to get an autograph for her sick sister from famous TV personality Mike O'Hara, the Oprah Winfrey of sports. In the process she meets his brother, security consultant Steve Marshall, lands a job on O'Hara's show and gets in the way of a man set on causing big trouble. As the stalkers attacks escalate, Steve and Kendall are thrown together and find it impossible to ignore the chemistry between them.
The Princess & the Pinot by Elaine Fox
When a beautiful woman shows up at the Vineyard Inn, wine manager Kim is certain she's been sent by fate for the inn's owner, Cooper. Self-effacing to a fault, Kim knows she can't hold a candle to Principessa Bella, who also seems to know even more about wine than Kim herself, but her heart has belonged to Cooper since they shared one kiss as teenagers.
While Prin sweeps easily into the job of sommelier at the renowned inn, Kim is afraid Prin will sweep just as surely into Cooper's arms if she doesn't do something about it. Can she tell Cooper how she feels without losing even his friendship?
Kim is willing to try except for one problem: she's almost certainly losing her mind. Or is that belching, swearing, smoking, farting fairy – who claims to be trying to help her – real?
Duets by Emelle Gamble
"Duets" offers alternating looks into the lives of two women who would seem to have little or nothing in common. Screen star Molly Harper is on the verge of marrying a man who has swept her off her feet, thought perhaps hasn't swept all her feelings for her first love away. Anne Sullivan, happily married for twenty-five years, is fighting to hold onto the man she loves, and hold off a confrontation that could shatter her family's image of what they are.
"Duets" confronts a past secret that ties these two women's lives together, just as chance events turn Molly and Anne's worlds upside down.
Never and Forever by Lavinia Kent
"Never and Forever" is the beginning of the love story of two people who shouldn't belong together. Molly, Miss Wilkes, runs an employment agency helping women of quality find positions perfected suited to their characters. Although her father held the title of Earl for just over a week before his death, Molly has never wanted to be a lady. She knows her place in this world – and it is not at the center of society.
The Duke of Radford also knows his place in this world – and it's above everybody else's. He cannot imagine a world without all the privilege and power that comes from being Radford. He's had foreign princesses and heiresses dangled before him for years. Why would he ever have interest in a simple woman who doesn't even understand that she should want to be a duchess?
Can these two overcome the obstacles of their own beliefs and realize that love can make all things possible? Never and forever are both a very long time. Where will their love fit?
The Psychic Detective by Evie Owens
Psychic Martin Sterling doesn't trust cops--and the feeling is mutual. Detective Erin Healy needs more than a ghost story to save her job and reputation. Her partner is dead, a million dollars in drugs and money is missing, and all the evidence points to her.
Can a sexy psychic and a by the book cop, trapped between the living and the dead, unearth the truth? Or will a cold-blooded killer get away with it all...
Comments
No comments posted.

Registered users may leave comments.
Log in or register now!