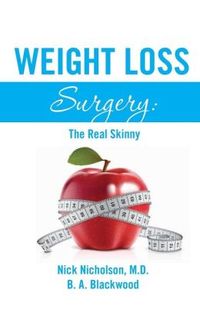 Purchase
Author Self-Published
November 2013
On Sale: November 13, 2013
109 pages
ISBN: 0615887392
EAN: 9780615887395
Kindle: B00GTYYVS8
Hardcover / e-Book
Add to Wish List

Is it possible to lose weight fast and keep it off long- term? Whether it's a new diet, an exercise regimen, or surgery, people are always looking for the shortest path to their ideal weight. Bariatric surgery can help you get ahead of your weight issues, but it's not a one-and-done remedy; it gives you a head start, but lasting weight loss requires maintenance. Weight Loss Surgery: The Real Skinny tells you the truth. Bariatric surgery can be an excellent way to quickly lose weight, but it's not a permanent fix. It can change your body, but it doesn't change your mind or your relationship with food. As Dr. Nick Nicholson and B. A. Blackwood explain, "overeating has little to do with physical need and everything to do with emotional need." Surgery will get you started, but patients must also be willing to adopt a healthier way of living. While the authors touch on the benefits of bariatric surgery and practical advice on how to select your surgeon, much of this book addresses the issues connected to weight management that precede and follow surgery, with chapters that tackle questions like "How Did I End up in this Mess and Why Can't I Get Out of It?" and "I'm Doing Everything Right, So Why Doesn't My Weight Show It?" Other chapters address some of the unexpected consequences of dramatic weight loss. You may have already known that weight gain could adversely affect your relationships…but weight loss? Like any major life change, losing weight can upset the balance in your relationships. Weight Loss Surgery: The Real Skinny honestly acknowledges the effect that bariatric surgery can have on a patient and that patient's family and friends. The authors offer insight into how to prepare yourself and your loved ones for the shift, highlighting the importance of open communication throughout the process. Dr. Nick Nicholson, a renowned bariatric surgeon, and B. A. Blackwood, an author, retired trial lawyer, and marathon runner, teamed up to write Weight Loss Surgery: The Real Skinny, a guide for people who are considering or have already undergone bariatric surgery. Nicholson was voted one of D Magazine's top bariatric doctors seven years in a row, and Blackwood has completed more than 20 marathons. Together they share a passion for encouraging people to achieve and maintain healthy lifestyles. They know that anyone who chooses to undergo bariatric surgery will experience bumps in the road to maintaining their weight loss. One size does not fit all— everyone's body is unique and everyone faces a unique set of challenges. If you or a loved one is considering bariatric surgery or has already undergone surgery, Weight Loss Surgery: The Real Skinny can help you find and face the real issues that brought you to this place and lead you on the way to creating a new lifestyle that will preserve a healthier you. Written in an easy-to-read, engaging, and encouraging style that is supplemented with informational charts and data, this book shows readers how to take charge of their health by addressing their emotions and changing their thinking so they can maintain a healthy weight throughout their life.
Comments
No comments posted.

Registered users may leave comments.
Log in or register now!