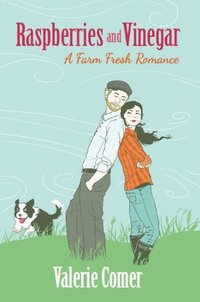 Purchase
Farm Fresh #1
Choose Now
August 2013
On Sale: August 1, 2013
Featuring: Josephine Shaw; Zachary Nemesek
ISBN: 0984781633
EAN: 9780984781638
Paperback
Add to Wish List

Josephine Shaw: complex, yet singleminded. A tiny woman with big ideas and, some would say, a mouth to match. But what does she really know about sustainable living as it relates to the real world? After all, she and her two friends are new to farming.
Zachary Nemesek is back only until his dad recovers enough to work his own land again. When Zach discovers three helpless females have taken up residence at the old farm next door, he expects trouble. But a mouse invasion proves Jo has everything under control. Is there anything she can't handle? And surely there's something sweet beneath all that tart.
Comments
25 comments posted.
No cooking from scratch here. Box or microwave all the way.
(Vicki Hancock 10:30am July 21, 2013)
My husband recently retired and took over cooking and WOW! he is good. He really cooks from scratch, creates his own recipes and best of all he makes homemade pasta that is light as air. Look forward to RASPBERRIES AND VINEGAR. You got me at the title.
(Patricia (Pat) Pascale 10:56am July 21, 2013)
Good luck and find something to keep the deer away. I grew up on a farm in iowa and we were always pretty self-sufficient. For some years I was able to grow a few vegetables at my home here in NC, but there is absolutely no way to grow anything anymore thanks to the overpopulation and near starvation level of the local deer population--they will even eat stuff in pots nudged right up against my front door.
(Janet Martin 11:07am July 21, 2013)
I like local food, & veggies! And a story outside of the cities is always a
good change. Sounds interesting.
(Lazydrag0n Puff 11:09am July 21, 2013)
Since I live in the country, I can totally relate to what you've written about in your blog, although I haven't had to deal with a building overrun with mice yet!! I just see an occasional mouse or two running in the field that the cats or hawks nab. Anyway, until my health got bad, I loved using vegetables that I grew myself when I cooked. I prefer making things from scratch when I'm able to, but unfortunately, due to my health, this household is a bit half and half when it comes to meals. I've always felt you can't beat a home-cooked meal with home-grown ingredients when you can get them, though. It always tastes so much better!!
(Peggy Roberson 11:38am July 21, 2013)
I think a good mix of both is in order. There are many times you just don't have the time to make a meal from scratch so you reach for the Stouffers....other times you do. Of course, homemade is better but sometimes just impossible with our fast paced age we live in.
(Susan Coster 12:30pm July 21, 2013)
I love cooking from scratch, am into local food and enjoy a
good romance.
(G. Bisbjerg 12:55pm July 21, 2013)
I love farmer's markets and the fresh local food. I also like cooking from scratch.
(Rita Wray 1:14pm July 21, 2013)
I'm so glad fresh produce is in. Love to go to farmers stand.
(Susan Falkler 2:00pm July 21, 2013)
I used to have enormous gardens and canned and froze lots of vegetables. I always had so many tomatoes that I even made my own homemade tomato soup and put it into canning jars. It was the best soup ever with lots of flavor. I love cooking from scratch since everything tastes so much better. I think I have recipes for about everything. My mother-in-law did a lot of cooking and baking and we passed many recipes back and forth, including some from the church ladies potlucks. I have scoured recipe books over the years and found many good ones and have been asked for my recipes every time I've brought a dish to a picnic or get-together. Your book sounds like one I'd surely enjoy reading!
(Linda Luinstra 4:28pm July 21, 2013)
Wow, Congratulations on your new book: RASPBERRIES AND
VINEGAR. I love the idea of a Farm Fresh Romance book. I was
raised on a large farm in Kansas and I love growing our own
veggies. We have the best soil in KS and I used to grow huge
watermelons, corn, okra and other goodies. I miss the farm
life and miss growing our own food. Gardening is so fun and
it helps to teach others about raising your own food and
crops. We had 1000 acres and if money was no object now that
we are retired I would love to get a huge farm again and
help others by growing foods for everyone. I know that your
new book is right up my alley and I would truly love to win
it and read it this summer for sure. Thank You very much.
Cecilia CECE
(Cecilia Dunbar Hernandez 4:57pm July 21, 2013)
I've been a CSA member of a local organic farm for two years. Farmers markets are becoimg more plentiful in my area - love being able to purchase local vegetables, fruits, meats and other goodies. They raste so much better than the supermarket stuff.
(Mary C 5:27pm July 21, 2013)
I'm not into gardening myself, but I love garden markets with farm-fresh vegetables. I also like to cook from scratch. As far as reading goes, I love a good story.
(Carol Woodruff 6:22pm July 21, 2013)
I don't even like to cook, so I look for the quick and easy.
(Sheila True 10:54pm July 21, 2013)
I am into eating from scratch, as I cannot cook, haha ;-) I like to think I'm just enough country and just enough city!
(Chelsea Brooks 11:06pm July 21, 2013)
I grew up in the country, 53 1/2 acres, 3 1/2 acres of cultivated blueberries, and a garden. My parents built their own home. My mother did a lot of canning, cooking and baking from scratch, as I have always done. Though I no longer live in Massachusetts, I'm still a country girl wishing I was still living in the woods where I was born. That is why your Raspberries And Vinegar book is the type of story I love to read. Thank you for this chance to win it and hope to read it.
(Esther Somorai 11:35pm July 21, 2013)
I love my garden and I love reading and cooking so what is not to like!! Can't wait to read it all!! Plus I know the crazy author too and her family too!!
(M Joey Gatchell 12:24pm July 22, 2013)
I cook everything from scratch. It's cheaper, healthier and
tastes so much better.
(Mary Preston 5:21am July 22, 2013)
I might have to start doing more "cooking from scratch" to stay healthier. Would love to read your book - I'm trying to read 52 books this year. I'm a bit behind but not too much! :)
(Katrina McGillivray 7:31am July 22, 2013)
I do a combination when I cook. Being busy raising three
young kids and working full time sometimes it is a quick meal.
Living in the city, we don't have a garden but we do have a
farmer's market in the spring and summer where we can buy
farmer fresh produce.
(Pam Scott 9:21am July 22, 2013)
I cook everything from scratch which everyone enjoys and
appreciates. Raspberries and Vinegar sounds captivating and
wonderful. Best wishes on this treasure of a book, romance,
farming and country living.
(Sharon Berger 12:30pm July 22, 2013)
I haven't cooked from scratch in yrs! No time...
(May Pau 7:55pm July 22, 2013)
I love going to farmer's markets and making chili and great
fresh salads from the freshest of local produce hand-picked
out by me. I first tasted raw sweet corn when Farmer Jones
said you can tell how fresh it is by tasting it before you
buy.
(Alyson Widen 8:53pm July 22, 2013)
I love cooking from scratch. This is my way of thinking or problem solving over a complex problem. For some way, cooking just help me think clearer.
(Kai Wong 11:42pm July 22, 2013)
Sounds like a fun read and I like the idea of a culture clash - city girl comes to live on farm - rather than have a farming background for everyone.
(Clare O'Beara 9:31am July 23, 2013)
Registered users may leave comments.
Log in or register now!