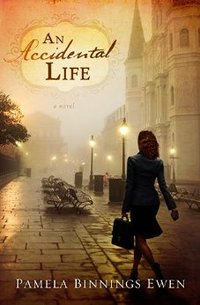 Purchase
B&H Books
September 2013
On Sale: September 1, 2013
Featuring: Peter Jacobs
368 pages
ISBN: 0805464328
EAN: 9780805464320
Kindle: B00EV8YB2K
Paperback / e-Book
Add to Wish List

Inspirational | Fiction Women's Fiction
In a 1982 New Orleans courtroom the best kept secret in the world is about to unravel, and a young couple's jet set lives are about to change. Senior district attorney Peter Jacobs is facing the trial of a lifetime, a passionate, spiritual battle against an evil with far reaching consequences. His beloved wife Rebecca, a glamorous and driven partner at a major law firm, suddenly finds her life spun out of control and her new faith tested while facing a once in a lifetime choice.
New from lawyer-turned-novelist Pamela binnings Ewen, An Accidental Life is fiction based on fact: the testimony of registered nurse Jill Stanek before a U.S. Congressional Committee confirming that it was routine for doctors in Chicago's Christ Hospital to have nurses take infants born alive during abortions down to a "soiled utility room" and leave them to die.
Stanek's testimony led Congress to enact the Born Alive Infant Protection Act of 2001, a federal-only law that still does not bind state run hospitals or private clinics. The fact remains that what happens to abortion survivors is one of the best kept secrets in the world.
Comments
24 comments posted.
Sounds very interesting and emotional. Love the cover.
(Sue Brandes 8:26am March 28, 2014)
What a captivating and enthralling story. Best wishes and
many thanks for this wonderful feature.
(Sharon Berger 10:20am March 28, 2014)
I'd really like to read your book. It sounds like the kind I like to read.
(Kathy Morrison 10:25am March 28, 2014)
I can understand why you picked New Orleans for the backdrop of your books. My Best Friend lives there, and it truly sounds like a lively, wonderful place, yet, the perfect place where something like this could be plausible. After reading about the case of Kermit Gosnell and his house of horrors, I would love to read your book, and see how you resolved the issue, being a former attorney. The story turned my stomach, to be honest, and I'm sure that you did a wonderful job explaining it all in your book. I'll have to be sure to read the other books in the series as well. I'm so glad that you came to Fresh Fiction to explain more about the background to your books. That certainly put your books on my TBR list!!
(Peggy Roberson 12:15pm March 28, 2014)
You are a new author for me... thanks for introducing your book... enjoying the sound of it!
(Colleen Conklin 12:42pm March 28, 2014)
Pamela, you really chose a topic that can run wild with different emotions. You grabbed my attention and now An
Accidental Life is on my must read list. Kuddo's girl!!
(Rosemary Simm 3:52pm March 28, 2014)
love books that are based n facts..not acquainted with your books but would like to be.
(Mal Kaplan 4:12pm March 28, 2014)
Would love to read this one. You are a new author for me.
Just love this sight, it allows me to meet new authors.
(Barbara Wells 8:59pm March 28, 2014)
"You only have one life to live and if you do it right one is
all you need" - Mae West
(Callie Stuck 10:01pm March 28, 2014)
This is the time when we women have started to fight for our careers. We didn't want to be secretaries. We want to be doctors, judges, journalists, and CEO. I remember that period.
(Kai Wong 2:08am March 29, 2014)
Wow. This is a very intriguing issue.
(Pam Howell 10:44am March 29, 2014)
Sounds interesting, I had no idea such an inhumane situation had existed.
(Rachel Cropper 12:09pm March 29, 2014)
This sounds like an amazing book!
(Denise Austin 12:28pm March 29, 2014)
I love books set in New Orleans, they always have interesting twists and turns. Your cover is great and the story sounds very intriguing. It's definitely a book I will have to read! Thanks so much for the giveaway.
(Vennie Martinisi 1:15pm March 29, 2014)
I am in a bit of shock as I read this! For one thing, my siter's name is Jill Stanek...however, her last name is changed now that she is married. She lives in MN. and has always been a teacher with many degrees. She also taught at many colleges and was the founder of the first National Geographic Bee which started in the state of MN. many years ago. She was awarded by the MN. State Governor for her accomplishments and honored with a Day of The Year named after her. She then traveled nearly every country throughout her career choosing one or two students to join her. She recently retired. I am sending her a copy of this as I'm sure she will find it of great interest about this woman who shares her name. It is most interesting to me, and this must be an outstanding book to read.
(Linda Luinstra 5:35pm March 29, 2014)
Challenging themes in your series as a whole, and in this
novel. Bold!
(Mary Ann Dimand 9:40pm March 29, 2014)
AN ACCIDENTAL LIFE sounds just so fantastic.
(Mary Preston 9:58pm March 29, 2014)
Love the cover and Love New Orleans.
(Catherine Myers 10:23pm March 29, 2014)
I'm looking forward to an absorbing read!
(Lucinda Schmaltz 8:36pm March 30, 2014)
Such a fantastic read. If you haven't read it yet, I urge you to do so. Beautifully written. The setting and storyline capture the reader's heart and attention right from the beginning.
(Misty Dixon 11:44am March 31, 2014)
A gripping and touching read!
(Dorinda Bordlee 1:11pm March 31, 2014)
A book that grips your heart and occupies your mind long after it's over. Pamela Ewen lays out this story of human tragedy with sensitivity and such amazing attention to detail that we live through the trial with her characters. What an amazing story.
(Cheryl Schleuss 3:23pm March 31, 2014)
This sounds like an amazing story, especially being set in
the magic New Orleans
(Sarah Hansrote 10:22pm March 31, 2014)
I'm looking forward to reading this one! I've read and loved The Moon in
the Mango Tree!
(Laura Harrison 12:56pm April 2, 2014)
Registered users may leave comments.
Log in or register now!