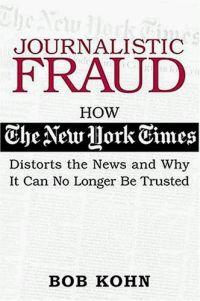 Purchase
Journalist Fraud
Bob Kohn
How The New York Times Distorts the News and Why It Can No Longer Be Trusted
Nelson Current
August 2003
336 pages
ISBN: 0785261044
Hardcover
$26.95
Add to Wish List

For over a hundred years, the New York Times has purported to present straight news and hard facts. But, as Bob Kohn shows with absolute clarity, the founders' original vision has been hijacked, and today, instead of straight news, readers are given mere editorial under the pretense of objective journalism. Kohn shows point by point the methods by which the Times' mission has been subverted by the present management-routinely slanting the presentation of the facts in leads, headlines, and placement; utilizing polls, labels, and loaded language to convey particular views, not genuine news; and staffing the newsroom with hacks who manipulate information to further a leftist agenda. Kohn shows how such fraudulence directly corrupts hundreds of news agencies across the world; and by revealing all their methods of manipulation, he teaches readers how to decipher the slants in even the subtlest of cases, providing an entertaining and enlightening lesson in fraud-busting.

Media Buzz
The O'Reilly Factor - October 31, 2006
The O'Reilly Factor - January 10, 2006

Comments
No comments posted.

Registered users may leave comments.
Log in or register now!