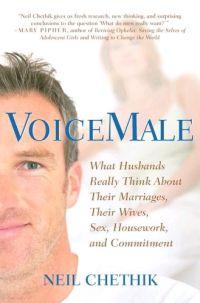 Purchase
What Husbands Really Think About Their Marriages, Their Wives, Sex, Housework, and Commitment
Simon and Schuster
January 2006
272 pages
ISBN: 074325872X
Hardcover
$23.00
Add to Wish List

In their own words, married men reveal what they really think about marriage, sex, housework, commitment, and intimacy.
Much has been written about what women want from their relationships and marriages. But what men want has remained a mystery -- until now. In his groundbreaking new book, VoiceMale, author and journalist Neil Chethik reveals surprising truths about married men and challenges many of the myths about men that prevent couples from creating strong and lasting relationships.
Based on a landmark survey of American husbands across the country, VoiceMale
reveals that most men are not commitment-phobic, that they don't have sex on their minds all the time, and that they are willing to talk frankly about their relationships -- just not in the same way women do. Men have complex inner lives, just like women. But they have a unique, masculine style of loving that focuses more on doing than talking, on sharing space rather than sharing feelings, and on side-by- side closeness rather than face-to-face intimacy.
In VoiceMale, Chethik weaves together real-life stories and survey results to create a unique portrait of the American husband. Men share their thoughts on the myriad issues that married couples face: commitment, money, careers, children, in-laws, and more. They openly discuss the character traits they seek in a woman when they're looking to marry. And they speak honestly about their struggles adjusting to marriage, raising children, balancing work and family, keeping marital sex exciting, and avoiding infidelity.
Chethik spent two years traveling across the country, talking with men of different ages, religions, and ethnic backgrounds, in urban centers and rural towns. His interviewees had been married for anywhere from a few weeks to as long as seventy-two years. He notes the enormous changes in American marriage since the 1960s and explores how men have tried to adjust to them -- sometimes successfully, often not.
Full of surprising revelations and the strong feelings that men have about their lives -- and about the women who share those lives with them -- VoiceMale demonstrates that despite their many differences, most husbands and wives ultimately want the same thing: a trusted fellow traveler in their journey through life.

Media Buzz
Talk of the Nation - February 22, 2006
Today - January 9, 2006
Good Morning America - January 9, 2006

Comments
No comments posted.

Registered users may leave comments.
Log in or register now!