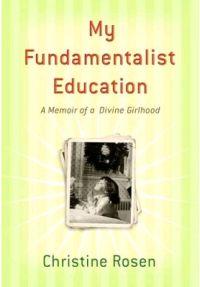 Purchase
A touching, funny memoir of growing up in St. Petersburg, Florida, in a household, school, and town of flourishing Biblical literalism
PublicAffairs
December 2005
232 pages
ISBN: 1586482580
Hardcover
$24.00
Add to Wish List

When Christine Rosen started kindergarten, her ABCs included the Apocalypse, the Bible, and Christ. At Keswick Christian School "the Bible was our textbook," God the guide, and after entering the school gates, nothing was ever quite the same again. Christine learned creation science, dreamed of becoming a missionary to exotic countries, worried about the souls of Jews and Mormons, and experienced unusual methods of sex education. With the threat of nuclear annihilation at the hands of atheistic Russians looming, she also frequently prayed for rapture.
At home, Florida life seemed happily to confirm several literal truths: the story of Moses, with its plagues that afflicted the Egyptians-from lice, to rivers of stinking dead fish, to hordes of frogs-might have been describing Christine's back yard.
My Fundamentalist Education is a brilliant, affectionate, child's-eye journey to Rosen's home, school and small town. Set in a time and place when the Living Bible outsold The Joy of Sex, during a girlhood lived as the Lord intended, among the tropical flora and fauna of Florida, its televangelists, irascible elderly, and itinerant preachers, Christine Rosen and her sister, Cathy, uncover the not always godly but surely divine secrets of a Hallelujah-ya sisterhood.

Media Buzz
Good Morning America - January 3, 2006
All Things Considered - December 28, 2005

Comments
No comments posted.

Registered users may leave comments.
Log in or register now!