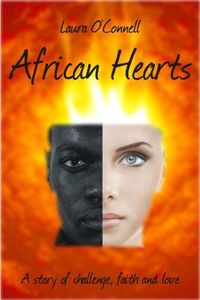 Purchase
Even Before Publishing
October 2012
On Sale: October 14, 2012
Featuring: Gina Messina; KamuKama Bonsu
230 pages
ISBN: 192163328X
EAN: 9781921633287
Kindle: B009QTC33S
Mass Market Paperback / e-Book
Add to Wish List

Print Edition
Wealthy business owner, Gina Messina, aches for a place to belong. Leader of Gumboli village, Dr. Kam Bonsu, hungers for peace in his heart. Gina's nephew, eight year old Justin, wants to stay in Gumboli with his beloved lion, Maucho, and best friend, Kizza. Gina's brother Marco, whose death beings the three together has left a legacy for Gina to consider.But they all have one thing in common: the untamed spirit of Africa embeds itself within their hearts, daring them to grasp all that Africa has to offer and change what couldn't be changed.Arican Hearts is a stunning debut novel of faith and love. Let it inspire you to ponder what you might change in the time you have on this earth.
eBook Edition
"Gina goes to Africa to fulfil her dying brother's wish, but her corporate world is turned upside down when she learns she's guardian of her eight year old nephew she didn't know existed. How can she take up this responsibility when, three years ago, a child died whilst in her care? Besides, there's little time in her busy corporate life for rearing a boy, let alone knowing how to do that? Her brother's doctor promises her he will give her tips on rearing a boy, but Kam's promise includes wanting to find out what really lies behind her flashy exterior. His probing questions are way too personal for her and the fact that she's returning to Australia in two weeks' time is the only way she can keep him at bay. The people of Gumboli village reach out and show her the true meaning of love, making her question her life's purpose. It isn't until Justin's life is threatened that she realises he is her only living relative and she has a responsibility to save his life. During their care for Justin, her attraction to Kam deepens, but in order to commit to a relationship with him, she has to overcome her prejudices, and Kam has to let go of his painful past. Are they willing to confront their differences, forget the past and step out in faith for the future God has planned for them?"
Comments
No comments posted.

Registered users may leave comments.
Log in or register now!