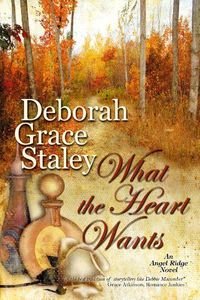 Purchase
In this visit t Angel Ridge, trouble follows Candi Heart to town. This mystery woman proves to be irresistible to Sheriff Grady Wallace.
Angel Ridge #3
Bell Bridge Books
August 2010
On Sale: August 16, 2010
Featuring: Grady Wallace; Dixie Ferguson; Candi Heart
239 pages
ISBN: 1935661973
EAN: 9781935661979
Kindle: B003ZUYA5S
Trade Size / e-Book
$14.95
Add to Wish List

With a nickname like "Candi Heart" and a plan to open a frilly lingerie and perfume shop called Heart's Desire, Lark Hensley knows she may raise some eyebrows by moving to quiet little Angel Ridge, Tennessee. She hopes no one remembers that the women in her family were once accused of being seductive witches by townsfolk, and that decades ago her moonshiner grandpa committed a deadly crime. Lark has questions she can't answer and secrets she doesn't want to share, especially with Angel Ridge Sheriff Grady Wallace, even if Grady is hard to resist.
Grady falls hard and quick for the new mystery woman in town, though he's determined to find out what she's hiding. Angel Ridge's one–woman Welcome Committee, Dixie Ferguson, has taken a liking to Candi Heart, and Dixie's instincts about newcomers are rarely wrong. But maybe not this time . . .
Grady never intended to follow the Wallace family tradition of lawmen, but when his father died young, rebellious Grady grew quickly into the role of staunch town defender. Candi Heart may not have meant to bring trouble to his town, but she has.
Someone does remember her family.
That someone wants her to leave . . . or to die. An unknown driver tries to run her down. Her shop is broken into. Rumors begin to swirl.Suddenly Grady is caught between his duty and his heart's desire for Candi.
Videos

Book trailer for WHAT THE HEART WANTS
Angel Ridge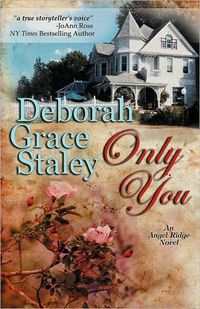 Only You
#1.0
Amazon.com | BN.com | | |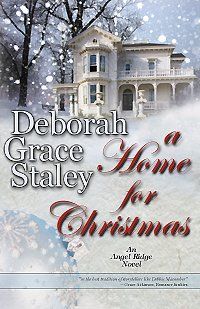 A Home for Christmas
#2.0
Amazon.com | BN.com | | |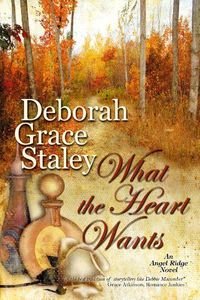 What the Heart Wants
#3.0
Amazon.com | BN.com | | |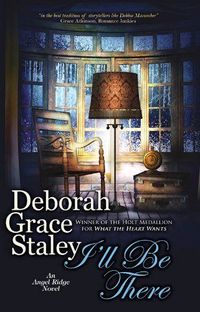 I'll Be There
#4.0
Amazon.com | BN.com | | |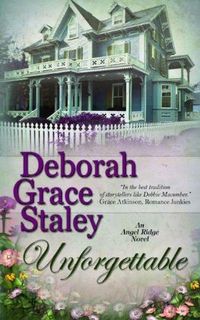 Unforgettable
#5.0
Amazon.com | BN.com | | |
Comments
36 comments posted.
Wish I could download this book but I do not have any e-readers...I LOVE holding the books! Thanks anyway. I will look for it though.
(Bonnie Capuano 7:57am January 5, 2014)
thank you! nancy.krueger@verizon.net
(Nancy Krueger 9:06am January 5, 2014)
i cant wait to read this one thanks so much denise smith
denise226@verizon.net
(Denise Smith 9:30am January 5, 2014)
I don't own an e-reader, either, but would love to read this book!! Although I'm not that old, I never buried dishrags to dig up again and treat warts, but I have used sweet oil in my ears, as well as others, to treat earaches!! As for that 6th sense, I have a touch of that, too!! One day, for example, I was on the phone with my Girlfriend. Out of the blue, I said to her to "be careful." She told me that she was just staying home that night and fixing dinner. Later that night, I received a call back from her, letting me know that she had just got back from emergency. While she was cutting up vegetables for dinner, she slipped with the knife, and cut her finger open bad enough where she had to go to the hospital for stitches!! It's not the first time I have warned someone about something before, and it's sort of scary, but I've learned to embrace it and use it on those that will accept my advice. That's about all you can do under the circumstances. Your book sounds really good, and I wish that you would have given the winner a choice of hard copy or e-book.
(Peggy Roberson 9:43am January 5, 2014)
We have "those women" in my family too. I also remember the oil I'm my
ear with the cotton balls and other seemingly strange cures. But they work.
I can't wait to read this you have me hooked.
(Patti Paonessa 11:34am January 5, 2014)
I'm anxious to read this book and I do have a Kindle. Thanks for giving us a chance to win.
(Anna Speed 1:32pm January 5, 2014)
Grandmothers are wonderful. I remember the mustard plasters, socks filled and heated with salt. Yikes , makes you not want to tell gramdma if you have an ear ache or getting a chest cold.
(Barbara Wells 1:34pm January 5, 2014)
I have always been fascinated by the stories you describe.
Don't believe that I am particularly intuitive myself, though.
(G. Bisbjerg 1:40pm January 5, 2014)
Can't wait to read. I had a really great Grandmother,she had lots of cures that ail you. Thanks for a chance to win your book.
(Linda Hall 1:41pm January 5, 2014)
I also have a kindle. Sounds like a great read. deniseaustin59@yahoo.com
(Denise Austin 1:41pm January 5, 2014)
looks good,looks good
(Kent Cook 2:08pm January 5, 2014)
I loved your blog. My momma was Irish and called Jan. 6th little Christmas. Our Christmas tree stayed up thru the 6th, then all the decorations were put away for another year. I still hold on to this tradition. Of course, this year we didn't put the tree up until Dec. 22 - and only had light(white came on the tree) a silver star and 48 candy canes (varying flavors) that my almost 4 year old grandson Colin put on the tree! It is beautiful!

Thanks for the giveaway ! Happy New Year!
(Kimberley Coover 2:13pm January 5, 2014)
Congrats on the Holt Medallion Award. One thing I just love about my grandmother was she was never judgmental. She has always turn a negative situation into a positive situation by making me see a light in my thinking.
(Kai Wong 2:30pm January 5, 2014)
Forgot to give you my email address: kmccandle(at)yahoo(dot)com

Thanks for the giveaway.
(Kai Wong 2:32pm January 5, 2014)
This sounds like an awesome reads!!
(Betty Hamilton 4:19pm January 5, 2014)
very interesting about your dreams and then using what you have learned from the dream! my dreams are crazy working-out-what-happened-that-day plus little bits, all spun together - entertaining, but not predictive!
bpaine@aol.com
(Beth Fuller 4:29pm January 5, 2014)
Sounds like a great read and thanks for the giveaway.
(Kathleen Beale 4:34pm January 5, 2014)
This sounds great! I have to admit, I have two ereaders but very much prefer holding the physical book as I read it. I love the book cover. Thank you for the contest.
(Vennie Martinisi 4:52pm January 5, 2014)
Thank you so much. What a great thing to do.

melback at cebridge dot net
(Melanie Backus 5:15pm January 5, 2014)
It sounds like a wonderful book. Thanks for the sweepstakes.
amykincade@yahoo.com
(Amy Kincade 5:25pm January 5, 2014)
Sounds like a great read. Would love to read this book.
(Carol Woodruff 6:57pm January 5, 2014)
I am very intrigued - LOVE the story - thank you so much for the opportunity to win!!!
(Felicia Ciaudelli 7:08pm January 5, 2014)
The title really gets my attention and I really would love to read the book. Thank you for the contest.
(Nancy Wolfe 7:26pm January 5, 2014)
Thanks to everyone for your posts and for sharing your granny stories. We
really are so connected.

Winners so far are Nancy K, Denise A, Kai W, Beth F, Melanie B, and Amy
K. Check your email.

And keep the posts coming!
(Deborah Grace Staley 7:43pm January 5, 2014)
Thank you so much Deborah. I am really excited to get started reading this book.
(Denise Austin 9:20pm January 5, 2014)
I would love to read this book, and I do have an e-reader.
(Wilma Frana 9:21pm January 5, 2014)
WHAT CAN I SAY . . . I WOULD LOVE TO WIN THIS PRIZE.
(Marlene Rosenberg 10:34pm January 5, 2014)
Wow, Congrats on your new book: WHAT THE HEART WANTS. I love
the book cover too! Your book sounds fascinating and I would
love to win and read it this New Year 2014. Thank You very
much. Cecilia CECE
(Cecilia Dunbar Hernandez 10:40pm January 5, 2014)
I'm going to love this.

marypres(AT)gmail(DOT)com
(Mary Preston 5:28am January 6, 2014)
I have not tried any of this author's books yet, but they do sound good. Count me in. Happy New Year.
(Pat Lieberman 7:42am January 6, 2014)
sounds like a good read...I am in....
(Barbara Studer 10:36am January 6, 2014)
I lived in Georgia for many years and there was a lady who
could 'conjure' away warts.... among other talents. One of
the tricks was that after she worked her little spell, you
couldn't think about the wart or the spell for a week or your
wart wouldn't fall off. Easier said than done. :-)
(Glenda Martillotti 8:54pm January 6, 2014)
My daddy came from the hills of North Carolina. A lot of those old traditions were alive and well in our family. I have always been so annoyed by folks who think the 12 days of Christmas starts before the holiday! Today is Epiphany, it is the official 12th day of Christmas. In a perfect world, school breaks would cover us from right before Christmas until after Epiphany.
(Marcia Berbeza 12:50pm January 7, 2014)
My family comes from a similar heritage, but it seems only I have the propensity to sometimes know things. I know how to remove warts (but I use a penny), can predict the sex of a pregnant woman's child (using certain tools), etc. People who aren't prepared for such knowledge tend to freak out, so I don't share. Ever. Mostly I don't discuss it anymore and haven't for years. My sister grew up calling me a witch and meaning it, but only in a good way. Thank you for sharing with us; I thoroughly enjoyed reading this post and would love to read the book. michelle_willms@yahoo.com
(Michelle Willms 10:12am January 8, 2014)
happy Old Christmas!
(Denise Holcomb 5:43pm January 8, 2014)
Thank you so much for the copy of the book and for sponsoring the sweepstakes. I loaded it onto my kindle, and I am looking forward to reading it.

Amy Kincade
(Amy Kincade 5:07pm January 10, 2014)
Registered users may leave comments.
Log in or register now!