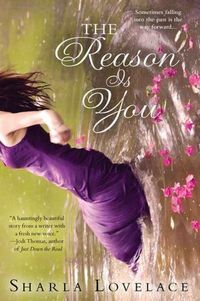 Purchase
Berkley Sensation
April 2012
On Sale: April 3, 2012
Featuring: Dani; Alex
336 pages
ISBN: 0425247120
EAN: 9780425247129
Kindle: B006JSSF22
Paperback / e-Book
$15.00
Add to Wish List

In the small river town of Bethany, Dani Shane never fit in. Being different pushed her to the fringes of society, and even leaving town for two decades didn't stop the talk. Now, with her sixteen year-old daughter Riley in tow, Dani is back in Bethany looking for a fresh start. Too bad her plans for staying under the radar are about to be thrown out the window.
Mischievous and sexy, Dani's old friend Alex still has the power to rock her world, but there's a big obstacle standing in their way--Alex has been dead for forty years. With a ghost popping up at inopportune moments and sparking conversations with her teenage daughter, Dani scrambles to find solid ground and get a grip--both on her sanity and her heart.
Comments
36 comments posted.
I have a request: write faster!!! I enjoy your writing!!
(Shirley Bennett 12:56pm May 21, 2012)
Well, you know I already read your book, have my copy, and
loved it, Sharla! So don't put me in the line-up for the
free copy - I just wanted to come by and offer my YAHOOS and
Support and YOU GO'S! . . .

I am not romantic at all, and rarely write "the sex scene"
in my books - but, I imply it *laughing* or if I do write a
sex scene, it's written in a way that appeals to my wild
natural-world side . . . awoooooooo!

I thought you did a great job with your romantic/sexual
encounters in your book - brava and yeeehawwww, y'all! :-D
(Kathryn Magendie 7:12am May 21, 2012)
I'm old fashioned in that I like the flirting beforehand and not just jumping into bed with anything in trousers! The smiles, the looks, the joking remarks to relax and begile you - I love it!
(Barbara Hanson 8:18am May 21, 2012)
The tease in a relationship for me is the getting to know one another and finding out how well the couple fits. If it's too easy then it seems fake or forced. A few obstacles along the way and coming out stronger on the other side mixed with humor along the way. Life isn't perfect and neither are people. I like that moment when it's figured out that their life and/or partner is perfect for them. *sigh*
Good luck and happy writing!
(Tracie Travis 8:41am May 21, 2012)
this sounds really good cant wait to read this
(Denise Smith 8:57am May 21, 2012)
hmmm the tease eh? I think talking about the burning attraction from both POVs is key to teasing your audience and foreshadowing to the hot sex scenes about to come up!
(Angie Lilly 9:04am May 21, 2012)
Wish I could reply to each one of you but I'll try it this way...
Thanks Kat! Love you girl.
Shirley, I'm trying, girl! :) Have another book coming in November, called BEFORE AND EVER SINCE. I'm working on a third, and an e-novella.
Denise, hope you enjoy!
Angie, Tracie, Barbara, I love your thoughts! And I love how different people look for different things. That's what reading is all about! :-)
(Sharla Lovelace 9:10am May 21, 2012)
Wherever it's slotted in the bookstore, it's a great book!
(Janie Emaus 10:08am May 21, 2012)
Thanks for a great post! I've had terrible book lust for
your book, ever since I started reading such awesome reviews
for it around the blogverse :)

I think you explained it perfectly. I like smexy times in my
romance, but the insta-sex is a bit jarring. For me, the
thrill of a romance is getting caught up w/ the
characters... the giddiness of falling in love... eye
contact... small touches... the first kiss... :)
(Erin Fender 10:30am May 21, 2012)
Yup... definitely, the build-up is just as satisfying as the actual act for me in book! :)
(May Pau 10:36am May 21, 2012)
Boy I loved the sound of this book...hope I win it!! Thanks for the chance...
(Bonnie Capuano 10:52am May 21, 2012)
I don't like a tease where the heroin has to choose between 2 guys. Unless of course she ends up with both of them. Defiantly need some time before sex. I'm reading one now where the sex began on page three, without any tease at all. By the way I love the line "some of the people she sees aren't breathing... " that I saw on your blurb
(Anne Jones 11:42am May 21, 2012)
I love the battle of wits and wills between the hero and heroine. I find that if someone can rile something in you, it is passion - from an intellectual argument/debate, to the intesity of a look. To watch (read) the characters grow into themselves and each other is a gift that leaves you glow from the radiance the relationship puts out thru the pages.
(Carla Carlson 12:47pm May 21, 2012)
I hope I'm understanding your question right, but I think the tease is that men are so action-oriented, which is part of the "get to it". I think this is a gift that women bring to men--to live and relax in the present, and to enjoy the process of love and lovemaking.
(Kathleen Conner 12:51pm May 21, 2012)
I always think it's fun when the main characters have a magnetic draw to each other, and yet they manage to try and keep those feelings from the other person. I remember Alex Kava having a guy who was automatically drawn to her heroine. Nick would always "feel weak in the knees" when he loooked at Maggie. But, he was Mr Tough Guy, so he had to keep up a facade. I loved that guy!
(Sandy Fielder 12:55pm May 21, 2012)
Loving reading everyone's perspectives! I keep popping in here from time to time (at my day job...lol) and it's so much fun. Like being at a book club meeting. :-) Keep 'em coming! Can't wait to see who wins.
(Sharla Lovelace 1:26pm May 21, 2012)
I think I'd like a book where there's not too much tension between the couple. I'd like them to get along, but that doesn't usually happen in romances. I guess if the people have chemistry, that'll keep me reading.
(Michelle Fidler 2:06pm May 21, 2012)
THE DANCE OF LOVE CAN BE AS STIMULATING AS THE ACCOMPLISHMENT OF "THE ACT."
(Silvana Moscato 3:01pm May 21, 2012)
That kind of teasing, the infatuation, the obsessive thoughts that just won't go away - makes the heart beat a bit faster, like a work-out - see? it's good for you!at some point, though, you have to move beyond those thrilling moments and either get on with life - or just do something about it, and in real life (no matter what your husband says, it's gonna take longer than 10 minutes!)that can take awhile. Especially if the other party can't quite grasp what's going on and needs to be gently clued in, or more fun, if both 'get it' and slllooowwwly building up to a climatic episode. Sighhhh. Timeless!
(Beth Fuller 3:04pm May 21, 2012)
Just read at Fresh Fiction of your book, The Reason is You. It sounds intriguing. Best of luck with it.
(Nancy Reynolds 3:15pm May 21, 2012)
I enjoy the push and pull of a relationship between characters... the warm up before they hit the sheets... I want to see some emotion enter the picture...
(Colleen Conklin 5:00pm May 21, 2012)
What defines "the tease" for me, would be the flirting through cute teasing remarks, smiles, lingering eye contact and facial expressions, compliments, the chemistry they each feel and the way they accidentally happen to run into each other in the story for the romance to unfold. This book sounds like a gem of a read, and I can't wait to read it whether or not I win a copy! You had me at the word "ghost" and in a romance...what could be better?!!!
(Linda Luinstra 5:09pm May 21, 2012)
can't wait to read and i did add to my wish list!
(Jennifer Beck 5:14pm May 21, 2012)
I, too, love the tease and the seduction...the lead up to the sex. That's why most writers write romance books for women, not men! LOL.
(Catherine Lee 9:32pm May 21, 2012)
Teasing makes me smile and I can't wait to see this tale. I think teasing is one way to flirt without being too negative.
(Alyson Widen 9:42pm May 21, 2012)
When I read a romance, for me the tease is reading about how the romance develops - learning how they get to know each other, and become a couple in the process. I'm not talking about the sex part of it, just the parts that lead up to it - when their eyes first meet, to the first hello and first conversation, into their courtship. You could sort of call it a sort of foreplay, so that when the time comes, if the Author decides to put a sex scene in their book, it can be done tastefully. I read the book Roses by Leila Meacham, and the romance she wrote about spanned 100 years. I won't give the story line away, but the book was so well-written, I couldn't put it down!! I adore the cover of your book, and would adore reading your book even more!! I have a feeling that you understand what I'm talking about. Congratulations on your book!!
(Peggy Roberson 9:46pm May 21, 2012)
I love the tease, a look, a funny remark, the getting to know one another, the anticipating building.
(Pat Lieberman 10:15pm May 21, 2012)
I love reading romance novels, especially when i can somewhat
relate to the characters. It gets me thinking about me and how
i'm so happy in my relationship and then you want to cheer on
the characters in the story!
(Rachael Whitzman 11:33pm May 21, 2012)
If I have a vested interest in what the characters are up to, I will not want to put the book down.
(Mary Preston 9:25am May 22, 2012)
Oh yes...The Tease...that is SO important!!! That really brings me into a story and the characters - I have to admit, though, to laughing at the beginning of your piece when you were talking about how the book was being marketed - talk about compartamentalization!

Thank you so much for sharing your experiences with us!
(Felicia Ciaudelli 10:32am May 22, 2012)
I'm kind of guy-like, I like fast action, but if the tease is satisfying in itself, then it's great! Your book sounds interesting.
(Lisa Elwood 12:11pm May 22, 2012)
This was a blast, and I LOVED reading all your comments!! Good luck to all of you!!
(Sharla Lovelace 2:55pm May 22, 2012)
I also like the flirting, holding hands, lightly touching, laughing, and of course good sizzling arguments that get the juices flowing.
(Cathy Phillips 5:49pm May 22, 2012)
I love the first comment. :) I like the butterflies in the tummy when you are near the person you have a crush on.
(MaryAnne Banks 8:34pm May 22, 2012)
What a gorgeous cover photo!
Now there is deliberate teasing, and unconscious or inadvertent teasing... a little of either would spice up life for two people who are beginning to look romantically at each other. I agree that this is all part of the 'getting to know you' process and if you are contemplating taking the brave step of letting down all your defences, you want to be fairly sure that the other person is right for you. For instance, is the man really interested in talking to you as a person, or is he unable to lift his eyes off your chest?
I am intrigued by the summing up of the love triangle in ths book, two men, one a ghost... Hmm, I think I'll have to read this one!
(Clare O'Beara 12:04pm May 23, 2012)
I love that one of these men is a ghost. It's definitely on my TRL. I have to have that build up, the tension building and their emotions building with every page. Happy Memorial Day.
Carol L
Lucky4750 (at) aol (dot) com
(Carol Luciano 5:38am May 27, 2012)
Registered users may leave comments.
Log in or register now!