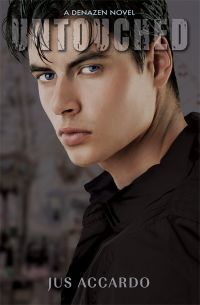 Purchase
A Denazen Novella #1.5
Entangled
March 2012
On Sale: March 27, 2012
262 pages
ISBN: 1620611163
EAN: 2940014144759
Kindle: B007PEV6DY
e-Book
Add to Wish List

Until he met Dez, Kale's days were filled with violence and death. He was used as a weapon of destruction by the power hungry men of Denazen. He's a Six. A person with an abnormal ability. Some people call them gifts, but not Kale. Kale's touch means instant death to anyone.
But now there's Dez, the girl he can touch, and they're hunting down Sixes and warning them about Denazen. Kale is learning about the world outside captivity and trying to put his dark past behind him. But they underestimated how badly Denazen wanted him back.
When Dez sacrifices herself to save the new Six they'd rescued from falling into the corp's hands, Kale is lost. Denazen has brought out its best to get the job done. Samsen, a nightmare from Kale's past— the only person he's ever truly feared—has come for them, and it soon becomes obvious he has his own twisted agenda.
Kale will need all his training to get Dez back and ensure they all make it out, free—and alive. But will it be enough?
Denazen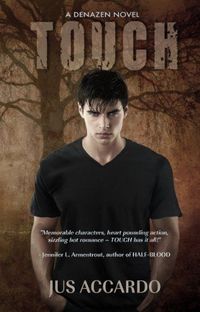 Touch
#1.0
Amazon.com | BN.com | | |
Comments
33 comments posted.
Re: Untouched

Sounds like a great book. Thanks for the chance to win it.
(Mary Hay 11:16am April 28, 2012)
I HAVE TO GO WITH "HERE AND NOW,"..MY WEDDING SONG!
(Silvana Moscato 12:09pm April 28, 2012)
I have tons of songs that take me back to many memories. One of my favorites that still makes me laugh to this day is walking home in the rain with a boy I had a huge crush on (I didn't think he knew)and we were going by this huge puddle and I sang "someday my PRINCE will come" and at the word Prince I jumped into the puddle and soaked him. He chased me for a block and then kissed me. It still makes me smile. As an old lady now it takes me back. grinning even now. lol
(Patti Paonessa 12:17pm April 28, 2012)
HI JUS, UNTOUCHED SOUNDS GOOD!
(Linda Bass 1:17pm April 28, 2012)
Most songs that trigger memories with me are from my high school years. Now those were some wild times!
Good luck and happy writing!
(Tracie Travis 2:10pm April 28, 2012)
Wow, sounds very interesting - I hope I win!
(Dana Reeder 2:45pm April 28, 2012)
Thanks for a fun post! I have always liked that Hawaiian
song/singer... What a Wonderful World :)
(Erin Fender 3:33pm April 28, 2012)
I feel music can definitely have an impact on our emotions. Sometimes certain songs will automatically make you think of a movie that you heard it in or something that was going on when you were listening to a song. One song that I really love is "Outside Looking In" by, Jordan Pruitt. Another song that I love is "Soaring" from Kiki's Delivery Service. Hope you have a great day.
(Chelsea Knestrick 3:48pm April 28, 2012)
Sounds like a terrific book! :) I like A whole New World in Aladdin... great song and give me lots of good memories.
(May Pau 3:49pm April 28, 2012)
this book sound unbelievably great sounds so good would love to win it
(Denise Smith 3:55pm April 28, 2012)
I always like hearing Feels Like Home by Chantal Kreviazuk...reminds me of my hubs.
(Barbara Battaglia 4:10pm April 28, 2012)
This sounds like a great book. I'd love to read it.
(Wilma Frana 4:49pm April 28, 2012)
You Will Never Walk Alone is one of my very most favorites.
Blessings,
marjorie
(Marjorie Carmony 6:34pm April 28, 2012)
Love the cover. I have loads of songs with associared memories and
feelings.
(Donna Antonio 6:39pm April 28, 2012)
I must admit to not recognizing the names of the songs and groups that you have connected with your book and characters. A lot of songs trigger memories for me. One very strong one for me is Anything for You by Gloria Estefan (a memory of a break up). Every Breath you Take by The Police is another one that reminds me of someone's obsession.
(Catherine Lee 6:46pm April 28, 2012)
Every time I hear the beginning sounds of Bridge over troubled
water, I feel like I'm five again, listening to it while lying
under the kitchen table waiting for the call that daddy's
coming home. :)
(Christiana Tegethoff 6:53pm April 28, 2012)
Sounds very interesting - love how you connect songs to characters - everyone has a soundtrack of their lives - some are just more tuned in...
(Cecelia Rohrbacher 7:25pm April 28, 2012)
Sounds really good. I look forward to reading it. Music touches our lives in so many ways. As Trisha Yearwood says "The Song Remembers When".
(Teri Robinson 8:24pm April 28, 2012)
This is going to sound a bit crazy but my song would be Party Rock by LMFAO. Its one of the songs I've heard recently and enjoy that my mom likes also. She always makes me turn the volume up and we roll down the street in the car singing. lol I think of her every time I hear that song. Congrats on the upcoming releases!
(April Harvey 8:24pm April 28, 2012)
I am enjoying reading everyones favorite or special music/songs. One of the most special songs for me is "wind beneath my wings"-my aunt sang it at our wedding.
(Amber Kuehn 8:27pm April 28, 2012)
This sounds like a book I can really curl up with and enjoy.
(Angelina Daniels-Shaw 8:30pm April 28, 2012)
Yes, my song is CECILIA by Simon and Garfunkel from the album:
Bridge Over Troubled Water. All my life in school the boys
were singing that to me and making me turn red as a tomato
because my name is CECILIA. Thanks for the great contest and I
Pray that I win too. Thanks, CECILIA CECE
(Cecilia Dunbar Hernandez 9:02pm April 28, 2012)
I have never. Read any thing by the author. I'm always looking for a new
page to turn can't wait to read
(Kindra Faith 9:07pm April 28, 2012)
Sounda like a great read. Thanks for giving me a chance to win it.
(Linda Hall 9:11pm April 28, 2012)
sounds like a great book!!!
(Jennifer Beck 9:12pm April 28, 2012)
Let me put something on the stereo and curl up with book and I'll be happy as can be. Thanks for the opportunity to win it.
(Angee Bartlett 9:43pm April 28, 2012)
"You Shouldn't Kiss Me Like This" by Toby Keith is the song that always reminds me of dancing with my hubby. If either of us hears this song on the radio, we always call each other and pretend that we're dancing together at that moment. We'll celebrate our 43rd anniversary June 14th!
(Joanne Hicks 9:51pm April 28, 2012)
I have had this series on my wishlist and cannot wait to read it. My son is Teenage Dream by Katy Perry, those were the days LOL Thank you for sharing this fun and helping me remember this happy memory!
(Denise Zaky 9:53pm April 28, 2012)
I'm like you when it comes to songs. So many remind me of a different space in time - a different event or person. When I hear Kokomo by the Beach Boys, my late Mother comes to mind, because it was her favorite song. Big Girls Don't Cry by Fergie was on the radio constantly after my Husband and I lost our house and most of our belongings. We were on the road, living out of our pop-up camper, going from campground to campground. I found so much meaning to most of the lyrics of that song. I find the person you used for the cover of your book to be a most intriguing character, and would love to read your book!! Thank you for letting us in on a little behind the scenes look of what it took to write your book. I know I enjoyed it very much!!
(Peggy Roberson 9:57pm April 28, 2012)
Book sounds like a good read. One of my favorites is Cowgirls Don't Cry. I can remember things that my mom told me about being strong and to keep going no matter what.
(Pat Freely 10:23pm April 28, 2012)
Metallica's Nothing Else Matter's simply because it was my wedding song. Any time I hear it I think of my wedding.
(Kristin Bingham 11:45pm April 28, 2012)
Paradise by the Dashboard Lights reminds me of being way too young to be out so late.
(Lisa Kendall 1:20am April 29, 2012)
My song is gonna seem silly compared to everyone elses. It's Oats, peas, beans, and barley grows. Because my father who never ever sings, sang it to me as a child and now he sings it to my little girls. It takes me back to much simpler times when a simple snuggle and a kiss would make everything better.
(Joelle Beebe 10:28am April 29, 2012)
Registered users may leave comments.
Log in or register now!