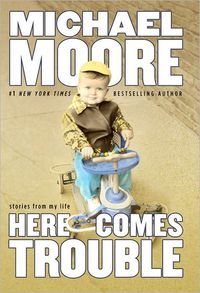 Purchase
Stories from My Life
Grand Central Publishing
September 2011
On Sale: September 13, 2011
Featuring: Michael Moore
448 pages
ISBN: 044653224X
EAN: 9780446532242
Kindle: B0053HDJQM
Hardcover / e-Book
$26.99
Add to Wish List

"I had an unusually large-sized head, though this was not uncommon for a baby in the Midwest. The craniums in our part of the country were designed to leave a little extra room for the brain to grow in case one day we found ourselves exposed to something we didn't understand, like a foreign language, or a salad."
Michael Moore-Oscar-winning filmmaker, bestselling author, and the nation's official provocateur laureate-is back, this time taking on an entirely new role, that of his own meta-Forrest Gump.
Smashing the autobiographical mold, he presents twenty-four far-ranging, irreverent, and stranger-than-fiction vignettes from his own early life. One moment he's an eleven-year-old boy lost in the U.S. Senate and found by Bobby Kennedy; and in the next, he's inside the Bitburg cemetery with a dazed and confused Ronald Reagan. At the age of seventeen, he goes to get a snack one day and ends up on the national news-creating a firestorm that helps eliminate racial discrimination at private establishments across America. He begins his first underground newspaper in fourth grade; sixteen years later, the police are raiding the printing office of his latest publication-and the U.S. Congress steps in and takes up his fight. On top of all that, he becomes one of the youngest elected officials in the country at age eighteen-but not before planning a hilarious "dry-run" escape to Canada with his stoner friends just in case they get drafted to go to Vietnam. Fast-forwarding to 2003, he stuns the world from the Oscar stage by uttering the words "We live in fictitious times . . . with a fictitious president" in place of the usual "I'd like to thank the Academy."
And none of that even comes close to the night the friendly priest at the seminary decides to show him how to perform his own exorcism.
All of this is the stuff of great fiction-but every one of these stories is real. Before Michael Moore became the Oscar-winning filmmaker and all-around rabble-rouser and thorn-in-the-side of corporate and right-wing America, there was the guy who had an uncanny knack for just showing up where history was being made. You will be stunned and surprised to meet the Michael Moore you never knew.
Capturing the zeitgeist of the past fifty years, yet deeply personal and unflinchingly honest, HERE COMES TROUBLE takes readers on an unforgettable, take-no-prisoners ride through the life and times of Michael Moore. Alternately funny, eye-opening, and moving, it's the book he has been writing-and living-his entire life.

Media Buzz
Last Call with Carson Daly - December 9, 2011
Tavis Smiley - October 4, 2011
Hard Ball with Chris Matthews - October 3, 2011
Piers Morgan Tonight - September 26, 2011
Tavis Smiley - September 19, 2011
Colbert Report - September 14, 2011
The View - September 14, 2011
Talk of the Nation - September 13, 2011
The View - September 13, 2011
Colbert Report - September 13, 2011
Today - September 13, 2011

Comments
No comments posted.

Registered users may leave comments.
Log in or register now!