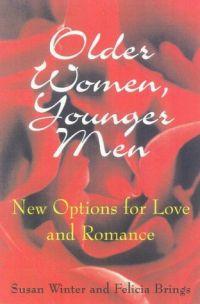 Purchase
Older Women, Younger Men
Susan Winter
"The book handles a timely, yet touchy, subject in a tasteful manner." Foreward
New Horizon Press
September 2000
208 pages
ISBN: 0882822004
Trade Size (reprint)
$15.95
Add to Wish List

Dating and marrying across the age gap once seemed like a Hollywood phenomenon reserved for rich and famous men trying to snare trophy wives or girlfriends on and off screen. However, in the real world, the number one romance rule breaker is the union of older women and younger men. "Here in the real world, things are changing dramatically," say Felicia Brings and Susan Winter--two very attractive and quite successful women who have had long standing relationships with younger men--in their new book, Older Women, Younger Men: New Options for Love and Romance (New Horizon Press, September 2000). Today, not only are more and more older women discovering that younger men are equally attracted to them: they are challenging the old male mores, finding that it is possible to have loving, rewarding relationships with caring and sensitive young men who have the maturity to navigate this uncharted sea.
In researching the book, Brings and Winter interviewed over 200 happy, monogamous individuals in relationships in which the women were ten or more years older than the men. These relationships offer proof that romance between older women and younger men is not just a one-night stand. But, women who embark on such adventurous relationships still should expect that though reproductive science has advanced, social attitudes, as these authors warn, often have not changed.
Older Women, Younger Men examines many of the outmoded demands and expectations of society which couples in these unconventional relationships can expect to encounter. It tells how to handle some unpredictable, as well as predictable, situations and answers such questions as: What does he see in her? What can she have in common with him? Is it only for sex? What happens when she and his mother are almost the same age? With insight and sensitivity, the authors address insecurities about desirability and such fears as losing a younger lover as time passes. They provide essential information for breaking down traditional barriers and dealing with the criticisms of his family, her family and all those nay-saying friends. Drawing on their research, they expose fascinating facts and explode the negative stereotypes that keep many women from seeking a new world of relationship potential.
Older Women, Younger Men helps mature women boldly embrace a new series of chances, counterbalance a world of apprehension and opens their eyes to the possibility of finding true love and commitment among the large pool of younger men. For younger men contemplating relationships with older women, it offers insights as well, while concerned friends and family of older women/younger men couples can also gain from this trailblazing book.
"We would like to see more mid-life women expand their relationship options, and we want to share what we've learned," say Brings and Winter. "We want to walk these women through the existing minefields, empowering them for the future. We are advocates of new options, more love, greater happiness and inner peace, so that getting older becomes about increasing--not diminishing--the joys life holds in store for mature women."

Media Buzz
Saturday Early Show - December 3, 2005

Comments
No comments posted.

Registered users may leave comments.
Log in or register now!