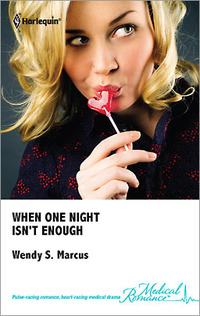 Purchase
Harlequin Medical
July 2011
On Sale: July 11, 2011
Featuring: Ali Forshay; Jared Padget
ISBN: 0373067941
EAN: 9780373067947
Paperback
$4.99
Add to Wish List

Confessions of an E.R. nurse…

Nurse Ali Forshay has swapped dating disasters for nights out with the girls. But after spending more time than is strictly necessary discussing the man she loves to hate—the notoriously delicious Dr. Jared Padget—Ali's horrifying realization is that she's one hundred percent crazy in lust with him! Her conclusion: spend a feverish night together. After all, it would just be a onetime thing and it would cure her obsession…wouldn't it?
Comments
39 comments posted.
Re: When One Night Isn't Enough

Ohh! Sounds very Grey's Anatomy-ISH. Me likey!
(Saskia Kanstinger 12:07pm July 12, 2011)
Great excerpt! Can't wait to read it.
(Patti Paonessa 9:56pm July 12, 2011)
Hi Wendy!
I do have an internet addiction, it's my go to source for information on everything. I check emails, I read the news, I check the weather, I read blogs, I read the flyers, I check book reviews. Everything. You can call it information addictin. However, nothing (not even the internet) beats a good book that I lose myself in and lose hours of sleep. Congratulations on the upcoming release.
(Na S 1:57am July 14, 2011)
Sounds good!
(Lynn Lanzon 2:05am July 14, 2011)
I will be checking out the exerpt. Thanks.
(Pam Howell 7:44am July 14, 2011)
An internet addiction?? Oh yeah!! Just ask my kids..when they ask a question, I tell them to "Google" it!! lol
(Dawn Staniszeski 9:47am July 14, 2011)
Addicted,oh yea ,i'm on here morning till bedtime.
(Richard Randazzo 10:48am July 14, 2011)
I think I'm bad if I spend half a day on 'puter ... of course I'm not writing a book.
(Shirley Nienkark 12:02pm July 14, 2011)
You could say that I have an internet addiction, if you ask my Husband. I would say it's more like a hobby. I do volunteer work once a week for the local library where I work, and I need material for my knitting class, so I'm on here about 5 or 6 am most mornings, looking at different websites for patterns that might be of help to one of the ladies, or if I'm looking for a particular pattern for something I'd like to knit. There are also a lot of other interests that I have, so I stay on here for quite a few hours. My husband loves to watch movies, and he does that almost every day, so since I don't complain, he shouldn't say anything about what I do. I manage to cook his meals (grudgingly lol), and keep a clean house. As far as mail goes, between having things sent to me, minus the spam, and mail sent from friends and family, I am currently up to 886 pieces, and am desperately trying to get the count down. It's pretty hard when you're on dial-up. My Husband takes me to places where they have wi-fi so that I can get the more difficult pieces taken care of a lot faster. I'm almost ready to leave and do that today. Good luck with your book. I'm sure it's a wonderful read!!
(Peggy Roberson 1:38pm July 14, 2011)
Hi Saski and Patti!
Glad you liked it!

Hi Na S!
I agree, I prefer a good book (paperback or Kindle edition) to almost anything else.

Hi Lynn and Pam!
Thanks for stopping by!

Hi Dawn and Richard!
Exactly what did we do before the Internet? Are you old enough to remember World Book Encyclopedias and wall mounted phones?

Hi Shirley!
I rationalize by call Internet time "reseach" and "social networking" - both of which are necessary for authors to be successful!

Hi Peggy!
Yikes! 886 emails? I can't even imagine! My e-mail is my second most potent addiction.

Thanks for stopping by everyone!! And may I share here that I just found out RT Book Reviews gave my debut Harlequin Medical Romance, When One Night Isn't Enough, 4 stars!!! I'm thrilled!!!
(Wendy S. Marcus 2:02pm July 14, 2011)
YES!! I need an intervention from my internet addiction! So funny how we all
seem to have an umbilical cord attached to our computers these days. I don't
know how I managed without it. I can check on so many things going on all
around! The news is instant and so is checking in with family and friends.
Therefore, I guess maybe it's a good and a bad thing. However, I do keep up
with my chores and my REAL life so....Uh-Oh - methinks I'm babbling on
BEFORE the intervention! ;) Thanks for the synopsis of your day. It made me
smile.
Connie Fischer
(Connie Fischer 3:15pm July 14, 2011)
Yes I really need an intervention! I spend all day at work on a computer then come home to spend a few more hours on it. I love to go to the sites like this that I can meet new authors and read excerpts of their work. Then I wind down by playing all the games I have loaded on it. What did we ever do without all our electronic "toys"???
Thanks
(Julie Parrish 3:29pm July 14, 2011)
Hi Wendy!

Congratulations to te 4 Star RT review! Wow! It's great! But then WHEN ONE NIGHT ISN'T ENOUGH deserved it, it's a fantastic book!
(Nas Dean 3:32pm July 14, 2011)
I know for certain I have an internet addiction. Checking my email is the first thing I do in the morning and the last thing I do at night. I can't walk past my laptop without checking my mail or take a look at what's happening on Facebook. The new book sounds so good - can't wait to read it!
(Kimberly Bartlett 4:09pm July 14, 2011)
OMG Wendy! You have literally outlined what I do / used to do when at
home!!!! Except that since I don't have any deadline of any sort, I tend to wile
away more hours at the comp in the name of research!!!! And I hate it :( My
DH is understanding, but.......why can't I be serious and write for a set time
daily? !!!

Good luck with having the book raring to go before the deadline!
(Ju Dimello 4:29pm July 14, 2011)
Yea, I'm afraid I do have an internet addiction...especially
to blogs about books! I could spend all day on here. I know I
spend too many hours at the computer but I do enjoy it! I'd
love to read your books and hope I win!
(Leanna Morris 4:47pm July 14, 2011)
Sounds like you're a busy lady! Wish I had that dedication!
(Amber Kuehn 4:48pm July 14, 2011)
I have an internet addiction, have to check my emails several times a day. Your book sounds good. I'd love to win it.
(Wilma Frana 4:51pm July 14, 2011)
Hi Conne!
Umbilical cord attached to the computer = a bad visual! And yet so true!

Hi Julie!
Oh, boy. Don't get me started on games on the computer. I had a Spider Solitaire addiction that impacted my ability to get anything done. It was a little scary.

Thanks for the congrats, Nas! I'm thrilled.

Hi Kimberly!
We are Internet sisters seperated at birth!

Hi Ju!
I've tried to write for a set number of hours, but can't seem to do it. What works is I've been doing 1k in 1hr challenges on Twitter. I've never made it to 1k - because I can't help editing as I go - but it really gets me writing!

Hi Leanna, Amber, and Wilma!
Good luck in the contest!

Thank you for stopping by to visit me, everyone!!!
(Wendy S. Marcus 5:05pm July 14, 2011)
Before the deadline is impressive. I suffer from p r o c r a s t i n a t i o n. If you hear of a cure , please let me know.
(Mildred Mayo 5:14pm July 14, 2011)
Do you have an Internet addiction? I would say no because I
would rather be WITH people then just the online
interaction. I go to three site over and over and it's
purely boredom based!
Are you in need of an intervention, like me? No, I am in
need of friends and a job...lol!
If you checked out my excerpt, did you like it? Good stuff!
Are you going to make me a happy newly published author by
positively affecting my numbers? Will tweeting help???
(Michele Powell 5:23pm July 14, 2011)
An internet addiction? Who me? I am taking it one day at a time because everytime I say I will cut back, I just add more!
(Jennifer Beyer 5:37pm July 14, 2011)
Hi Mildred!
I am the Queen of Procrastination Land! The cure that works for me: Deadline.

Hi Michele!
Very thorough! I enjoy being with people, too. But I still LOVE the Internet! Good luck with the job! You certainly seem friendly enough to have lots of friends...so go out and get em'. I'm glad you liked my excerpt! And tweeting me up would be fabulous. RT me @WendySMarcus.

Hi Jennifer!
Cutting back is hard. Baby steps. You can do it! (Hopefully better than I have!!!)

Thanks for stopping by, everyone!
(Wendy S. Marcus 5:59pm July 14, 2011)
Internet addiction? Yeah, me too
(Lisa Garrett 6:10pm July 14, 2011)
Hi Lisa!
You're in good company!
(Wendy S. Marcus 7:12pm July 14, 2011)
The book sounds great. I'm such an internet whore! LOL Cept the whole having a job thing totally cuts into it! LOL
(Amber Hall 7:36pm July 14, 2011)
Your day has too much going on, makes me tried just reading it. Have to stay off the internet if I expect to get anything done. Book sounds great.
(Sheila True 8:47pm July 14, 2011)
The internet is very enticing when emails are gathering and the mind is set loose on a mission to do anything but the pressing goal of the moment. Life goes on around you while you do your almost best to reach the word count of the day squeezed into a chunk of time. The distractions at home are numerous so maybe it helps to get fresh perspective going offsite to clear out the noise and interruptions and carry on with your words. Setting small goals that are achievable helps you cross another task off your list. The internet can be freeing, but only if you have or take the upper hand.
(Alyson Widen 9:38pm July 14, 2011)
Thanks for the giveaway. I most definitely have an internet addiction. I am
constantly checking my email/twitter/book sites. I subscribe/follow MANY
blogs, participate in blog hops, and win lots of books I can't read b/c I'm
always online :)
(Mona Garg 10:02pm July 14, 2011)
I try to control may access since there are other things I ahve to get done, but somedays the time just flies by & I'm still accessing. I can tell you have a good sense of humor - I always enjoy that in books. Thanks for the giveaway offer.
(Diane Sallans 10:23pm July 14, 2011)

(Patricia Carson 10:31pm July 14, 2011)
Wow, my cat clicked on my mouse and submitted it before write anything:) It looks like a Great Book the kind you can't put down till you ready to fall asleep!
(Patricia Carson 10:36pm July 14, 2011)
Hi Amber!
Sorry the day job puts a crimp in your Internet whor...activities. But we all need to eat!

Hi Sheila!
I have taken to clicking off the power chord for my Internet router in extreme instances of addiction. It works. (Because I have to get out of my chair to turn it back on.)

Hi Alyson!
Setting small, achievable goals is key! I am a list maker and take great joy in crossing things off my To Do list.

Hi Mona!
I must admit, I'd never let my online time interfere with my reading time. I LOVE to read and it is upsetting I don't have enough time to do it since I've started writing.

Hi Diane!
You need a sense of humor to get by in life - at least in my opinion. I enjoy finding the humor in situations - even those others may not find funny!

Hi Patricia!
Am I to understand your cat is the one with the Internet addiction? Someone who read my book said they stayed up way too late because they couldn't put it down. As far as I'm concerned, that's the greatest compliment you can give an author!

Thank you for stopping by, everyone!
(Wendy S. Marcus 11:25pm July 14, 2011)
All I can say is that I am so glad I wasn't on the internet while raising my children or they would have been neglected lol. I had sign in problems and got locked out for 24 hrs. and thought I would just die!! Loved the excerpt!
(Jeanne Sheats 11:25pm July 14, 2011)
What a great post! I hope you're very successful! And your book looks good!
(Robin Daily 12:03pm July 15, 2011)
Hey Wendy! Your day looks remarkably like mine. Who'da guessed lol. Good luck with the August 1 deadline. I've got one due then too... So what am I doing on line, eep!!
(Robyn Grady 7:25am July 15, 2011)
Hi Jeanne!
I agree! We lost power for two days last winter, and I didn't know what to do with myself! I was as bad as my children with no Xbox and dead iPod batteries!

Hi Robin!
Thanks!

Hi Robyn!
It's a scary schedule, isn't it? I'm happy to say I've cut my obsessive Amazon/M&B/Harlequin checking back quite a bit. It was necessary if I wanted any hope of getting any writing done!

Thanks for stopping by everyone!
(Wendy S. Marcus 9:58am July 15, 2011)
Your days are certainly busy but sound extremely interesting. I am addicted to the internet and Facebook. Like seeing what others are doing and what they are reading.Keeps things interesting.
(Constance Biller 11:37pm July 16, 2011)
You got me with the excerpt. You are GOOD!
(Sue Harrison 2:03pm July 24, 2011)
Registered users may leave comments.
Log in or register now!