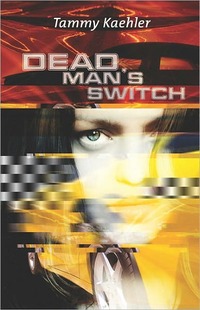 Purchase
Kate Reilly Mysteries
Poisoned Pen Press
March 2011
On Sale: March 27, 2011
Featuring: Kate Reilly
294 pages
ISBN: 1590588819
EAN: 9781590588819
Hardcover
$24.95
Add to Wish List

Aspiring racecar driver Kate Reilly goes looking for a full time ride in the American Le Mans Series-and stumbles over a dead driver. When she takes that driver's job just hours later, she also takes pole position on the list of suspects in his murder. Suddenly she's in the hot seat with little time to clear her name and get ready to race a Corvette at Lime Rock Park.
Amidst suspicion, Kate buckles down, quickly getting to know the racecar and team, bumping into plenty of suspects who might have committed murder. Clues fly at her as fast as the turns on the track, including a cryptic list of blackmail victims, unexplainable car performance at racing speed, a jealous husband with an adulterous wife, and drivers and crew who are openly happy her predecessor is dead. Kate finds exhilaration and hazards exist on and off track as she throttles up both the Corvette's V8 and a murder investigation.
The green flag countdown ticks away, and Kate must decide who she can trust to help probe alibis, untangle rumors of team breakups and personal betrayals, and determine whose drive to win also constitutes a willingness to kill. Because what's at stake in Kate's race to the truth is her career … only by uncovering a murderer can Kate restore her reputation and prove she belongs in the racing world.
Comments
8 comments posted.
That hamster wheel keeps going around and I can't get off very fast. I remember having a hamster, a gerbil and a mouse all at different times. They loved the wheel and exercised mostly at night when I was trying to sleep. For a break I go for walks and like being near water for that clears the mind and helps me think better.
(Alyson Widen 2:45pm August 6, 2011)
i was never aloud to have any pets except goldfish that kept
dying
(Wanda Miller 7:01pm August 6, 2011)
I'm an achiever as well, and in order to get things accomplished from my lists, and I do make them mentally as well as written, is to learn to simplify. I've learned how to adapt to a different type of life, through illness, and live a "new normal." Those new adaptations don't necessarily mean you are doing things with less efficiency. You have just found a better way to do it, that takes less time and frees up more time for you to do something you really want to do. Sometimes I do 2 things at the same time like reading my book while a page is downloading on the computer, for example. I accomplish 2 things I want to do at the same time. If you put your mind to it, it's amazing what you can think of to multitask or shortcut to make more time for yourself. Congratulations on your book!! May you have more time off your hamster wheel!!
(Peggy Roberson 10:04pm August 6, 2011)
I double check my triple check..uggh. life never stops, but sometimes I
have to force myself to stop, just stop. Stop doing, stop thinking, stop
worrying, stop "doing it all" (afterall if you want something done right, do
it yourself), stop and breath, stop and relax my body and mind, stop and
rest (I don't even know about rest anymore). It takes a while to shut
down, but nothing to start back up, and more often I wish I was shut
down longer.
(Carla Carlson 12:20pm August 7, 2011)
I'm glad I'm not the only one who's doing too much and not stopping enough. Good for the rest of you for working out how to take breaks. Thanks for your comments!
(Tammy Kaehler 12:22pm August 7, 2011)
I retired a few years ago and I admit that it did take me awhile to learn to
RELAX! I found myself always looking around for "things to do" as I almost
felt guilty that I didn't have to go to the old J-O-B! My husband went through
the same thing when he retired. I think most people finally learn to let go of
that guilty feeling. The great thing is you get involved with things you always
wanted to do (like reading!!) and end up making the old comment we have
heard a gazillion times before: "I don't know how I ever found time to work!"
This summer we are in the NC mountains hiking every day. It's wonderful!
Even if you are still working, you need to learn to forgive yourself for not
checking off everything on your daily list. Life is too short to "get your
panties in a bunch." My Mom used to say that the dirt will be here when I'm
gone and she's gone now and the dirt is still here. So, learn to take time for
YOU!
(Connie Fischer 3:05pm August 7, 2011)
Oh yes I used to have many "stop the world and let me off days" when I was working. I don't have as many since I've been retired, but every now and then. WE all have them!
(Brenda Rupp 9:13pm August 28, 2011)
Many people I personally know have created their profiles using myfolio.com. They tell me it is very easy to use and gives amazing results. But I believe to create profiles on our own.
(Arnet Man 9:26am December 17)
Registered users may leave comments.
Log in or register now!