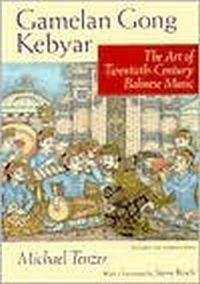 Purchase
The Art of Twentieth-Century Balinese Music
University Of Chicago Press
August 2000
On Sale: August 1, 2000
520 pages
ISBN: 0226792838
EAN: 9780226792835
Paperback
$54.00
Add to Wish List

The Balinese gamelan, with its shimmering tones, breathless pace, and compelling musical language, has long captivated musicians, composers, artists, and travelers. Here, Michael Tenzer offers a comprehensive and durable study of this sophisticated musical tradition, focusing on the preeminent twentieth-century genre, gamelan gong kebyar.
Combining the tools of the anthropologist, composer, music theorist, and performer, Tenzer moves fluidly between ethnography and technical discussions of musical composition and structure. In an approach as intricate as one might expect in studies of Western classical music, Tenzer's rigorous application of music theory and analysis to a non-Western orchestral genre is wholly original. Illustrated throughout, the book also includes nearly 100 pages of musical transcription (in Western notation) that correlate with 55 separate tracks compiled on two accompanying compact discs.
The most ambitious work on gamelan since Colin McPhee's classic Music in Bali, this book will interest musicians of all kinds and anyone interested in the art and culture of Southeast Asia, Indonesia, and Bali.

Media Buzz
On Point - November 26, 2010

Comments
2 comments posted.
However, Samorost3 , like the past games of Yakub Dvorsky and the
company, not about puzzles and not even about the bug-comets,
singing crocodiles and pissing animals. They are about how small but
brave heroes challenge seemingly insurmountable circumstances and
make some existential journey full of dangerous and amusing
situations, amazing creatures, sadness and humor. And now, for the
fact that the authors have so many years later presented us with such a
journey, they want to say many thanks. And shake the leg.
(Anna May 10:54am May 20, 2018)
Pros: an amazing world; a seriously increased scale; unusual puzzles
and situations; live picture; an abundance of diverse music.
Minuses: some of the riddles in their mechanics differ little from each
other; there are repetitions and excessive bustle between locations;
logic is sometimes too strange or completely absent.
(Anna May 10:56am May 20, 2018)
Registered users may leave comments.
Log in or register now!