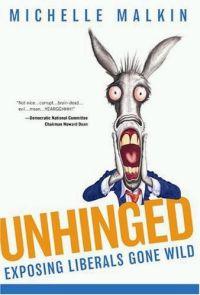 Purchase
Unhinged: Exposing Liberals Gone Wild
Michelle Malkin
With wit, wisdom, and a bullet-proof vest, Michelle Malkin ruthlessly and raucously skewers the myths of liberal tolerance, peace, and civility. Unhinged shows how conservatives are driving their opponents mad. The good news for liberals? Self-help starts
Regnery Publishing, Inc.
October 2005
231 pages
ISBN: 0895260301
Hardcover
$27.95
Add to Wish List

Un·hinged
adj : affected with madness or insanity; [syn: brainsick, crazy, demented, distracted, disturbed, mad, sick, unbalanced]
- The American Heritage Dictionary
*** Warning: Unhinged liberals are hazardous to the nation's health.
They're slashing your tires. Burning your lawns. Heaving pies at Republican pundits. Hurling racist epithets at minority conservatives. Nursing nutty conspiracy theories. And pining publicly for the murder of President Bush.
And they call us crazy?
In Unhinged: Liberals Gone Wild, Michelle Malkin plays conservative Margaret Mead to the alien political creatures of the American Left. With uproarious detail and rollicking reportage, Malkin chronicles the bizarre world of leftists gone mad in their natural habitats: the mainstream media, academia, Hollywood, and Washington.
Unhinged unmasks liberals who've completely abandoned rationality and reality. They're taking chainsaws and bayonets to campaign signs. Running down political opponents with their cars. Setting fire to political opponents in effigy. Defacing war memorials. Swiping yellow ribbons off cars. And supporting the fragging of American troops.
In Unhinged, you'll meet:
- The Top 10 Unhinged Leftists, Celebrities, Media Liberals, and Politicians. - The Pennsylvania Democrat who repeatedly screamed "faggot" at his Republican opponents on the Senate floor. - The Florida Democrat who tried to run down former Florida Secretary of State Katherine Harris with his Cadillac. - The Democrat congressman who claimed the capture of Saddam Hussein was staged by GOP operatives to help the Bush re-election campaign. - The veteran newsman who claimed that Bush advisor Karl Rove and Osama bin Laden are working hand-in-hand to help the Republican Party. - And hundreds more unhinged liberals gone wild!

Media Buzz
The O'Reilly Factor - January 2, 2006
The O'Reilly Factor - December 27, 2005
The O'Reilly Factor - November 1, 2005

Comments
No comments posted.

Registered users may leave comments.
Log in or register now!