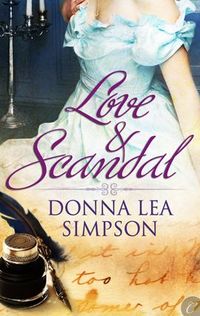 Purchase
Carina Press
June 2010
On Sale: June 21, 2010
ISBN: 1426890206
EAN: 9781426890208
e-Book
$4.79
Add to Wish List

Nothing sells like love & scandal...
Collette Jardiniere writes of passion and seduction but has experienced neither. Her pseudonymous novel, The Last Days of a Rake, has shocked Victorian society and become a runaway bestseller. Infamous roué Charles Jameson is "revealed" as the author, and Collette is outraged when the cad does little to curtail the gossip.
Intrigued by the book the tabloids claim is his thinly veiled autobiography, Jameson tries to find the real author. Returning to London after an unsuccessful hunt, he is pleasantly distracted by a plain country miss reading the wicked book.
Collette is dismayed when she learns the identity of the devastatingly handsome man who kissed her senseless. And Jameson cannot believe that she wrote The Last Days of a Rake. As Collette tries to convince him of the truth, their mutual attraction reaches a fever pitch, and soon they find themselves in a real-life scandal!
Comments
34 comments posted.
Re: Love and Scandal

My fav historical time period is the Regency time period. So much scandal during that time. That would be my first stop if I had a time machine:) The dresses the ladies wore back then... to die for!
(Yadira Alonzo 7:14pm July 20, 2010)
I love ebooks as much as I love historical romances, I enjoy the Kobo and the Sony ereaders they are a fantastic way to take my collection everywhere I go :)
(Darci Paice 3:02am July 22, 2010)
I love the sound of your book, can't wait to read it.
(Barbara Hanson 9:00am July 22, 2010)
It seems that there is more scandal than love these days. Three cheers for LOVE!!
Blessings,
Marjorie
(Marjorie Carmony 9:58am July 22, 2010)
Gossip and scandals in real life are so hurtful--but in books they can be fun to read about.
(Sue Farrell 10:57am July 22, 2010)
Have not had the pleaseure of reading your work... adding your name to my list... love historicals!
(Colleen Conklin 12:08pm July 22, 2010)
I enjoy ebooks a lot and carry my ebookreader around with me all the time for train and bus rides...waiting times etc. I really enjoyed this post.

I think as long as sex has been around there has always been scandals...:))

Valerie
in Germany
(Valerie Bongards 12:58pm July 22, 2010)
My fav historical time is Regency also I agree with Yadira
(Vickie Hightower 12:59pm July 22, 2010)
i think this sounds like a big hit
(Debbi Shaw 1:00pm July 22, 2010)
I love historical romances, I think living during that time would have been very special. I have just received an ipad and would love to have this book in it. I very much agree with Valerie in Germany on sex and scandals.
(Joyce Bruner 1:43pm July 22, 2010)
Sounds yummy!
(Cheryl Greenleaf 1:54pm July 22, 2010)
The book sounds fascinating. I haven't gotten into the whole ebooks yet, as I like holding a book.
(Pam Howell 2:05pm July 22, 2010)
Hello Donna, Please enter me in your fantastic contest and please let me know when I am a winner too! I Love entering and winning contests from freshfiction.com
God bless you always, Cecilia
(Cecilia Dunbar Hernandez 4:06pm July 22, 2010)
Historicals were my first loves after I graduated from Pippi, Nancy, Trixie etc...It's amazing what you can learn when the author researches the period well...
(Ivy Truitt 4:29pm July 22, 2010)
The book sounds yummy, and I have never tried and ebook..
(Vikki Parman 4:39pm July 22, 2010)
I hope everyone enjoys Love & Scandal!

Well, maybe not the actual thing, but my *novel*... LOL!
(Donna Simpson 4:40pm July 22, 2010)
I love a good historical romance. Thanks for the info on affairs of the heart.
(Alyson Widen 6:46pm July 22, 2010)
Sex is the same throughout the ages and cultures, that's for sure.
(S Tieh 7:01pm July 22, 2010)
Plus ca change....I still remember the utter humiliation when I was about 13 and the minister in church was asking parents what, if anything, they knew about drugs....and, you guessed it: Mom openly admitted to experiencing all kinds of drugs in the Air Force (WWII). So no, nothing new under the sun. Forty years later, I can laugh about it.
(Susan Driskill 8:29pm July 22, 2010)
I would love this. Thank you for the opportunity to win@
(Lisa Garrett 8:51pm July 22, 2010)
A scandal in the past was a way to outcast someone. It is more difficult for women to regain their reputations. A man gets more of a compliments name calling (stud, gigalow, rake, rogue) and woman get hurtful name calling (slut, whore). The way society dictates.
(Kai Wong 10:36pm July 22, 2010)
Love is a fickle thing
(Alice Xiao 11:48pm July 22, 2010)
I've recently started reading historial romances...your book sound wonderful, would love to read it!
(Linda Dowdy 12:14pm July 23, 2010)
Haha I think everyone loves reading about a good scandal!
(Sarah Dewbery 1:18am July 23, 2010)
Scandal still does sell, doesn't it? And in Love & Scandal that is exactly what happens; a 'tabloid press' kind of reporter uses a 'scandal' to sell newspapers and make a name for himself!

It did happen on occasion, even in Victorian London. Gossip columns were all the rage!
(Donna Simpson 6:21am July 23, 2010)
This would be great to win for my grandmother's birthday gift!
(Christian Hayes 6:21am July 23, 2010)
I love historical romance books and have read 100's during the last 55 yrs. Of course I do like HEA but they don't always end that way. lol I was in awe by the info you have on this post. Lots I did not know. Thanks for your great books and pls continue to write them.
(Brenda Hill 7:10am July 23, 2010)
I would loev to read this book, I love the idea of an author for a heroine.
(Chantel Williams 11:03am July 23, 2010)
sounds like a wonderful beach read
(Debbi Shaw 1:34pm July 23, 2010)
Should be lots of fun.
(Patricia Mellert 4:39pm July 23, 2010)
This sounds like such an interesting twist for a Historical Novel!! You have a gift to be able to put these facts to paper the way you have with such zeal!! It should make for a sizzling summer read!!
(Peggy Roberson 7:13pm July 23, 2010)
I love the sound of your book. Thanks for the opportunity.
(Brenda Rupp 9:18pm July 23, 2010)
Your mother was not totally wrong. The wild sexual antics of today were not around in the past before the pill and abortions.
(Gladys Paradowski 10:10pm July 23, 2010)
While compiling some family
tree information, I soon
realized that most 1st babies
tended to be "premature",
often arriving after only 5 or
6 months of marriage. While
the "known"(to family members)
wedding date might have been a
year earlier, upon
checking court records, the
real date was often a year
later. As you said, 'plus ça
change, plus c'est la même
chose'.
(Lisa Richards 11:04pm July 25, 2010)
Registered users may leave comments.
Log in or register now!