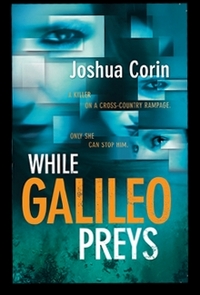 Purchase
A killer on a cross-country rampage. Only She can stop him.
MIRA
September 2010
On Sale: September 1, 2010
Featuring: Esme Stuart
400 pages
ISBN: 0778328112
EAN: 9780778328117
Mass Market Paperback
$7.99
Add to Wish List

IF THERE WERE A GOD, HE WOULD HAVE STOPPED ME.
That is the message discovered atop an elementary school in downtown Atlanta. Across the street are the bodies of fourteen innocent men and women, each quickly and cleanly murdered. The sniper Galileo is on the loose. He can end a human life from hundreds of yards away. And he has just begun.
Where others see puzzles, Esme Stuart sees patterns, and these outside-the-box inductive skills made her one of the FBI's top field operatives--when she worked for the Bureau. But she turned her back on that dark abyss eight years ago to start a family and live a normal life. She now has a husband and a daughter and a Long Island house to call her own.
But as Galileo's murders escalate, her beleaguered old boss needs the help of his former protegee. But is Esme willing to jeopardize her new perfect life--which she has certainly earned... How will she explain it to her husband? Her daughter?
And what will happen when Galileo aims his scope at them?
Comments
20 comments posted.
The fits and spurts kind...TSO always helps.
(Ivy Truitt 2:13pm November 7, 2010)
Music is my art. As much as I would love to be able to write, all I can do is read.
(Kelli Jo Calvert 9:07pm November 7, 2010)
Oh, would love to be able to write but reading is as close as I come to it.
(Brenda Rupp 9:32pm November 7, 2010)
Those are very powerful rules, yet somebody had to put them in Commandment form. They're also good rules to follow. I've always wanted to write a book, and have been encouraged to do so, yet haven't had the nerve to put pen to paper. Perhaps I will someday soon. Thank you for giving me something to think about. I'll have to read your book as well.
(Peggy Roberson 10:44pm November 7, 2010)
Point 8 is my favorite.
(Mary Preston 12:48pm November 8, 2010)
I whish I could write. Your Commandments are great and could work for any thing
(Vickie Hightower 9:22am November 8, 2010)
I'm so glad you all liked my "commandments"!

And reading, in its own way, is a form of artistry - when we read, we inscribe memories and fantasies into our imaginations.
(Joshua Corin 12:26pm November 8, 2010)
Wow Tara, so cool how that all has worked out!
(Darla Ray 10:33am November 9, 2010)
OMG...isn't it awesome when the higher forces are orchestrating life???

Valerie
valb0302@yahoo.com
in Germany
(Valerie Bongards 1:19pm November 9, 2010)
At times its hard not to believe in a higher power, I know there have been times in my life where I am positive there is one working in my life.
(Vickie Hightower 2:34pm November 9, 2010)
At 14 I certainly had no idea what I wanted to do. Brilliant that you did.
(Mary Preston 4:27pm November 9, 2010)
Coincidences are always amazing it's as if fate and wishes collide to make a new reality.
(Alyson Widen 5:36pm November 9, 2010)
Action moves the story and snappy dialogue is easiest to follow.
(Alyson Widen 5:38pm November 9, 2010)
Best of luck to you on your new book, and best of luck to Strengthen Our Sisters charity. I think what you are both doing is awesome.
(Robin McKay 5:56pm November 9, 2010)
And the key is Faith! Faith in yourself Faith in the Universe and Faith in a higher power!!!! And knowing that people have Faith in you!
(Leeanne Williams 7:06pm November 9, 2010)
I wished I lived closer so I could visit the Rita gathering and your fundraiser!
(Molly Wilsbacher 10:43pm November 9, 2010)
It's fun to hear how The First Wife came to be part of the Chapman Files! And it is amazing that
the best things happen when you least expect them...
(Lynda Kachurek 11:56pm November 9, 2010)
It's great when things come together in life. I wish you continued success.
(Ginger Hinson 1:02am November 10, 2010)
I'm glad that you can bring attention to such an important issue as domestic abuse. I just heard of ur series for 1st time on Borders Romance blog, and look forward to reading The First Wife and It Happened On Maple Street! I love hearing about serendipity in real life:) I hope to see a cool thing like that happen in my own one day too. Thanks for sharing Tara!
(Bella Franco 4:16am November 10, 2010)
Thanks for the good wishes, everyone! I was kicked out of here yesterday! Just got back in.

Alyson, I really like that...fate and wishes colliding. A great way to think about the process.

Bella, thank you for joining us! I hope you enjoy the series.

Lynda, so true about the best things happening when you least expect them. I feel very blessed to have been at a particular booksigning at a particular time.

Molly, you can join us for our virtual party on December 4th! It's going to be on e-harlequin and we're giving away tons of prizes to blog tour commenters. Your name is entered!

Lee, Faith is the key. And it's a hard key to hold on to when things are dark.

Mary, knowing at such a young age what you have to do is good in some ways. Detrimental in others. Because it pigeon holes your thinking. My goal was a tough one to reach and if it hadn't happened, I had little else...I'd left myself no options. But maybe that kind of belief is what it takes.

Vickie, having proof of the forces at work makes it easier to believe those forces are there, that's for sure.

Darla, I believe that the same forces at work in my life are at work in yours. I'm looking forward to hearing about the next stages in your life.

Ginger, Valerie, it is great to have validation of that which we believe!!
(Tara Taylor Quinn 8:48am November 10, 2010)
Registered users may leave comments.
Log in or register now!