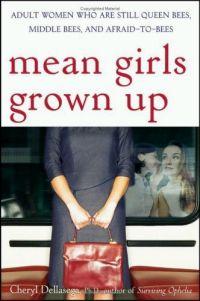 Purchase
Adult Women Who Are Still Queen Bees, Middle Bees, and Afraid-to-Bees
Wiley
August 2005
256 pages
ISBN: 0471655171
Hardcover
$24.95
Add to Wish List

At one time or another, almost every woman has been involved in bullying. Whether her role was that of victim, aggressor, or bystander, the pain of relational aggression (female bullying) lasts long after the incident has passed. For those who get stuck in the mean girl role, the emotional warfare of high school can continue. As adults, these women hone their skills in verbal sabotage and behavioral put-downs. From the PTA clique to the carpool, from the gym to the boardroom, every woman knows someone who is suffering from the devastating dynamic of relational aggression.
In Mean Girls Grown Up, Cheryl Dellasega explores why women are often their own worst enemies, offering practical advice for a variety of situations. She introduces you to the "bees" of grade school who, as adults, are still involved in the same harmful dynamic: the Queen Bee, a bully who buzzes from place to place undermining and manipulating others; the Middle Bee, a go-between who spreads gossip or stands by as others do so; and the Afraid- to-Bee who retreats into passivity and is a target for aggression.
Drawing upon extensive research and interviews, Dellasega shares stories from women who have encountered these bees as well as the knowledge of experts who have helped women overcome the negative effects of aggression. You'll hear how adult women can be just as competitive and callous as their younger counterparts, using backstabbing, betrayal, harassment, misrepresentation, and exclusion to wound others.
You'll also discover:
Why women often deal with conflicts differently from the way men do
Strategies for dealing with women who use relationships to inflict hurt or prevent you from achieving your goals
How to protect yourself from being involved in deception, bullying, and other harmful behaviors

Dellasega outlines how women can change their behavior successfully by shifting away from aggression and embracing a spirit of cooperation in interactions with others. Even if bee-type behaviors have plagued you since adolescence, Mean Girls Grown Up will help you let go of aggression or passivity, move on, and create relationships that are healthier and happier for you and the women around you.

Media Buzz
Good Morning America - October 10, 2005

Comments
No comments posted.

Registered users may leave comments.
Log in or register now!