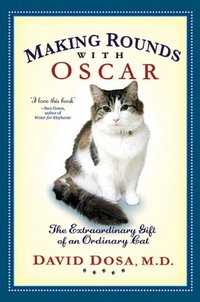 Purchase
Making Rounds With Oscar
David Dosa
The Extraordinary Gift Of An Ordinary Cat
Hyperion
February 2010
On Sale: February 2, 2010
240 pages
ISBN: 1401323235
EAN: 9781401323233
Hardcover
$23.99
Add to Wish List

A remarkable cat. A special gift. A life-changing journey.
They thought he was just a cat.
When Oscar arrived at the Steere House Nursing and Rehabilitation Center in Rhode Island he was a cute little guy with attitude. He loved to stretch out in a puddle of sunlight and chase his tail until he was dizzy. Occasionally he consented to a scratch behind the ears, but only when it suited him. In other words, he was a typical cat. Or so it seemed. It wasn't long before Oscar had created something of a stir.
Apparently, this ordinary cat possesses an extraordinary gift: he knows instinctively when the end of life is near.
Oscar is a welcome distraction for the residents of Steere House, many of whom are living with Alzheimer's. But he never spends much time with them--until they are in their last hours. Then, as if this were his job, Oscar strides purposely into a patient's room, curls up on the bed, and begins his vigil. Oscar provides comfort and companionship when people need him most. And his presence lets caregivers and loved ones know that it's time to say good- bye.
Oscar's gift is a tender mercy. He teaches by example: embracing moments of life that so many of us shy away from.
Making Rounds with Oscar is the story of an unusual cat, the patients he serves, their caregivers, and of one doctor who learned how to listen. Heartfelt, inspiring, and full of humor and pathos, this book allows readers to take a walk into a world rarely seen from the outside, a world we often misunderstand.
Interviews for Making Rounds With Oscar
Interview with Dr. David Dosa
Making Rounds With Oscar
February 3, 2010
Comments
7 comments posted.
Coincidentally, I've had RA since I was 25 yrs. old (won't say how long ago that was...:) with 2 small boys to take care of and later on a full time job...so I understand what you are both saying.

Recently, my 88 yr. old mother was diagnosed with Dementia...so am learning about that disease and how to cope along with my mom, brother and sister.

I love cats and have 3. My first passed on a couple of years ago...so, like Steere House I replaced them with a few more.

I hope to read this book soon. Thank you both for a great and inspiring interview.
(Cecilia Huddleston 7:56pm February 5, 2010)
I believe my husband and I saw a special on TV about this cat, but I can't remember the name of the special.
(Sandy Fielder 4:56pm February 6, 2010)
My mom drowned after wandering away from our house. She had Alzheimers. She loved cats, and so do I.
(Sandy Fielder 4:58pm February 6, 2010)
My mom wandered away from the house when my dad was sleeping and drowned in the lake near our home. She had Alzheimer's. Before her death, it was devastating to watch her self help skills get worse ans worse and my dad had to take more and more responsibility for her. It was hard on everyone.

I wish we had had a wonderful nursing home facility where I lived....and I wish I had had Oscar to make her death easier.

Our own cat who is a black and white we call Domino knows when we care sick or sad and he will sit with us and he ius such comfort.

Thank God for cats!
(Sandy Fielder 9:22pm February 6, 2010)
OOOOPPPSSS!

I should have used spell check. Sorry about that!
(Sandy Fielder 9:24pm February 6, 2010)
We may never know how some animals have the ability to sense certain things that we can not. I know this isn't the same as cancer detection, but we have Chihuahua that can sense a storm many hours before it arrives. How do birds know how to fly thousand and thousand of miles and return the same nesting place year after year? I like books that include animals I may have look for this book the next time I go to the bookstore. Thanks for your review
(Steve Capell 6:25am May 4, 2010)
nicee
(Linda Harp 1:47am May 14, 2018)
Registered users may leave comments.
Log in or register now!