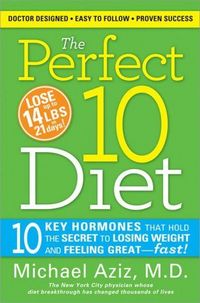 Purchase
The Breakthrough Diet Solution-10 Key Hormones You Must Balance To Melt Away The Pounds And Stay Healthy For Life
Cumberland House
January 2010
On Sale: January 1, 2010
464 pages
ISBN: 1581827040
EAN: 9781581827040
Hardcover
$24.99
Add to Wish List

Lose up to 14 Lbs in 21 days!
The Perfect 10 Diet creates the perfect balance between the 10 key hormones that control health and weight.
Now you can finally:
Melt away the pounds without going hungry
Revitalize your health
Reverse the aging process and look younger for life
Other diets don't work because they wreak havoc on your hormones. But the Perfect 10 Diet is a real world diet that works the way your body was meant to work. Now you can finally melt away the pounds without going hungry, regain your health, and reverse aging on the only diet that creates the perfect balance between the ten key hormones that control health and weight.
Visit theperfect10diet.com for more information.
The Breakthrough Diet That Gets Real-Life Results
Julie's Story in Her Own Words:
" I have lost seventy pounds on the Perfect 10 Diet in sixteen months and my fasting insulin level has dropped from 40 to 4. The Perfect 10 Diet allows me to eat more fat from butter, coconut, and avocados, which I avoided for years believing they were bad for my cholesterol. Who could ask for anything more? Nothing tastes as good as thin feels."
Meet Sharon
BEFORE
Sharon weighed 264 pounds despite a twenty-one-year struggle to control her weight through more than her share of low-fat, low-carb and fad diets.
AFTER
Within two years, Sharon lost 132 pounds by giving up the "fake" foods she thought were healthy. Better still, she has kept the weight off and enjoys increased energy and confidence.
Meet Mark
BEFORE
Thirty-five-year-old Mark weighed 260 pounds at 5'9", with a high 40 percent body fat reading. He suffered from severe headaches, was pre-diabetic, and had high blood pressure.
AFTER
Within 10 months, Mark lost 90 pounds, his headaches were gone, and his insulin, blood pressure, and body fat were all at normal levels—plus, he has never felt better in his life.
Meet Mary
BEFORE
Mary had gone from a size four to a size twelve in two years' time, weighing 160 pounds at 5'4". Despite a low-fat diet, she struggled with high cholesterol.
AFTER
Within 3 months, Mary lost 23 pounds and lowered her cholesterol to a normal level by doing exactly what she always thought she shouldn't—increasing her fat intake in conjunction with eliminating refined and processed foods.
Praise for The Perfect 10 Diet:
" I went from a size 24 to a 6, and I love it!"
—Nancy A.
" Eat anywhere, eat healthy meals, and enjoy the food I love? How easy is that?"
—Carol Z.
" A must read. Dr. Aziz addresses how food interacts with hormones in this amazing book."
—Keith Berkowitz | MD, former director of the Atkins Center
" At age 50, I feel like I'm 20 again."
—Ted S.
" I love the Perfect 10 Diet. I lost 44 pounds on this amazing, one-of-a-kind diet."
—Sharon K.
" Filled with insightful science, presented in an accessible manner, to help you take action now."
—Ronald Klatz | MD, DO president of the American Academy of Anti-Aging Medicine

Media Buzz
The View - December 18, 2009

Comments
No comments posted.

Registered users may leave comments.
Log in or register now!