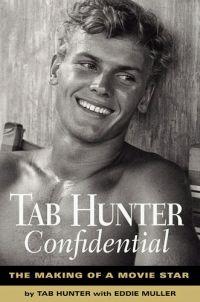 Purchase
Tab Hunter Confidential: the Making of a Movie Star
Tab Hunter
"a story of picking oneself up and keeping going through a not always A-list career. " Booklist
Algonquin Books
October 2005
Featuring: Tab Hunter
408 pages
ISBN: 1565124669
Hardcover
$25.95
Add to Wish List

He became an instant star and a #1 box office attraction, recorded a #1 hit song, and survived a major sex scandal— all by the time he was twenty-five. Five years later, new stars had been developed to meet the demands of fickle fans, and Tab Hunter found himself scrambling to find work, struggling just to survive. Yet survive he did, re-creating himself as a cult star and film producer in a career that spans five decades and more than fifty films, from Island of Desire to Lust in the Dust.
But first, he was Art Gelien, an introverted and extremely attractive young boy who was discovered by a Hollywood agent and transformed—with the help of studio publicity hacks—into Tab Hunter, Movie Star. This book tells how it all happened, and what it felt like to be created, packaged, and sold to the American public. How it felt to appear on-screen, off-screen, and on every newsstand in America with the biggest leading ladies of the day—Linda Darnell, Natalie Wood, Debbie Reynolds, Lana Turner, and Rita Hayworth—while dealing with the reality of being gay in a time when the word didn't exist. It's his story of how he kept his bearings when he was suddenly no longer the boy- next-door heartthrob, no longer under the protective wing of the Warner Bros. publicity department, no longer in demand as a "star." It is his story of how he soldiered on— with perseverance, determination, and faith. And, like the best-loved Hollywood movies, it has a happy ending.

Media Buzz
CBS Sunday Morning - July 16, 2006
The O'Reilly Factor - February 21, 2006
Fresh Air - NPR - November 7, 2005
Sunday Morning - October 23, 2005
Good Morning America - October 18, 2005
Extra - October 14, 2005
Larry King Live - October 10, 2005
Sunday Morning - October 2, 2005

Comments
No comments posted.

Registered users may leave comments.
Log in or register now!