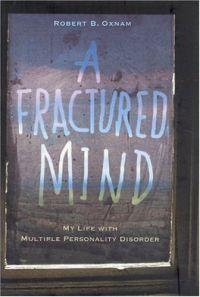 Purchase
A Fractured Mind: My Life with Multiple Personality Disorder
Robert B. Oxnam
In the tradition of An Unquiet Mind by Kay Redfield Jamison comes the heartbreaking memoir of a prominent scholar's long journey to put the pieces of his fractured life together
Hyperion
October 2005
304 pages
ISBN: 1401302270
Hardcover
$23.95
Add to Wish List

In 1989, Robert B. Oxnam, the successful China scholar and president of the Asia Society, faced up to what he thought was his biggest personal challenge: alcoholism. But this dependency masked a problem far more serious: Multiple Personality Disorder.
At the peak of his professional career, after having led the Asia Society for nearly a decade, Oxnam was haunted by periodic blackouts and episodic rages. After his family and friends intervened, Oxnam received help from a psychiatrist, Dr. Jeffrey Smith, and entered a rehab center. It wasn't until 1990 during a session with Dr. Smith that the first of Oxnam's eleven alternate personalities -- an angry young boy named Tommy -- suddenly emerged. With Dr. Smith's help, Oxnam began the exhausting and fascinating process of uncovering his many personalities and the childhood trauma that caused his condition.
This is the powerful and moving story of one person's struggle with this terrifying illness. The book includes an epilogue by Dr. Smith in which he describes Robert's case, the treatment, and the nature of multiple personality disorder. Robert's courage in facing his situation and overcoming his painful past makes for a dramatic and inspiring book.

Media Buzz
Today - October 15, 2005
Good Morning America - October 13, 2005
60 Minutes - October 2, 2005

Comments
No comments posted.

Registered users may leave comments.
Log in or register now!